Where: Taipei, Yilan, Hualien, Taitung…
When: 15 April – 26 April 2009
Who: Two guys in their mid-thirties
Our next destination is Hualien (花蓮). What lies ahead is the infamously accident-prompt provincial highway, Suhua Highway (蘇花公路). If we were to ride through this section, we would have to make lots of climbs and descents and sharp turns. And the worst part is that we would have to share the narrow roads and tunnels with large trucks.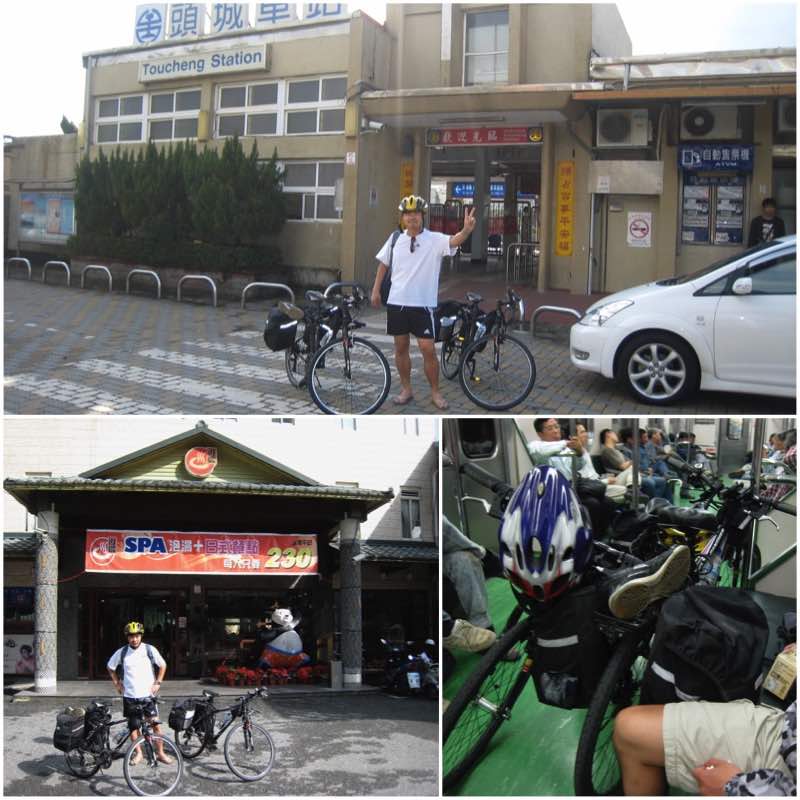 Well, what is so special about this Toucheng Station (頭城車站) in Yilan? It is our solution to the daunting Suhua Highway. Some fellow cyclists in Taipei told us that we could try our luck here to see if we could board a train to Hualien with our bicycles. It turned out that there was only a couple of designated trains per day which would allow our large, odd-shaped luggages. Luckily it was during weekday and no one else was competing with us for these special tickets of very limited amount. While we were waiting for the train, we even enjoyed a hot spring bath in the Jiaoxi Township (礁溪) nearby.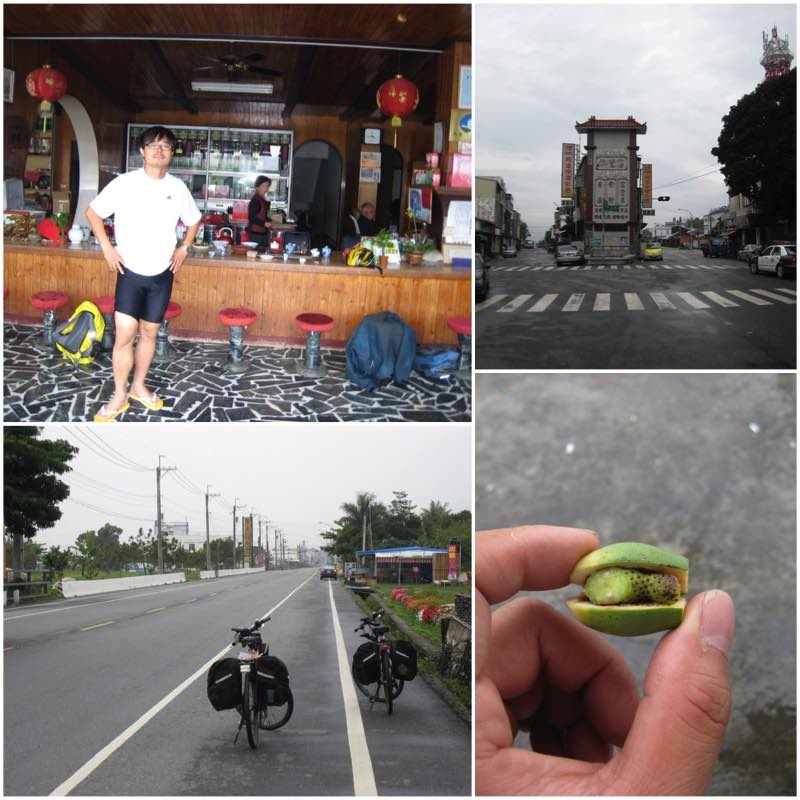 There are two routes connecting Hualien and Taitung (台東): the costal route (Provincial Highway No. 11) and the valley route (Provincial Highway No. 9). We decided to take the valley route not because we were bored by the ubiquitous sea view in the north, but because there are more villages, shops and places to stay along the way.
We had spotted betel nut kiosks all over Taiwan. With the aid of the idyllic atmosphere in the valley, we mustered the courage to try one, which was not so pleasant though. It was like my head was inflated a little bit and then eased gradually. I personally prefer the tea grown around the Wuhe Village (literally Dancing Crane Village, 舞鶴村)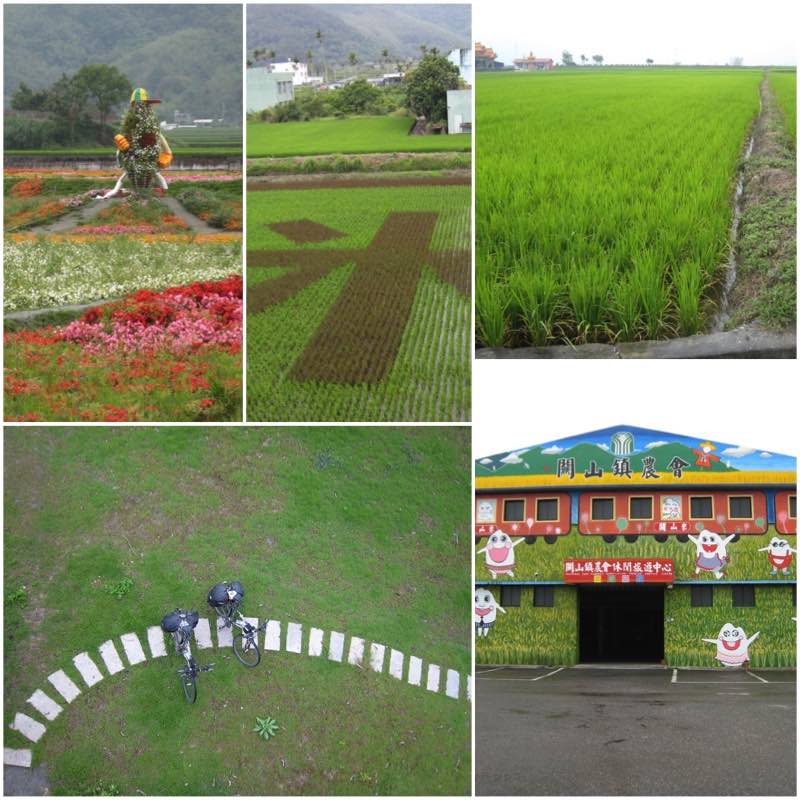 The blue ocean was no where to be seen in the valley, but we were greeted by seas of crops neatly arranged in the vast paddy fields. I could watch all day the green waves punctuated with snaking trace of gusts. Though the valley produces the finest rice in Taiwan, it does need some promotion. The farmers' association in Guanshan Township (關山鎮) has made a large display of their brand, Guanshan Rice (關山米), on the fields with crops of different colors. They even erected a platform for people to take pictures. With these fond memories of the brand, visitors would likely find their brand stand out among others when they go shopping in the supermarket.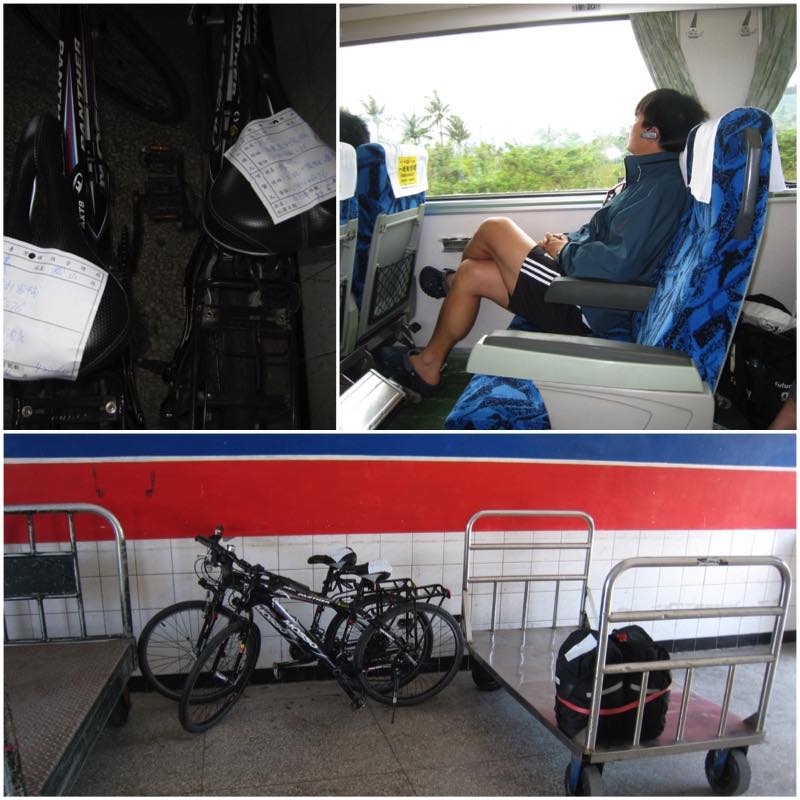 As we approached Taitung, we were also approaching the end of our holiday and we needed to prepare to return the bikes to the shop in Taipei. Of course we would not have had this problem if, as originally planned, we had traveled around the island and returned to where we started. Anyway, Taiwan Railway offers this nice service of delivering bicycles and luggages for passengers. Ours would reach Songshan Station within two days. Meanwhile, we could complete the around-the-island loop by train and High Speed Railway.
Retrospection
This is my first long distance cycling attempt. I only had very limited knowledge about bicycles. Although it was raining half the time while we were on the road, it was still a very enjoyable trip. Unlike traveling by car or train or air, when we slow down to a speed of 20km per hour, a brand new experience emerges. We see more and feel more.
One evening at a 7-Eleven in the Huatung Valley, we asked the cashier for information about accommodation around. A young lady with a baby in her arm overheard our conversation and offered to let us stay for the night for free in her home just a couple blocks away where she lives with her husband. We were so caught off-guard that we could only appreciate her hospitality by accepting her invitation. It turned out to be a cozy and friendly stay. We learned so much about Taiwan that night. I believe encounters like this are more likely to happen when we travel on bike.