Fengguizui Lookout (風櫃嘴) is a very popular destination for those Taipei cyclists who want to get some quick training on climbing. Today, I tested myself to see if I can make it to the Lookout at 598m above sea level. I took the 6.5km Wanxi Industry Road (萬溪產業道路) and start climbing. It is a well shaded road with lots of fellow cyclists who would give you words of encouragement generously. And most importantly, there are not much other vehicles to share the road. The downloadable GPX file of this cycling route is at the end of this post.
The view from the Lookout is not particularly impressive. It is a pass connecting Shilin District (士林區) and Wanli District(萬里區). If you are looking for a better view, you may join the hikers and take the trail to the Mt. Ding (頂山, 768m) and Mt. Shiti (石梯嶺, 886m) on foot. Or, let's don't leave our bicycles and take the "北 28" and descend to Wanli Fishing Harbour (萬里漁港) and then take the dedicated bikeway along the coast to Keelung (基隆).
If you have enough of cycling, try your luck to find a train to take you and your bicycle back to Taipei (e.g. Nangang station (南港車站), Songshan Station (松山車站) or Wanhua Station (萬華車站). But not for Taipei Station (台北車站)) . Some particular trains accept naked bicycles for half the fare. Otherwise, keep cycling and take Provincial Highway No. 5A (Shown on Google Maps as 5甲) to get back to Taipei (around 25km)
---
Route:
Velodash: https://cx6sm.app.goo.gl/3sfZ
Most navigation apps will not route us to the dedicated bikeways along the costal line. Find this Bikeway Entrance right next to the Wanli Fishing Harbour (shown below) and stick to it, you would reach Dawulun Fishing Harbour (

大武崙漁港)

and then Waimushan Fishing Harbour (

外木山漁港) and then Keelung city

without much climbing. If you take the Provincial Highway No. 2, expect lots of climbing and traffics without much benefit of seaview.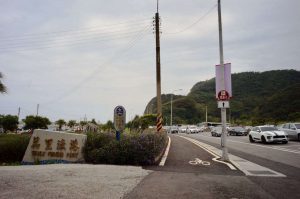 When you reach Dawulun Fishing Harbour, Set Google Map Navigation: Keelung Station (基隆車站).