"Fancy riding the east coast of Taiwan in November?" asked my mate Jon last August. Before then, Taiwan had meant little more to me than Giant cycles – the world's biggest cycle manufacturer – and the infamous Taiwan KOM challenge, but my interest was piqued.
A little research and my mind was made up. Encouraged by Giant, Taiwan has developed excellent cycling infrastructure in recent years. Cycle tourism is increasingly popular. The best routes are on the less developed eastern side of the island, where one can choose between flatter coastal routes and any number of dramatic mountain passes. Jon rides sporadically and I was recovering from a couple of months' illness, so we sketched out a relatively unambitious clockwise route from the capital Taipei to its second city, Khaosiung.
Arrival
I landed mid-morning at Taoyuan International Airport and took the train to Taipei Central station and the metro to our BnB. All was civilised, calm and welcoming. The train was fast, clean and efficient. Most signs are in English as well as Chinese, which helps no end with navigation. Some metro stations play ambient music as trains approach, as if to say, "Your train is approaching. Queue calmly, relax and enjoy the ride."
The city was busy, but not hectic like some Asian metropolises. People keep to themselves, often separated from their wider surroundings by a face mask and a mobile phone screen. This is a highly connected country and the younger generation is permanently plugged in. The weather was a comfortable 26 degrees, a little humid, but by no means oppressive. I liked this place already.
Jon arrived separately and we soon set about exploring the neighbourhood. We were staying in Datong district, one of the older parts of Taipei. Untidy, older low-rise buildings nestle next to taller modern ones. Temples are everywhere, some on imposing large plots, others in small gaps between shop fronts. Taiwanese are superstitious people and even non-believers feel compelled to make regular prayers and offerings. Our favourite temple was the magnificent Dalongdong Baoan Temple, where we marvelled at the architecture and paid homage to the gods.
The next morning, we headed to the nearest Giant store to hire bikes. The network of official Giant stores has a good-value cycle hire scheme, where you can even drop the bikes off at a different location. The shop assistant was friendly enough, but explained that they needed two weeks' notice for bookings. The remaining stock bikes were too small, unsurprising in a country where the average male height is just 171 cm. A quick, panicked web search found the excellent Bike Express Taiwan, who arranged to deliver bikes and accessories to our door the next day.
---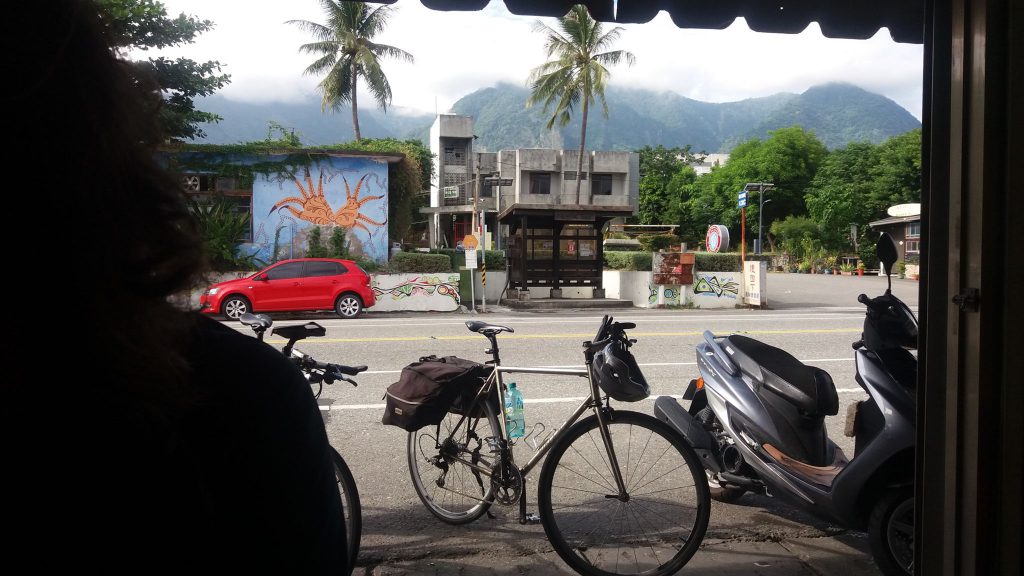 Day 1 – Taipei to Jiufen, 46 km
Our bikes arrived just as promised. We loaded up the panniers, fuelled ourselves with street food and headed off into the city streets. A little intimidated at first by the chaotic traffic, we soon got to grips with the flow of things. There are shared cycle and scooter lanes on most major roads, with large advance-stop boxes at junctions. After around 3 km we reached the Keelung River cycle path, where we enjoyed traffic-free riding for the next 15 km – easier on the lungs, as well as the nerves. From Hengke onwards, though, we were back on busy roads as we weaved our way through the urban sprawl of the river basin. Only in the last 4km, as we climbed towards Jiufen, we were in anything remotely resembling countryside.
Jiufen itself is a stunning mountain town, with narrow alleyways scattered on the hillside of the old town. It is rumoured to have influenced Studio Ghibli anime films such as Spirited Away and Howl's Moving Castle.
We stayed at Rita's House homestay, just below the old town. Our hosts were most welcoming and helpful, a benefit that was to become a theme of our Taiwan tour. Rita advised us to go into town before 7pm, so we just had time for a quick shower before dragging ourselves up the many, many steps to the old town. The alleys were full of street food, trinket shops and lanterns, not to mention hundreds of Japanese and Korean tourists. We grabbed a bite to eat and I bought souvenirs for my children – and just in time, because, sure enough, everything but the 7-Eleven and Family Mart closed dead on 7pm and busloads of tourists were spirited off into the night.
Continue to read Alaric's article on Strava
Reasons to go
Excellent street food is everywhere: oyster omelettes, seafood congee, braised pork rice, steamed buns, stuffed dumplings and bubble tea were some of our favourites. Some streets are dedicated to street food and are a sensory delight at night. We did not brave the infamous stinky tofu; the smell was too much for us, but many people rave about it.
There are 'Cycling Stations' or rest stops at regular intervals, even in remote areas. Some are former military stops; others, 7-Elevens or police stations. They are somewhere to rest, refill water bottles, check maps or even borrow tools. We did not make use of them – we relied on standard 7-Eleven or Family Mart shops – but it was good to know they were there.
Street signs are in Chinese and English, which makes navigation a cinch.
Taiwanese are great people. They are rightly proud of their beautiful country. They are fond of cyclists. They made us feel very welcome.
Tips
Local SIM cards are inexpensive. I bought a ten-day all-you-can-eat data package, which included a few minutes of calls, for around £10. It made booking rooms in advance and uploading rides much easier.
Dogs can be an annoyance. In rural areas, they are untethered and often lie by the side of the road. Some ignore cyclists, others may want to play. One or two growled, barked and chased us. Annoying.
The train system is highly confusing when it comes to bikes. Different train types and different route sections have different routes. I thought I had done enough research on the matter. I had not. The official Taiwan Rail website is the definitive source of information, but highly confusing. From Taipei to Hualien, travelling with a bike is generally fine (but not on all train types). Further south, things change. At Dawu, the trains we wanted to catch would only accommodate bikes in bags no more than 1.5 m long. I had planned for this and brought a couple of disposable Cycling UK bags. At Fangiao, only bikes in branded bike bags, both wheels off, are allowed. Research long and hard before incorporating trains into your cycling trip.