15 April 2009
It's been a decade since I first set foot on the island of Taiwan in 2009 for my first cycling trip in an attempt to Cycle around the Island. Why am I bothered to write a travel log about it now? Well, I made a lot of rookies' mistakes that I was not aware of at that time. After visiting Taiwan for so many times afterwards and finally moving here for good in Taipei, I have accumulated many valuable experience. And now we are running this company to promote and facilitate bike touring in Taiwan. I am hoping I can share with you some tricks and ideas so that you can make the most of your precious holidays here.
Taiwan was referred to as Formosa by the Spanish, the Portuguese and the Dutch in the 1580's. Some said the name was given by Portuguese sailors when they discovered the island in early sixteenth century. They were awestruck by the island's beauty and exclaimed "Ilha Formosa", literally "Beautiful Island". Then the name stuck.
Taiwan had not been a complete stranger to me even before I first set foot in here. At around ten and living in Fujian, I watched Taiwanese puppet shows and romantic soap operas written by Chiung Yao on my mother's 14-inch TV. Life was so boring there back then. People in our village would spent the whole afternoon trying to tune the antenna in order to pick up the faint TV signal from the other side of Taiwan Strait. We would settle for anything with sporadic bursts of white noise. Language is not a problem. People in Taiwan and Southern Fujian share the same dialect.
Then there I was in Taoyuan International Airport ready to embark on an adventure on bicycle with my friend, John. The airport MRT was not in operation yet at that time but there were many coach and bus companies competing for travelers bound for Taipei City, especially Taipei Main Station. You could find one departing every 5 minutes most of the time. But no, we were special travelers and we had a special destination, Songshan (Railway) Station. Our well-equipped bicycles were ready to be picked up at a bicycle shop there. We decided to take a bus to the closest train station, Zhongli Station, and then took a train to Songshan. It's better, right? Wrong! It actually takes the same amount of time to get to Zhongli Station and Taipei Main Station. While Taipei Main Station is just one stop away from Songshan Station, it takes another hour to get to Songshana from Zhongli Station. And neither did we save any money by taking a "less touristic" path. Here's one takeaway for you.
Eventually we collected the bicycles and the shop owner helped us set the check points on the GPS leased to us. At least we would know the way to get back to the shop. I got information overloaded with a long list of must-go's and a crash course on how to replace the inner tube in the case of a punctured tyre. Not sure if I could do it. But there's one thing worth remembering: find the culprit with patience and make sure it's removed. Otherwise, the spare tube would be punctured again in no time.
We found a small hotel around the corner with only double rooms and very small twin beds that, even if we don't mind sharing, couldn't accommodate two grown men. We wondered if it might be a special kind of hotel, like a stripped-down love hotel or something. So, two rooms please. We are straight guys and I might have some amazing romantic encountering in Taipei like the Brit Colin Frissell did in the US in the movie Love Actually. I'm serious; I do speak mandarin with a heavy accent.
Then we headed to the nearby night market, Raohe Night Market, for dinner. There were so many enticing Xiaochi to offer. But Oops! We were running low on cash. We could only get some Stinky Tofu and Beef Noodles. I could not even buy a drink for any ladies if I got the chance. I used to believe that everything sold in the airport had a huge markup, including NTD. So, in the airport, we just got enough cash for the first day and planned to change the rest of our money to NTD at banks in the city. Banks here usually open 9:00 to 15:00, Monday to Friday. But after travelling to Taiwan for so many times, I have found a cheaper and more convenient way to get NTD. Viola! The 24-hour worldwide ATM networks like Cirrus, Plus and UnionPay. Although there will be a small handling fee (HK$40, ~ US$5, in my case) for each withdrawal, the exchange rate is more favourable than buying NTD with other currencies from a teller. Banks do not like physical banknotes. It involves the risks of getting counterfeit ones and there are costs for safe keeping and transferring the notes.
Now I always withdraw NTD 20,000 (the maximum) and saved enough of money from the ATM exchange rate to pay for the handling fee and several drinks in the night market. Of course you should check your bank's handling fee first.
Talking about Raohe Night Market, the Ciyou Temple sitting next to its entrance had also left an impression on me with its friendly atmosphere. We were free to take a tour of the six-storey building and appreciate the decorations. It was also very handy to be able to use their toilets after feasting in the night market. It isn't hard to find toilets in Taipei after leaving you hotel, like in shopping malls, MRT stations, train Stations, and some convenience stores. But those are not always easily found after leaving Taipei (or other major cities), while temples are ubiquitous in Taiwan. Cyclists could usually use their toilets. Sometimes, we could even help ourselves with some instant coffee at their drinking machines.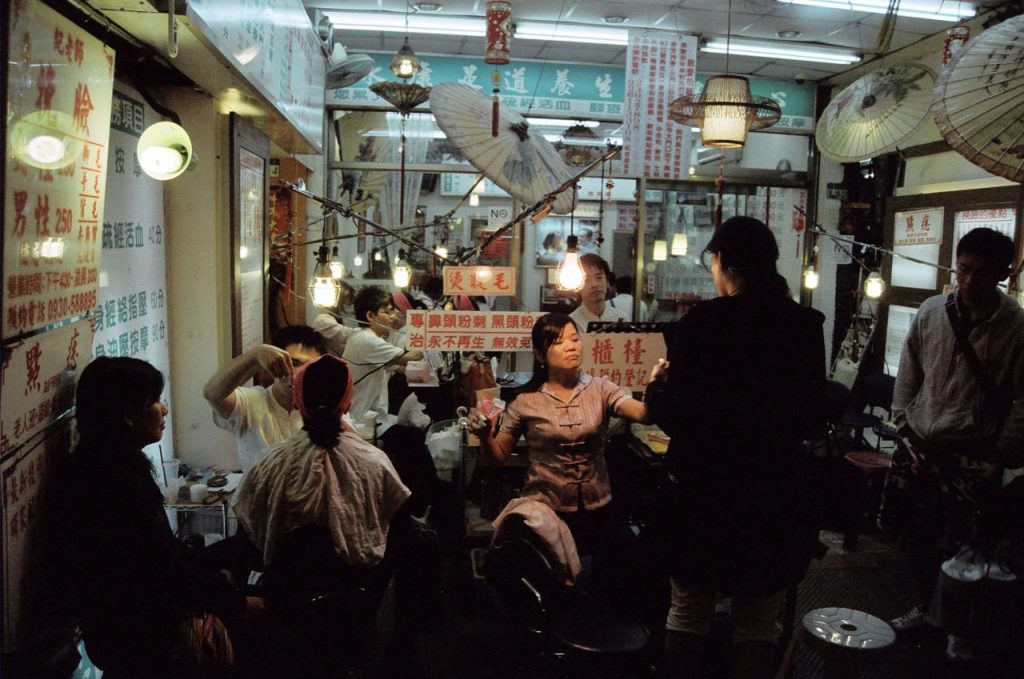 So, that's my first day in Taiwan. The small hotel turned out to be perfectly fine. No weird noises came from other rooms