21 April 2009
The next day we did exactly as the hostess told us the night before: leave by ourselves when we woke up. They probably had their own daily routines and did not want to put any time strain on us.
Some intermittent drizzles again. We continued our tour southwards on the Provincial Highway No. 9 and got a chance to take a good look at the valley in broad day light. Roads were flat and straight and flanked by green paddy fields. It's a very pleasant view.
After lunch, we needed to pedal harder. After some serious climbing, I finally reached the top of a slope and stopped in front of a tea shop in the Wuhe village, 210 metres above sea level. As I was waiting for John, who lagged behind me, the tea shop owner waved me in and later offered us lots of tea for tasting. There used to be more than 100 tea farmers with 200 hectares of plantation. In the1990's, failing to compete with the high mountain (over 1000 metres) tea from the west coast, half of the plantation has gone out of business.
Meanwhile in Taitung, inspired by the Oriental Beauty Tea, Chen Huicang (陳惠藏), a specialist of the Tea Research and Extension Station (茶葉改良場, an institute under the Council of Agriculture, Executive Yuan), has developed a special kind of tea that, among other aromas, carries a natural signature flavour of honey.
Some research findings revealed that, when bitten by tea green leafhoppers, tea plants would secrete some chemicals that, even at an extremely low level, could attract a special kind of spider, Evarcha albaria, which is a predator of the leafhoppers. It seems after hundreds or thousands years of evolution, tea plants has developed a way to call for help. And those chemicals are the sources of that signature flavour.
A tea farmer from Wuhe village, Gao Zhaoxu (高肇昫), went to consult Chen Huiceng and returned home with the tea processing technique. But he still needed the leafhoppers to bite his plants.
He adopted the eco-friendly farming practices, including suspending the use of pesticide, as promoted by the government of Hualien Township. After years of development and improvement, the tea produced in Wuhe village has regained its competitive advantage and tea farms started to stand on their own feet again. Until 2007, the total area of tea plantation has returned to 160 hectares.
Live in harmony with the nature and we will be rewarded with something precious. This is something I learned there.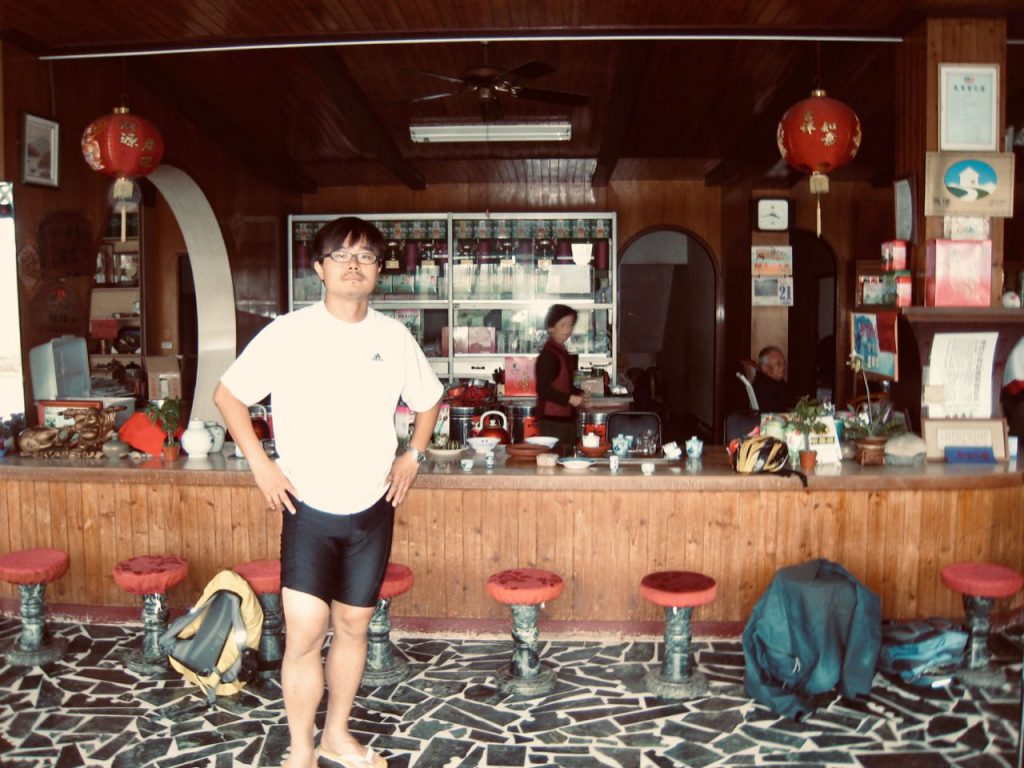 I did like their tea but I could only buy two bags because of the limited space in my saddle bags and my reluctance to carry too much weight. Actually, if you find something you really want to buy during a cycling trip, you could send it back to Taipei using the railway system. Unfortunately I did not know that at the time.

We left the tea shop and started descending to Yuli. There were small road signs put up by homestays to advertise themselves. It started raining. We picked one homestay at random and followed the direction on the road sign to to somewhere quite far away from the town centre. It was closed. That sucked, especially after the climb we had to do to reach that homestay. But then even if it's not closed, we might still end up with a fully booked one. So, you should always call to check before actually committing any time and strength to get there. Homestay owners might not be able to communicate well in English over the phone. Again, the Bike Express Taiwan team is happy to do the job for our clients.
John used the GPS to find the closest hostel. It must be up and running for some time to have its information stored in the GPS database. We did not have Google Maps back then. Anyway, we could finally take a good rest and wash our soaked cloths.