22 April 2009
We continued our trip and headed south along the Provincial Highway No. 9 in the southern part of the rift valley. Before long, we entered Taitung County officially but still needed to ride 50km before we would reach Taitung City. Townships in Taitung County, including Chishang, Guanshan and Luyeh, have been well known for producing the finest rice in Taiwan. There were endless views of paddy fields disappearing into the horizon.
The first township to see was Chishang (池上). If you have some knowledge of Chinese, you would have recognized these two characters on many instances because several chain stores selling bento (lunchbox) bear the name, eg. , 池上便當, 池上木片便當, 池上飯包. A perfect combination of climate, water, soil and altitude, together with farmers' meticulous caring of the plants, rice grown in Chishang has been frequent winner in rice competitions.
Given that Chishang produces around 12,000 tonnes of rice annually, which is around 1% of Taiwan's rice production, I wonder if there is enough rice for all those bento shops. Perhaps that's why the township office is running accreditation programs for bento shops.
Then after further travelling for 10 km, we stopped in front of a very colourful building with rice as cartoon characters painted on it's facade. There was an enormous display of the word Guanshan Rice in Chinese (關山米) on the field, formed by crops of different colours. A platform was set up for visitors to take a bird's-eye view of the display. The building used to be a rice mill and storage. The Guanshan Township Farmers' Association had turned it into a tourist service centre. Visitors could sign up for a short demonstration of the process of rice milling. Rice produced in Guanshan used to be a tribute to the Japanese emperor during the Japan rule. But this legacy alone was not enough to ensure their products thrive in the market. We could tell that the Farmers' Association had put in lots of efforts to polish their brand.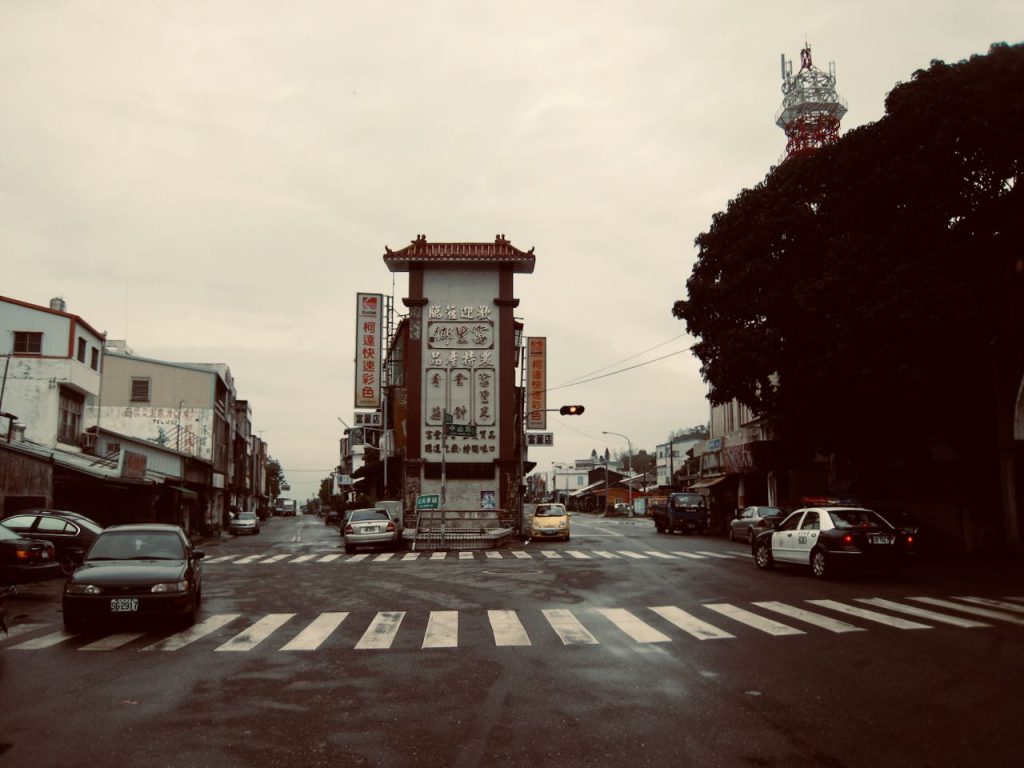 We missed two famous tourist spots around Chishang because we did not know of them at the time: the Dapochi and the Brown Boulevard. They are definitely worth the trouble of taking a detour. It's pretty easy when you have Google Maps. Just set the Destination to "Dapochi" when you are approaching Chishang Station. After you have enough fun there, use Google Maps again to guide you to "Brown Boulevard". If you are travelling northwards, set your destination to "Brown boulevard" when you are leaving Guanshan Township.
We climbed a little bit to Luyeh Highland and then started a 20 km nice long descend from 240 metres to 40 metres above sea level towards Taitung City. It was awesome. We were moving like the wind.
And that's it. It's about the end of our trip. We found a random hotel to stay for the night and did some common tourist thing. The next day, we cycled to Taitung Train Station and shipped the bicycles to Songshang Station in Taipei. This simply is a wonderful service for cyclists like us who prefer travelling without a rigid plan. There are more than 50 stations scattered on the island with luggage rooms that allow you to drop off your bikes. Because of this, we can plan our routes with a lot more flexibilities. We can even send some personal belongs or souvenir we bought along the way to the next stop or the final destination in order to slim our saddle bags.
Parted with our bikes, we completed the around-the-island tour by taking a train from Taitung to Kaohsiung and then the High Speed Rail to Taipei. We did some sightseeing in Kaohsiung and Taipei but it was kind of weird (cold turkey?) to switch from pedaling to bipedalism. I missed the bike, the mobility and freedom it brought me, and the encouraging smiles from strangers when I was breezing past their sides.
— End —