My second test with this E-bike was a longer trip with less climbing. I cycled to Keelung from Dahu Park because I was quite sure I could not board the train with the e-bike. From there, I travelled along the northern coast mostly on the Provincial Highway 2 to Tamsui, then headed home along the Riverside Bikeways. It was a 118km route, which felt mostly flat to me. But turned out the accumulated gain on elevation on those mild slopes added up to over 1,232 metres, according to my Strava record.
It was a cloudy day with occasional drizzles. Braking on the wet road was effective with the 2.15" tyre and the hydraulic disc brake. And luckily my pants and bags were well protected by the fenders of the two wheels. Without them, the dirt and the filthy water threw up by the rear wheel could have accumulated on my lower back and found their way to my under pants. Well, I don't really mind cycling in the rain and got soaked – all my bikes do not have fenders. But for some reason, when I am riding an e-bike, I expect a certain level of comfort.
I made it to Keelung in under one hour. I could reach 25km/h easily in the head wind or when climbing a mild slope. This was amazing! One would probably need to spend the same amount of time with public transportation.
I left the main traffic and avoided a major climb by heading straight to Waimushan Fishing Harbour. Rain stopped there. I started my coastal cruise, passing through Wanli Fishing Harbour, Yehliu Geopark, Jinshan Old Street. I made it to Fuguijiao Lighthouse (65km of the 118km trip) after traveling for 5 hours with lots of short pauses in between to take pictures and a longer one for lunch. Then the battery was almost exhausted at 70km. I swapped in the fresh one and arrived at Tamsui Old Street in an hour. It was still early, around two o'clock. But I needed to be home for a shower and have dinner with the kids. Strong headwind at the Riverside Bikeways. No worries! My second battery was still fresh. We pierced into the wind with ease. The only problem was that my bottom started to hurt after sitting on the saddle for 7 hours. Again, when I was home, the second battery was still half full.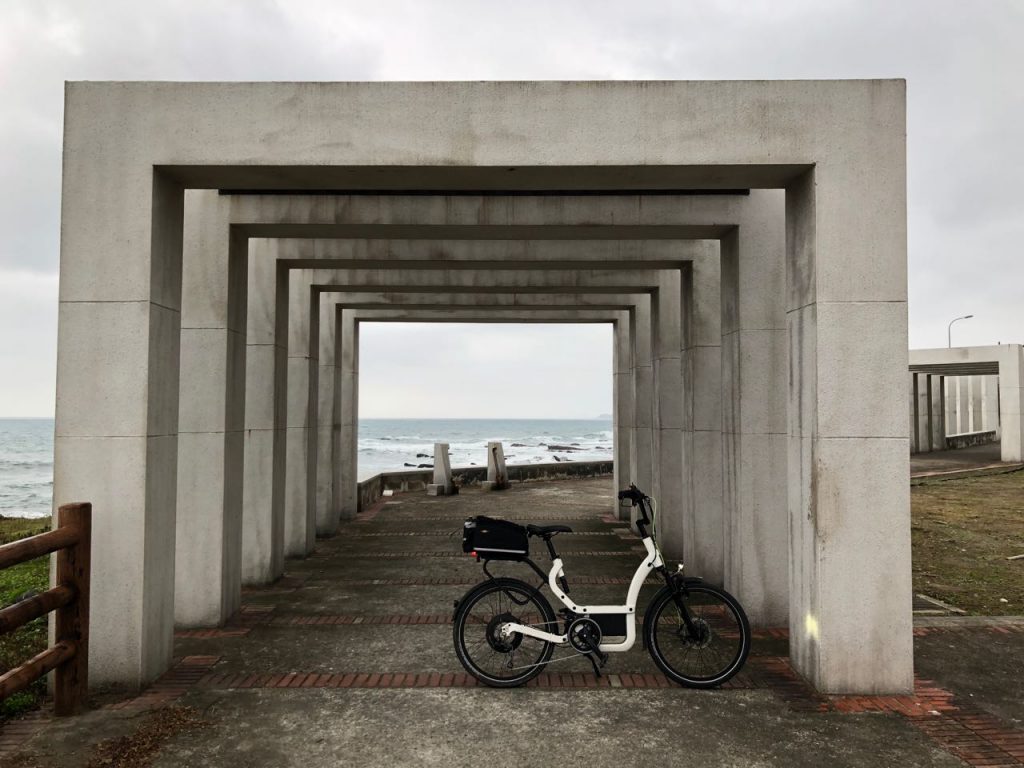 This is my route on my Strava record.
https://www.strava.com/activities/2001072404
Conclusion:
The Klever B Power is a great e-bike for bike-touring. It can handle hilly roads and travel long distance, rain or shine. Consistently sensing my pedaling, the motor offers me help accordingly without me having to ask (or push buttons).
According to my two test rides, you will need a spare battery for day-long trips or multi-day bike touring. The traveling charger can refill an empty battery in 5 hours. Assuming you haven't exhausted both batteries, which may not be wise, you can recharge the half-empty one first when you settle for the evening, and then plug in the empty one overnight.
Without the help from a gearing system, a hub motor has to drive the wheels directly and may get overheat when the slopes are too steep to climb. My friend from Klever told me that their BIACTRON system would protect the motor by cutting off the power when it becomes overheat. When it cools down, it works again.
A mid-drive e-bike is less likely to suffer from overheating, because it enjoys the benefits of its internal gears and the bike's gearing system. However, the bike's drive system is operating under greater stress because it pulls the chain together with the rider's force. The cassette and chain set got worn out more quickly. And worse, the chain could snap on the way.
In the case of a rear hub motor, when it works, it removes some tension from the chain by driving the wheel directly.
Anyway, I am looking to try a mid-drive e-bike someday to do a comprehensive evaluation and a first-hand comparison of the two systems. Meanwhile, check this out for a thorough comparison of the two systems.
So, now we have got e-bikes suitable for bike-touring, is Taiwan a suitable place for bike-touring with e-bikes? Absolutely! Taiwan government has been building roads with slow vehicles, i.e. scooters and bicycles, in mind. One can always find designated lanes for slow vehicles on busy roads, bridges and tunnels. E-bike riders can also use the bikeways along the rivers that are commonly found in most cities and townships. The population density in Taiwan is just about right that you can find a hotel, hostel or homestay to stay each night and recharge your batteries with little difficulty. And according to our own experience, you hosts can usually find you a safe place to store your bikes.
More Readings: https://www.cyclingabout.com/bicycle-touring-on-electric-bikes-ebikes/