[This post is last updated on 12 June 2023]
How to travel with your bikes on public transportation in Taiwan? I have some experience to share, including taking bikes onto the Taipei Metro, Taoyuan Metro, intercity buses, High Speed Rail, and the Taiwan Railways.
Taoyuan Metro and Taipei Metro
With a few exceptional stations, both Taoyuan Metro and Taipei Metro allow unbagged bikes between 10:00 to 16:00 on weekdays and all day during weekends and holidays. Since 20 June 2022, Taipei Metro has been taking bikes after 22:00 during weekdays. You can buy a ticket for you and your bike at the service kiosk and the staff will let you get into the paid area through a special entrance, usually right next to the service kiosk. You shouldn't use the stairways or escalators when carrying a bike, but should instead take the elevators. And bikes are only allowed in the first and the last car of the train. It is always a courtesy and a safety measure to make sure your bike does not inconvenience other passengers or obstruct the way. When leaving the paid area of a station, you should return the bike's ticket to a staff member and again you will be led outside through the special entrance.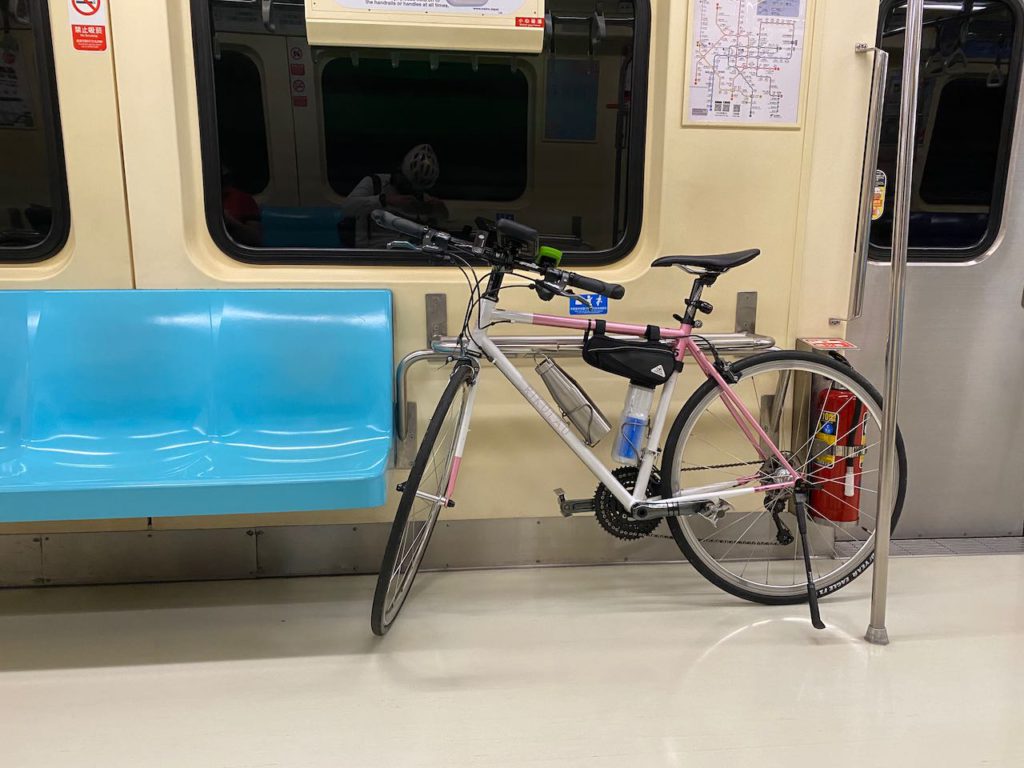 I use this service mostly during weekends. Trains are usually not very crowded but there can be exceptions of course, like when getting close to the stations for transferring to another line. I once boarded a train at Hongshulin Station and it was pretty empty at the time. But more and more people came onboard as the train was approaching the city center. It got so crowded that I couldn't get off the train when I needed to make a transfer. Another example is stations located at tourist districts, like Ximen Station. Although bikes are allowed in those stations, it will usually be busy and crowded inside the stations and the elevators will be in super high demand with baby trolleys, senior passengers, and tourists with huge suitcases. So it's easier to just board or get off the train in the previous or the next 0station.
Here's a short list of the stations where unbagged bikes are NOT allowed in. We will try to keep the list up-to-date but you are advised to cross check with Taipei Metro's info page, just to make sure.
Metro stations with no access for naked bikes:
All stations on the Wenhu Line and Circular Line 文湖線及環狀線各車站
Tamsui Station 淡水站
Taipei Main Station 台北車站
Zhongxiao Xinsheng Station 忠孝新生站
Da'an Station 大安站
Zhongxiao Fuxing Station 忠孝復興站
Nanjing Fuxing Station 南京復興站
Kaohsiung Metro
Kaohsiung Metro also welcomes people to bring their bikes on board the Orange and Red lines at all times during operating hours. To do so, simply head to the station service desk to purchase a ticket (NTD 60 for the bike and passenger). You can then use the elevator or ramp to access the platform. Please ensure that you board the first car of the train, as opposed to Taipei and Taoyuan, where the first and last cars are allowed. For more detailed information, please refer to the following link:
https://www.krtc.com.tw/eng/Guide/regulations?id=b2a28dd7728f4202a8190f449da3c03e
Kaohsiung is a bustling city with heavy traffic. Fortunately, the Kaohsiung Metro offers a convenient means to bypass the city's congested traffic.
Intercity Buses
"Bus Stations" can be found in the six municipalities and most mid-sized cities in Taiwan. With countless buses running from one Bus Station to another via national highways each day, these Bus Stations form a vast network of intercity buses that supplements the coverage of trains and domestic flights. There are many operators of intercity bus, Kuo-Kuang 國光客運, Ubus 統聯客運, Aloha 阿羅哈客運, Ho-hsin 和欣客運 and Solar 日統汽車客運, just to name a few. There is usually a large cargo compartment underneath the passenger seat deck on these buses, and an onboard toilet. Each bus operator has their own policies regarding passengers travelling with bikes. Some would let you leave your unbagged bikes in the cargo compartment for a fee half the price of a passenger's ticket per bike. Some would only accept bagged bikes but with no additional charge. I have travelled with those intercity buses during regular weekends. The cargo compartments were practically empty.
There are overnight buses connecting Taipei and southern cities like Kaohsiung and Tainan that provide passengers with spacious, reclined seats for sleep. I once took one to Tainan that set off around midnight, planning to get some sleep before a cycling trip. It is a 5-hour ride according to the bus timetable. Turned out the flickering light from the lamps on the highway was very annoying – an eye mask would be needed. I managed to fall asleep after some struggle but was soon woken up by the driver at 3:30 am. It only took 3 hours to get to Tainan in the small hours of the day.
Here you can find an official overview of the intercity buses: https://eng.taiwan.net.tw/m1.aspx?sNo=0029049
High Speed Rail
The High Speed Rail (HSR) runs on the west coast of Taiwan, offering a comfortable and efficient way of traveling between Taipei and Kaohsiung, and the major cities en route. While it takes from 4 to 6 hours for the Taiwan Railways or the intercity buses to go from Taipei to Kaohsiung and vice versa, depending on the number of stops in-between, the High Speed Rail can make it in as less as 1 hour and 45 minutes.
A passenger can board the HSR trains with his/her bike as long as it is bagged with two wheels removed and within the following limits as specified in the Passenger Guide:
Either side of the bag is less than 150cm
The sum of width, length and height should not exceed 220cm
Weight less than 40kg
Onboard the train, bikes should be kept in the dedicated areas for big luggages, which can be found in each car. Sometimes the luggage compartment could be occupied already. The space between the last 3-seat rows and the wall has enough room for a bike, though this is not a dedicated location for luggages.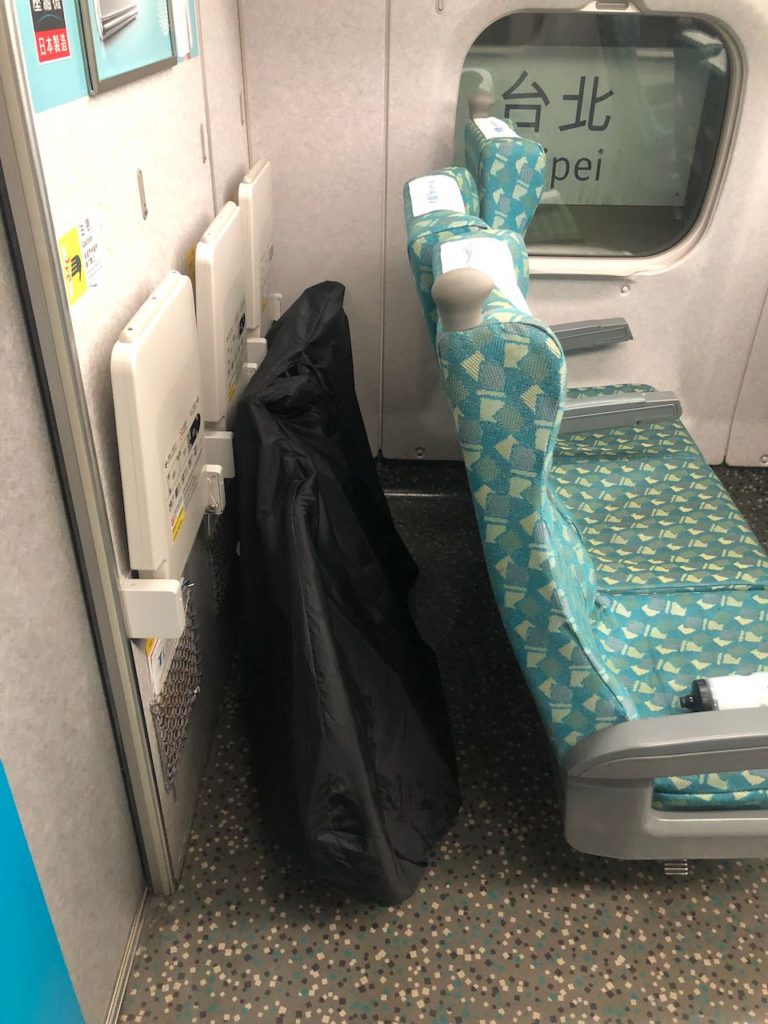 If you have a bike travel case that exceed the limit of the 220cm as listed above, you may purchase one or two tickets with reserved seats for your bike case for car 1 to car 5. But there are still limits on the dimension of the case and this option is not available during peak seasons as announced by the HSR
Height: 120cm, Length: 100cm, Width: 35cm
Sum of Height, Length and Width 240cm
Weight: 40kg
We have learned from an email by Ms Diane S about some policy changes regarding carrying bikes onto the High Speed Railway in 2020. I have checked the website of HSR (only Chinese version available) and contact the customer services to clarify. This section has been updated on 7 May 2021 accordingly. Thank you, Diane, for helping us maintaining accurate informations.
Taiwan Railways
Taiwan Railways Administration (TRA) operates via a vast network that covers the majority of the island. I use its service the most when I go cycling. TRA has been making lots of effort to become more bike-friendly, both in terms of its trains and in terms of its rules and services. Unfortunately, the information available on its current website is not always easy to understand. Therefore here are some quick notes for you. At the end of this session, I'll also show you how to look for the latest key information on the website.
Bagged bikes can board any train (Carrier Bag)
A passenger can board ALL the trains with his/her bike as long as it is bagged and within the same limitations as imposed by the High Speed Rail, which are:
Either side of the bag is less than 150cm
The sum of width, length and height should not exceed 220cm
Weight less than 40kg
We are responsible for taking care of our bikes when onboard and make sure they are not causing other passengers any inconvenience. If your train is one of the Puyuma Express 普悠瑪號, your bagged bike should be left in the "large baggage space" in car no. 1 or no. 8. The TRA is not responsible for the safety of the bikes.
When I go for a single-day cycling trip in the small towns around Taipei, I will usually take the Local Trains / Semi Express Trains 區間車. Their cars are similar to those of the metro, with a spacious area in the middle. These trains stop by almost every station en route. There are usually 3 to 4 trains every hour. The ticketing system is also similar to that of the metro: you only get a ticket with a date and the starting and end stations of your journey. There is no seat train number or seat number. You can board any one of the local trains and the seats are available on a first-come first-served basis. I often do cycling trips during weekends and start early in the morning. I seldom find the train too crowded for my extra large luggage, ie. my bagged bike. I can usually leave it the way shown on the picture below. But this may be another story during rush hours.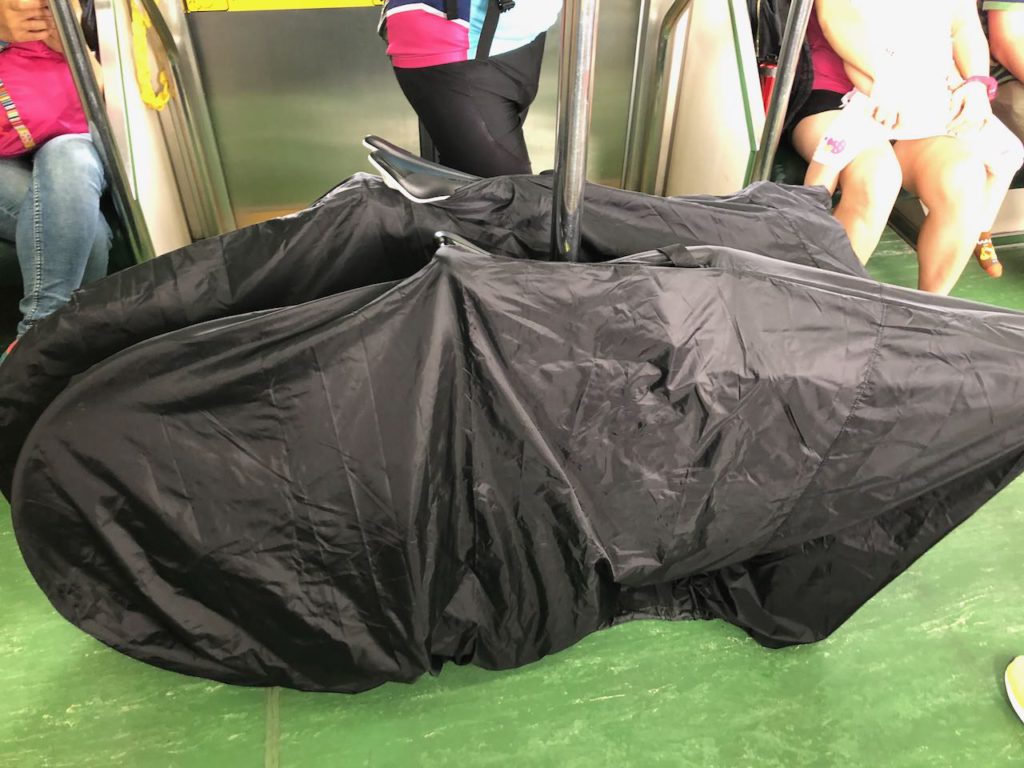 I have never get a chance to carry my bike onto an express train 對號列車, i.e. Puyuma Express 普悠瑪號, Chu-Kuang Express 莒光號 and Tze-Chiang Limited Express 自強號, because they usually run on a less frequent schedule and stop by bigger towns only. Seats are arranged in rows and occupy all the floor area. The long narrow space behind the last row of seats, like what we find on the High Speed Rail, is the only place to leave your bike.
Push Your Unbagged/Naked Bike onto a Train (Bicycle Boarding)
A passenger can board some designated trains with his/her unbagged bike after getting a ticket half the price of a passenger's. But do note that not all stations would allow unbagged bikes inside the paid area, e.g. Taipei Main Station. Therefore, even though your train is stopping by those stations, you can't board or get off the train there.
Local/Semi Express Trains
Many Local Trains / Semi Express Trains will allow unbagged bikes. While, as mentioned above, the passenger ticket is good for any Local Trains / Semi Express Trains within the day with no seats reserved, the ticket for your unbagged bike is different. You buy the ticket for one of the specific trains that take unbagged bikes, and your bike is only allowed in the first or the last car. As you can see on the picture below, the train number is marked on the ticket on the left hand side, which is for your bike, while the passenger ticket carries no such information.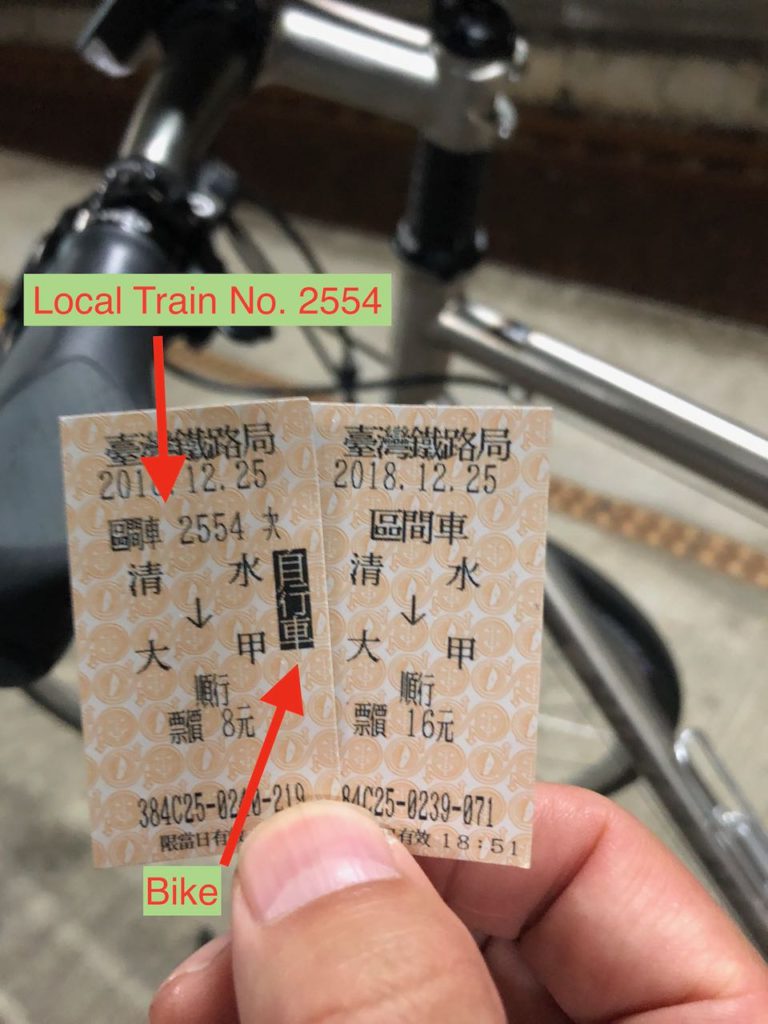 I always try to take the designated trains and get a ticket for my bike because I am too lazy to bag it and carry it around. That means sometimes I will have to skip several trains. There are also times when the bike tickets for the day are all sold out. Then I will use my contingency: bike carry bag.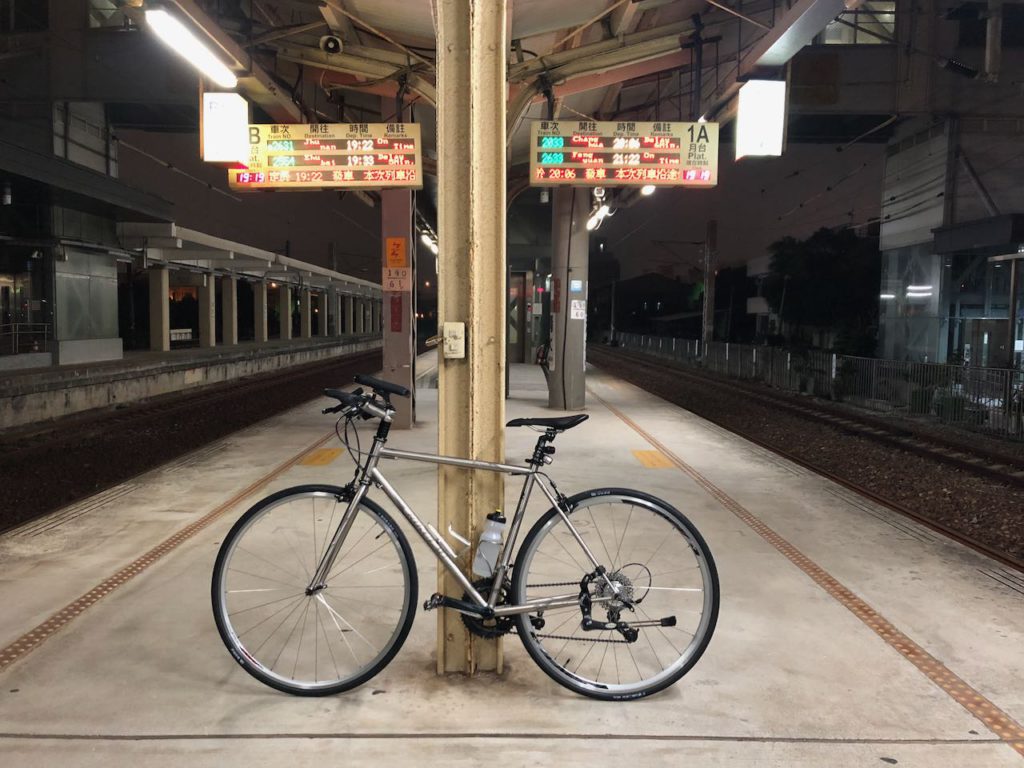 Express Trains
Some Express Trains will also take unbagged bikes. There are designated cars with bike racks, where you can safely store your bike while sitting comfortably nearby. There are 15 to 45 racks available, depending on which train you're taking. You can also reserve a bike rack when you buy a ticket. This is certainly the most preferred way to travel with your bike, though these trains run on a rather infrequent schedule and the number of racks available is limited.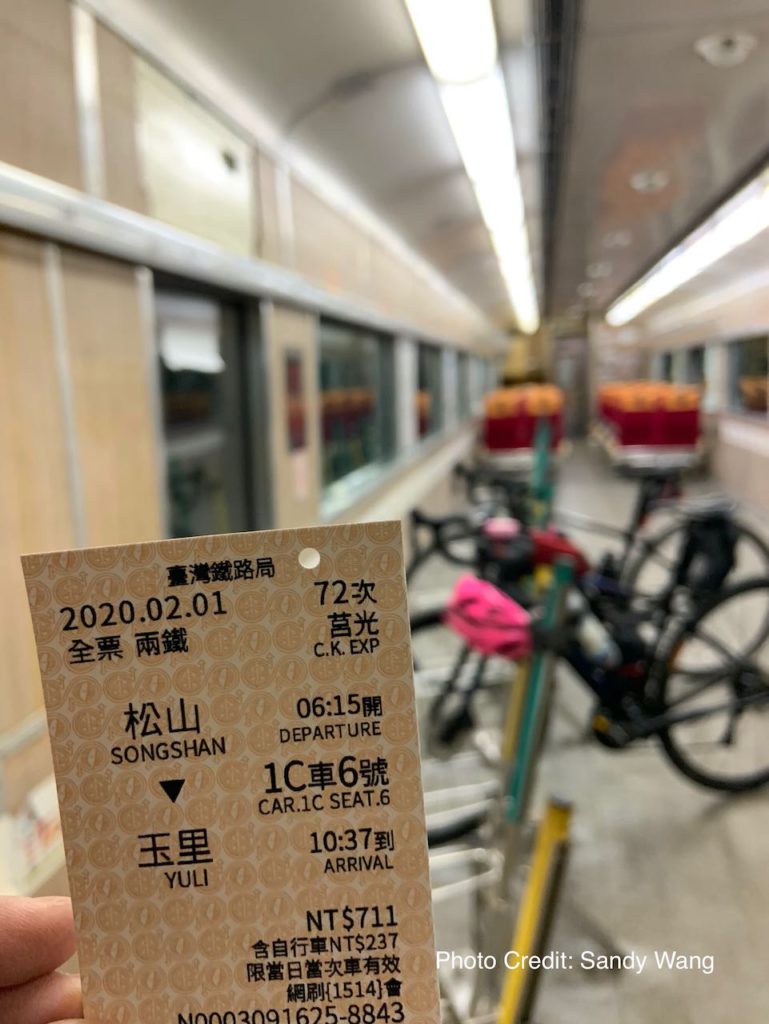 Here is a list of the relevant train numbers. Unfortunately the information is only available in Chinese. I will show you later how to search for the train schedule on-line.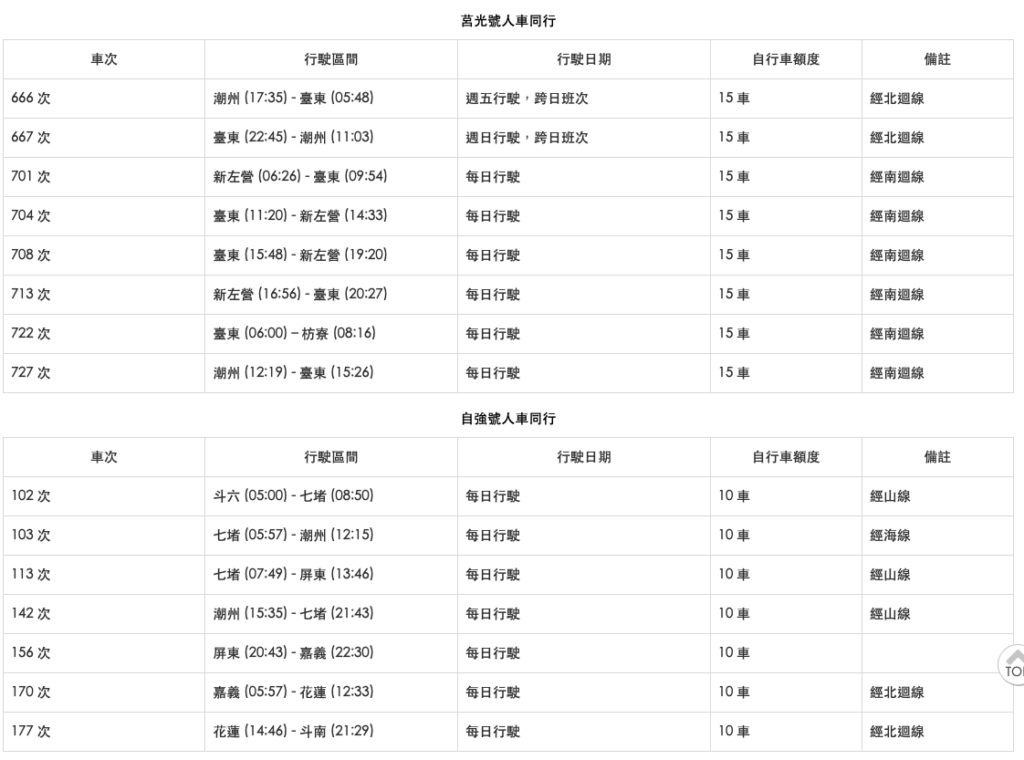 Drop off your Bike in Station A and Collect It in Station B (Checked Bicycles)
About 50 train stations scattered around the island provide shipping service for personal luggage at a very reasonable price. Bikes are deemed personal luggage. It usually takes a day for your bike (and any luggage) to get to its destination, ready for you or the receiver to collect. Free storage for up to 2 days is offered. A nominal fee will be charged daily from the third day onward if the bike/luggage is not picked up in time. The Luggage Centre/Room 行包中心/行李房, where this service is provided, is not always located in the main building of the train station. But you can always ask the staff for directions. Here I have marked all the stations that provide such services with the truck icon.
(Last update: 29 November 2022; for most up-to-date information, please visit Taiwan Railway Administration's official website)
List of train stations where the checked bicycles service (shipping bicycles by train) is available
Northern Taiwan
Keelung 基隆
Qidu 七堵
Songshan 松山
Wanhua 萬華
Shulin 樹林
Taoyuan 桃園
Zhongli 中壢
Yangmei 楊梅
Hukou 湖口
Zhubei 竹北
Hsinchu 新竹
Nan'ao 南澳
Dong'ao 東澳
Su'ao 蘇澳
Su'aoxin 蘇澳新
Luodong 羅東
Yilan 宜蘭
Shuangxi 雙溪
Ruifang 瑞芳
Central Taiwan
Zhunan 竹南
Yuanli 苑裡
Dajia 大甲
Qingshui 清水
Shalu 沙鹿
Changhua 彰化
Yuanlin 員林
Tianzhong 田中
Ershui 二水
Linnei 林內
Douliu 斗六
Dounan 斗南
(Update in Oct 2023: Bike shipping service is currently suspended in Tianzhou 田中 station as construction work is underway)
Southern Taiwan
Dalin 大林
Chiayi 嘉義
Xinying 新營
Longtian 隆田
Shanhua 善化
Tainan 台南
Gangshan 岡山
Nanzi 楠梓
Fengshan 鳳山
Pingtung 屏東
Chaozhou 潮州
Linbian 林邊
I love this service! It gives me lots of flexibility. When I was doing my first cycling trip in Taiwan, I was not sure how far I could go. But with this service, I was given the option of sending the bike back to Taipei and continuing my journey as a regular tourist whenever I felt like it and could make it to one of those stations. I was also able to temporarily get rid of some of the stuff and souvenirs that I didn't need during the trip, and got them back at my convenience.
But if you are planning ahead, I would strongly advise you to first call the Luggage Center/Room that you mean to use, to make sure they can ship your bike on that particular day. The shipping service for bikes may become unavailable when the trains are expected to be very busy and crowded, e.g. at Chinese New Year Eve. There is no harm in double checking.
Information for Cyclists on TRA's website
The English version of the TRA's website does not always have a permanent link for each page. That means, to reach the information we need, we sometimes have to navigate all the way from the top.
Here is how you can navigate to the pages about services for cyclists. Screenshots below are captured on mobile, but the same goes for the desktop version.
1. Tap on this link: https://tip.railway.gov.tw/tra-tip-web/tip?lang=EN_US; it should bring you to the English version of the TRA website.
2. Tap open the navigation menu and tap to expand the "Tour package booking", where you can access the "Bicycle-friendly train" page. If you are browsing on desktop, look for "Tour Ticket" on the navigation bar instead to access that page.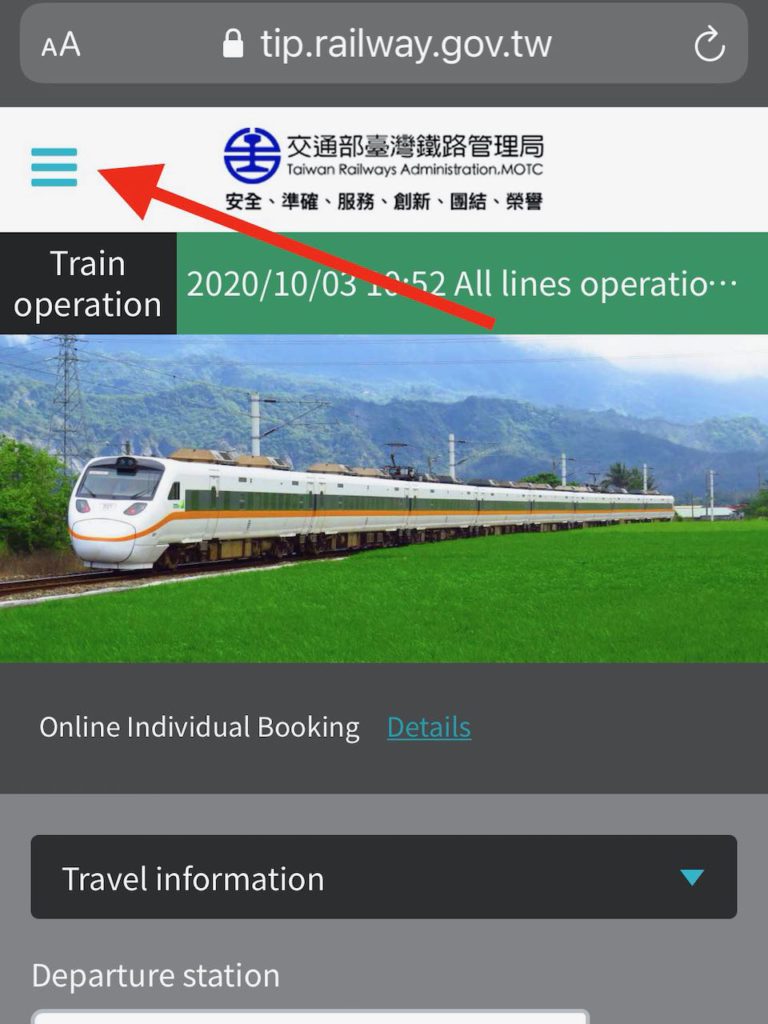 3. On the "Bicycle-friendly train" page, you can find 3 sessions that detail the services I mentioned above, including:
Bicycle Boarding (Unbagged Bike onto a Train)
Checked Bicycles (Drop your Bike in Station A and Collect It in Station B).
Carrier bag (Bag Your Bike and Board Any Trains). More information about the requirements for the bike bags is available here.
For the 4th item, Bicycle-friendly train, I'm afraid I have zero experiences to share with you as this is for reserving a whole car for bicycles.
How to check vacancies for bicycles
On the "Bicycle Boarding" page, you can find detailed instructions regarding Express trains and Local/semi express trains. Tap on "Bicycle vacancies inquiry" to check for the trains that carry unbagged bikes and the availability of the tickets.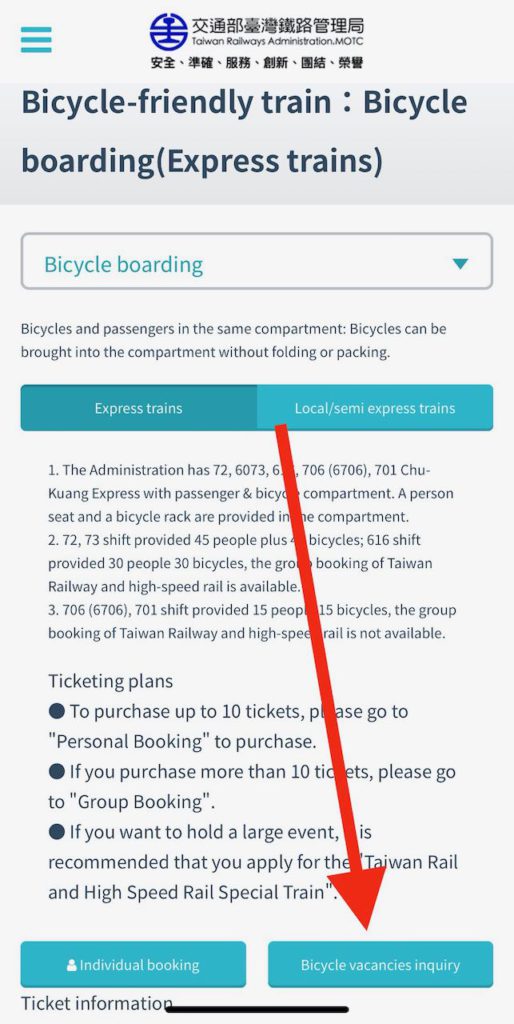 Don't be deterred by the two buttons with overlapping texts. To search for express trains, tap on the left button; to search for Local/Semi Express Trains, tap on the right. Please note that there are more Local/semi express trains for unbagged bikes and they stop by smaller stations.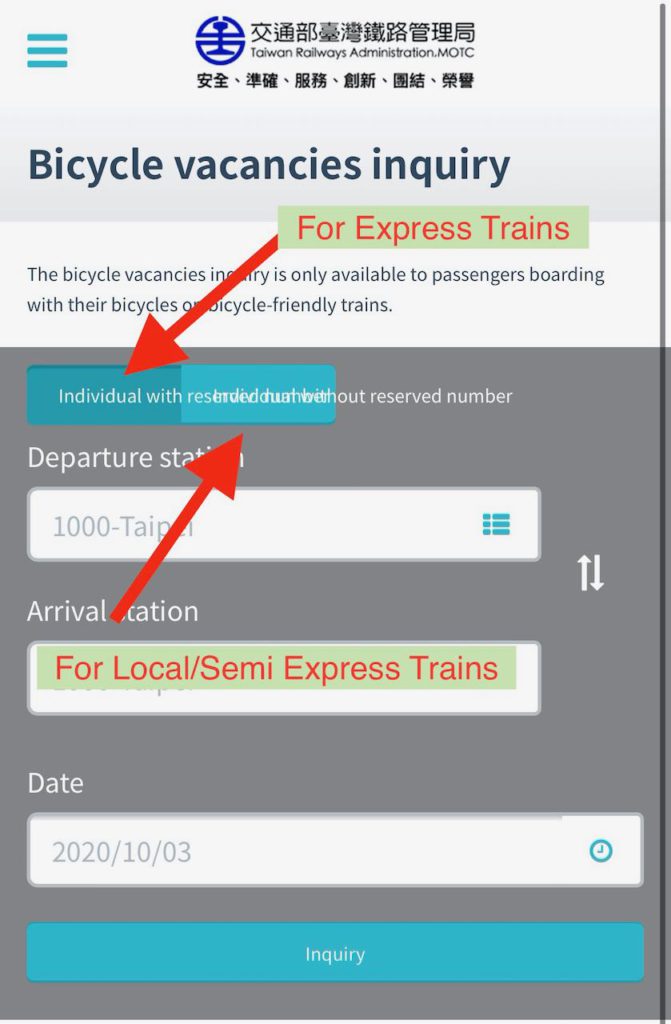 For example, when I searched for Express trains that depart from Songshan and arrive at Taichung on 8 Oct 2020, I got two results. You can see there were "10 empty seat" available for bicycles. Tap on the grey button that says "訂票" to book your tickets. You will be asked to provide your passport number and you'll also need to present your passport to collect the tickets.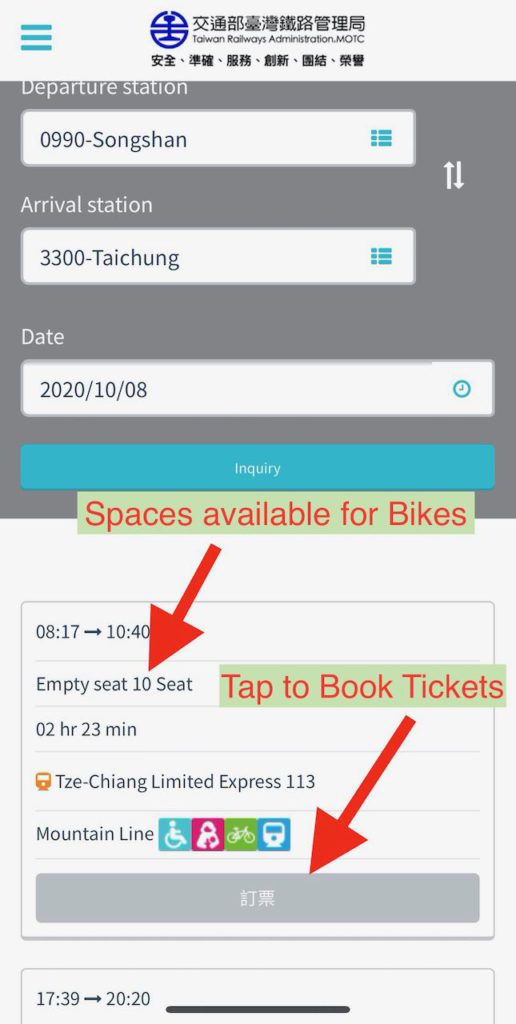 A search for Express trains from Songshan to Xinwuri on 8 Oct 2020 gave me the result of "No data found", meaning there is no Express train connecting the two stations. You may need to try other combinations.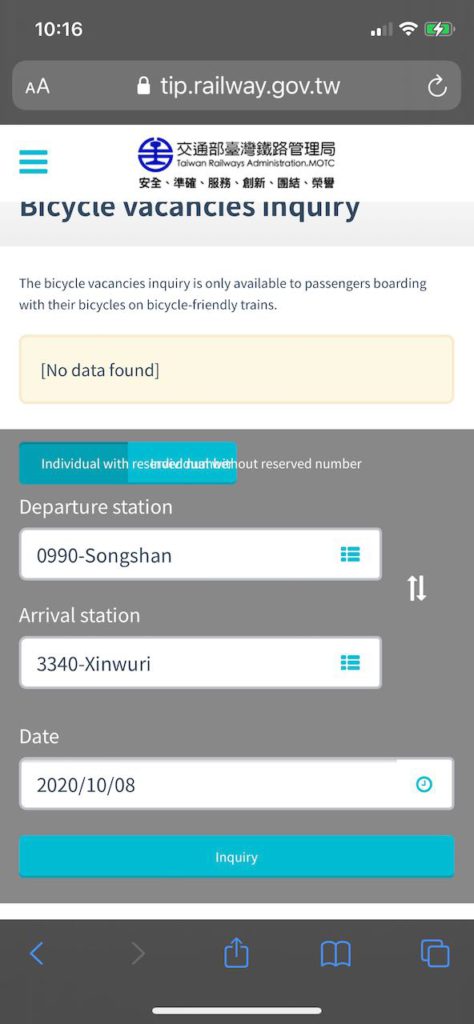 Tap on the right button for Local/semi express trains. There are 24 results for my search of trains from Songshan to Yingge on 8 Oct 2020. No button for on-line booking. We can only buy the ticket 3 days in advance the earliest at the station.