I went cycling from New Taipei's Tucheng (土城) to Dongyanshan (東眼山; literally "Eastern Eye Mountain") National Forest Recreation Area in Taoyuan County with a small group of friends on a Sunday in September 2020. It was a 71km loop with the maximum elevation of 913m, plotted by Sandy Wang, a cycling enthusiast. The starting point, and also the end point, is at the southern terminus of Taipei Metro's Blue Line, Dingpu Station. The downloadable GPX file of this cycling route is at the end of this post.
I took the earliest metro with my bike from home and arrived at Dingpu before 7:00 am. There were already some other cycling groups gathering outside the convenience stores, of which you can be pretty sure to find one or two within the proximity of MRT stations, train stations, etc. We then had a quick breakfast and set off on Provincial Highway No. 3.
Traffic was not very busy but there was some overhead road construction work going on along the route. It got quieter and the air became fresher as we headed into the valley on Township Road TP110 and TP TP114 (shown on Google Maps as 北110 and 北114 respectively). I loved this route already.
After crossing a small bridge, we switched to Provincial Highway 7B (Shown on Google Maps as 7乙). This is the Northern Cross-Island Highway (北部橫貫公路/北橫), which is one of the 3 Cross-Island Highways (橫貫公路) that could bring you to the other side of the island by climbing over the Central Mountain Range 中央山脈, and this is one of the favorite highways among cyclists and motorcyclists. We soon left the highway by turning into a small road to take a look at an old small church built by the local Atayal tribe, Jiguopai Church. Some pictures of the Jiguopai Church here.
We had to get off our bikes midway and push them uphill because it was too steep to cycle. We heard dogs barking somewhere nearby. We made sure to stay on the road and not to step into their territory. We then met a young guy heading towards the same destination, who stopped to ask us direction. He was doing the around-the-island on his motorbike. We knew this because he had a foam board on his back showing his progress. To cheer him on and to show support, a breakfast shop owner had given him more sandwiches than he could finish before they went bad. We had the honor and pleasure to share some.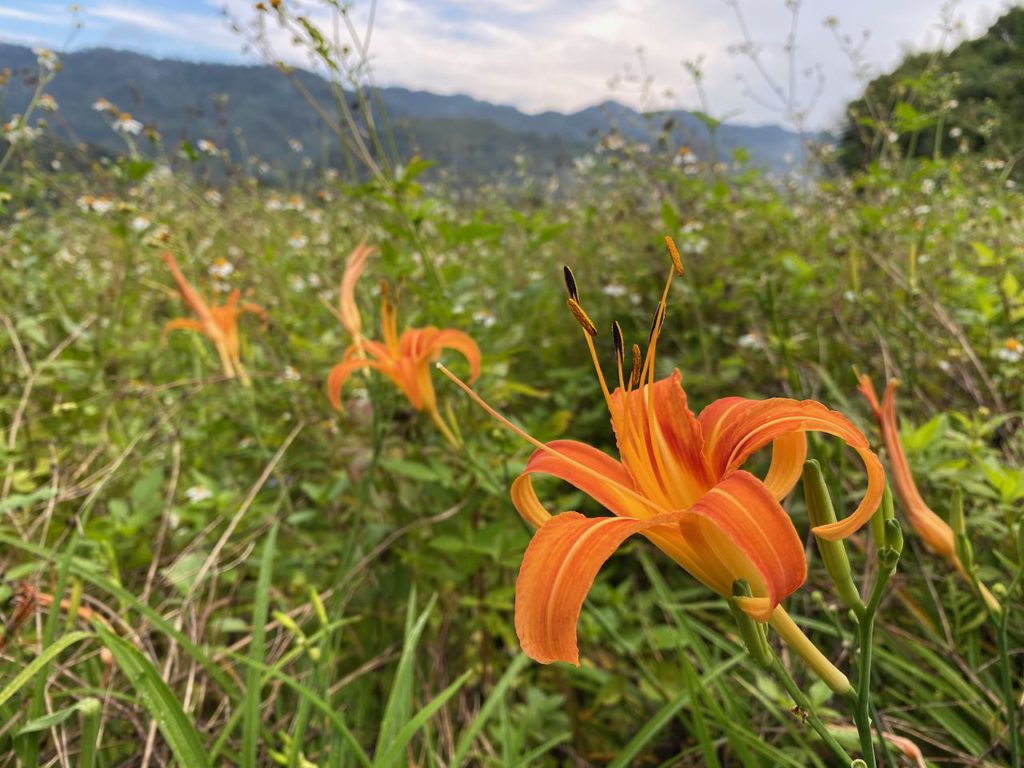 Unfortunately, when we arrived at the church at last, we found it closed temporarily but without a solid plan as to when to open again. So, before you can be certain that it is reopened, if you are going to follow this route, it may be a good idea just to stay on Provincial Highway 7B and instead pay a visit to the Daxi Tea Factory (大溪老茶廠) enroute before heading for the next stop.
The next stop, a small town named Fuxing (復興), is where you can get a cup of nice peach smoothies and a roasted pork sausage seasoned with May Chang or Maqaw, a special kind of pepper. The peach smoothies store that sits right opposite the Jieshou Elementary School (介壽國小) offers unlimited refills for people with cycling outfits. Getting a refill there was on the bucket list of a member in our group. She had one item ticked off that day.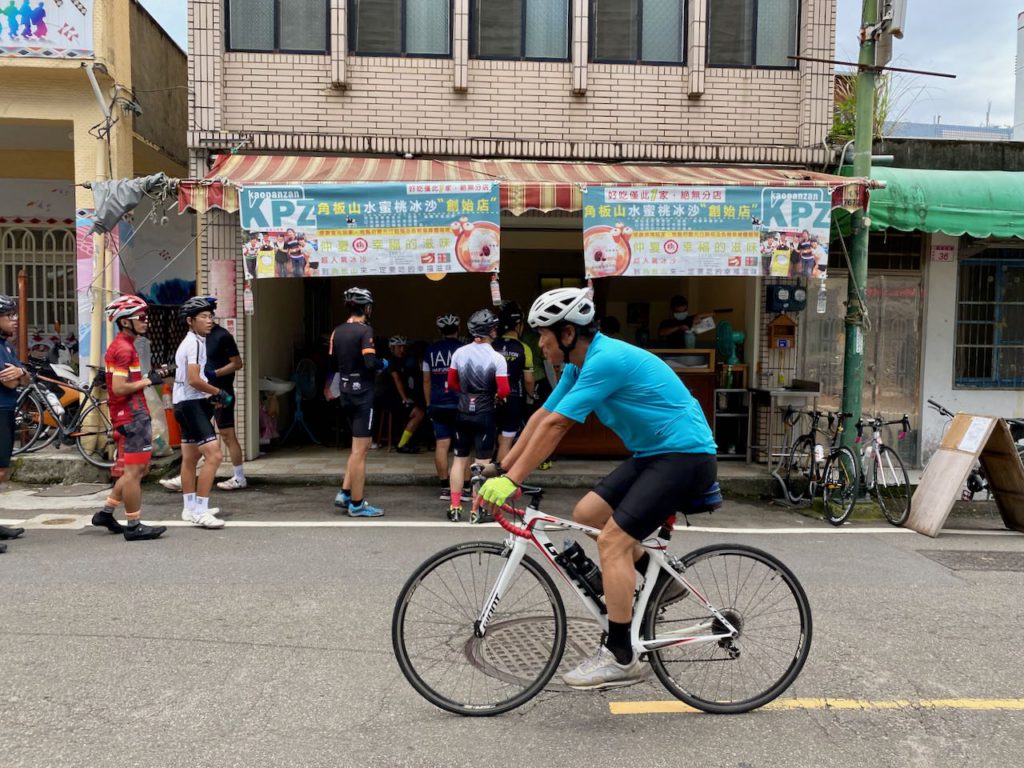 After the treat, we were back on Provincial Highway No. 7 and then switched to County Highway TY119 (shown on Google Maps as 桃119) for the last climb to Dongyanshan. TY119 is another nice route to climb: quiet with fresh air, lots of shades, and well maintained road surfaces.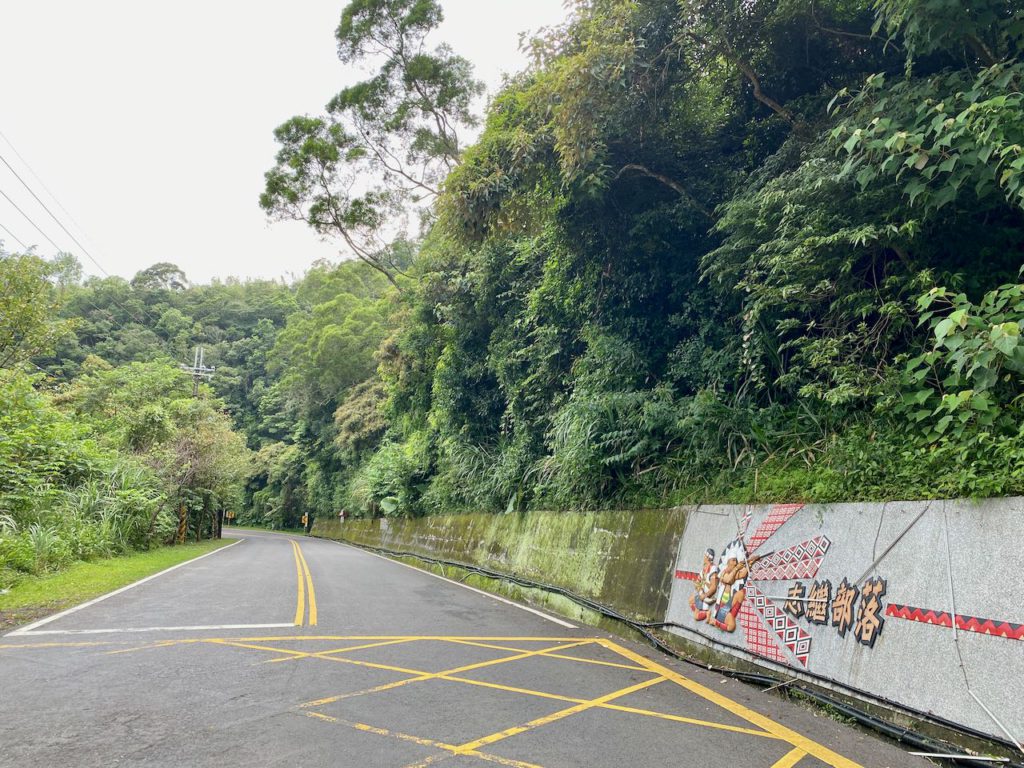 As we were getting closer to the top, the slope became milder and the dense vegetation disappeared, replaced by a vast view of the mountain ridges. We reached a gate (altitude 913 m) leading to the recreational area. An entrance fee of NTD 100 per head will be charged. There is a viewing platform at the peak (altitude 1212m) around 4 km from the gate. But unfortunately, the hiking trails in the paid area are not cyclable. We were also told that we could not push bikes into the paid area, where there was parking space for cars, which seems really unreasonable for me. Although there was a rack for parking bikes outside the gate, we did not want to leave our bikes unattended for hours. So, we decided to call it a day and started our return leg.
We were back at a Y- junction, supposedly with County Highway TY119 on the left and County Highway TP113 on the right. But the road on the right looked so small and rugged that we wondered if that was really TP113. A cyclist climbing up from that road confirmed it was and the condition was not as bad as it looked outside. We descended 630 metres in 8.7km (average gradient 7.2%) via that road and had lunch in the first restaurant we saw. The descent was so quick that I had to equalize pressure on either side of the eardrum.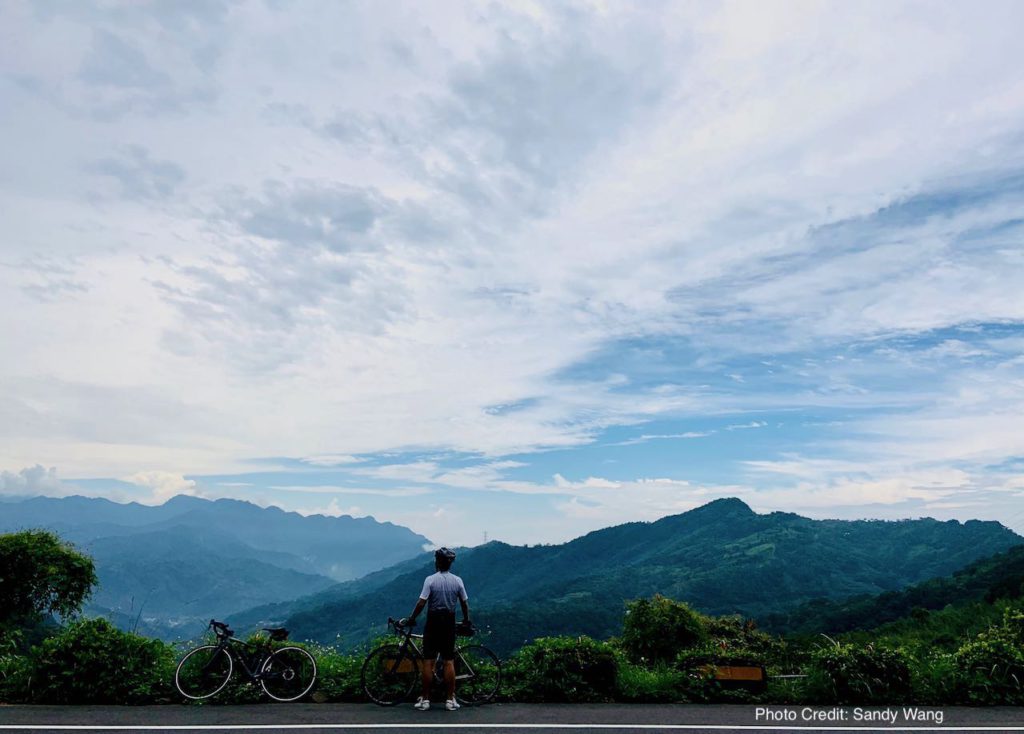 Then it was a straightforward way back to Dingpu for an MRT ride home.
I would suggest avoiding using this road for descent when it is wet because I saw some residue of mosses even on the centre of the road. That means the road will get really slippery if it gets wet. It may be a good idea to cycle this route clockwise. The climb would be much harder but the descent would be mild and safer. Dongyanshan is said to be a difficult climb because most cyclists will do it this way.
Follow Up:
We wrote to the Forestry Bureau for the possibility of parking the bikes inside the gate. The message was heard and they will consider doing it.
Routes:
NOTE: To use the routes, please install the App on your smartphone. The App will launch and load the route automatically after you tap the above links on your smartphone's browser. For Garmin Connect, you can then use the APP to send the route to your garmin device. If your Garmin device is not purchased in Taiwan, you will also need make sure you have the Taiwan map on your device. Here is our blog post on this topic.