I had been seeing fellow local cyclists posting accounts and photos of their rides along the route named Xizhi Pigeon 汐鴿展翅, which seems to be lots of fun. I wanted to do it, too. I found the route's gpx on xplova and invited Lois to join me. The downloadable GPX file of this cycling route is at the end of this post.
Xizhi Pigeon 汐鴿展翅 is a 28km cycling route with its starting point at the Nangang Exhibition Center 南港展覽中心 on the east fringe of Taipei City. The maximum elevation of 394.29m at the top makes it a good route for climb training. The route mainly consists of Section 1 and Section 2 of Jiuzhuang Street 舊莊街, Xiding Road 汐碇路 and Xizhi Keelung Riverside Bikeway 汐止基隆自行車道. Upon completion of the route, you will draw a pigeon with spreading wings on the map of your GPS tracking app.
To get to the starting point with your bike, you can either take MRT to the Nangang Exhibition Center Station on the blue line (ref: Taking Bicycles on the Metro) or simply cycle there via the Riverside Bikeways along the Keelung river, setting your destination as the Nanhu bridge. It is along the route, so you may as well just start there. If you live outside Taipei, you can also get there by taking a train / HSR to the Nangang Station, followed by a short ride.
I took the trip on a Friday morning in April, with me on a Rikulau Audax Hercules and Lois on a Klever Q-Comfort. The traffic soon got much quieter after about 5 minutes' ride from the busy MRT station (Nangang Exhibition Center Station). We could enjoy our ride at our own pace with almost no cars and scooters on Jiuzhuang Street. Some of the slopes were rather steep for me that my heart rate raced up to over 170 bpm. There were tea shops and a tea workshop along the way but I had no mood to stop to explore. It took me about 1.5 hour to reach the top, where a shiny silver sculpture sits. This is the Luku Incident Memorial park and you can find out more about the incident in this blog post.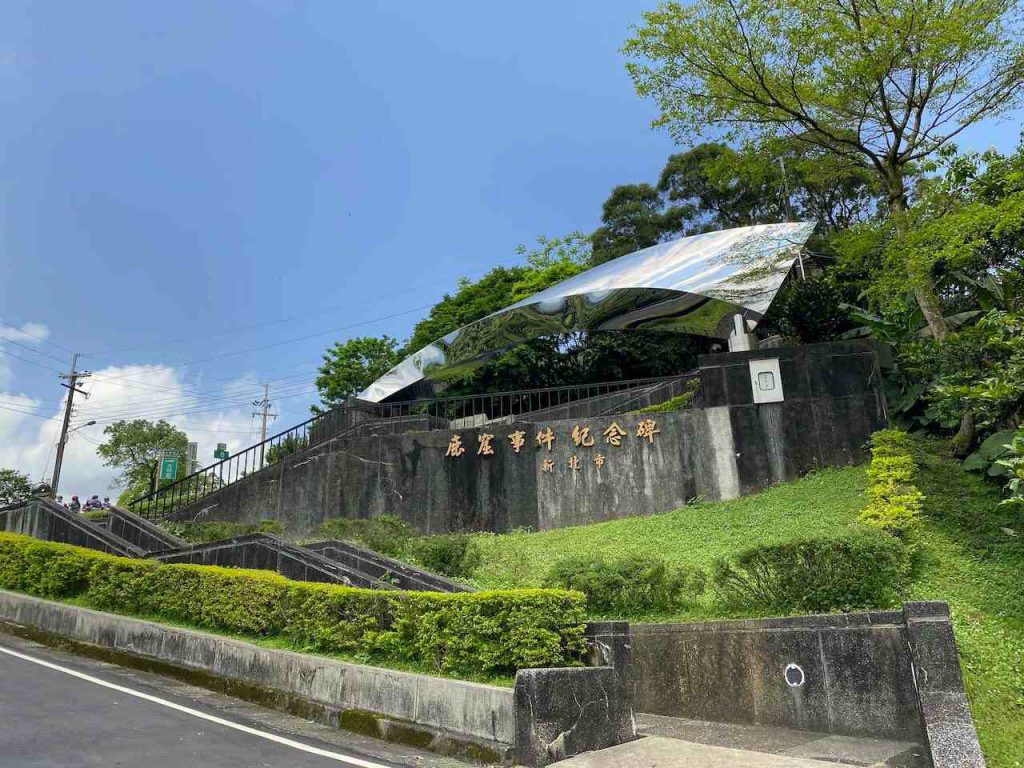 With Velodash turned on to share our locations real time, I left Lois behind briefly to enjoy my speedy descent on Xiding Road. It was less steep and I could enjoy it without having to hit the brake much. I saw carpets of little white flowers spreading along the way. It was so beautiful that I had to stop to take a good look and take some pictures. It occurred to me later that those are the flowers of Tung Trees, which were introduced to the island during the Japanese rule (1895 -1945) for their economical values. The oil from their seeds makes good waterproofing material and paints. The trunks were used for furniture, clogs, toothpicks and matches. They were popular and planted extensively by poor families to supplement their income. Nowadays, local people love the trees for their dense blossoms during April and May. It's dubbed as the May Snow. As beautiful as they are, you'd better not touch them as the whole plant is poisonous.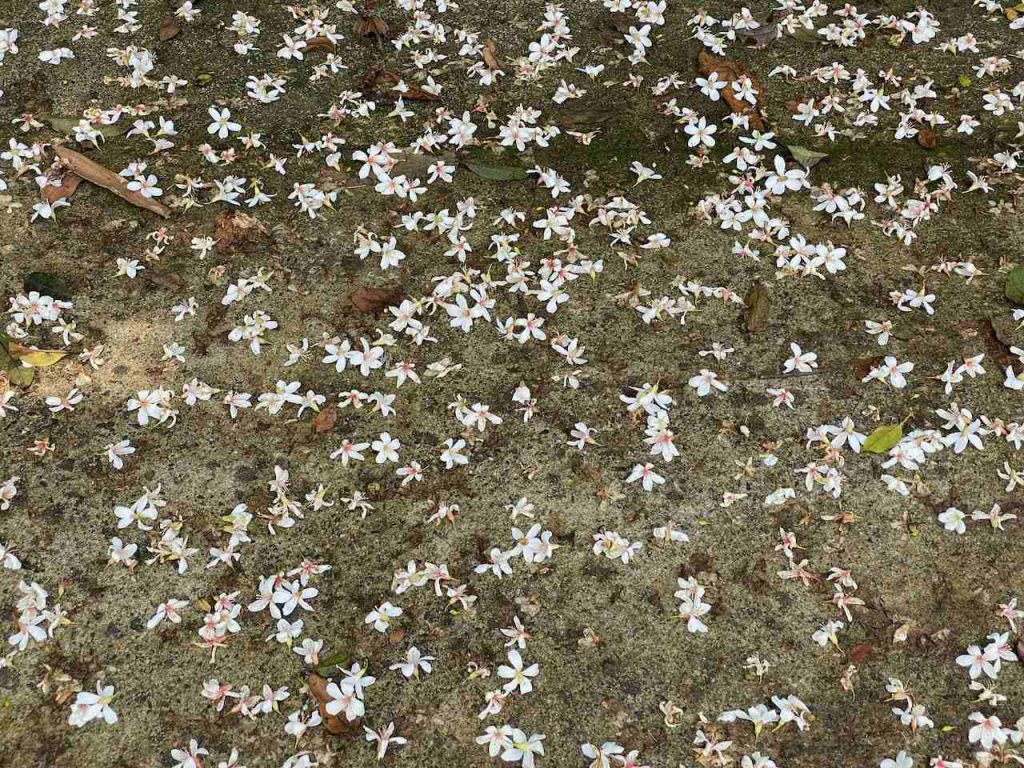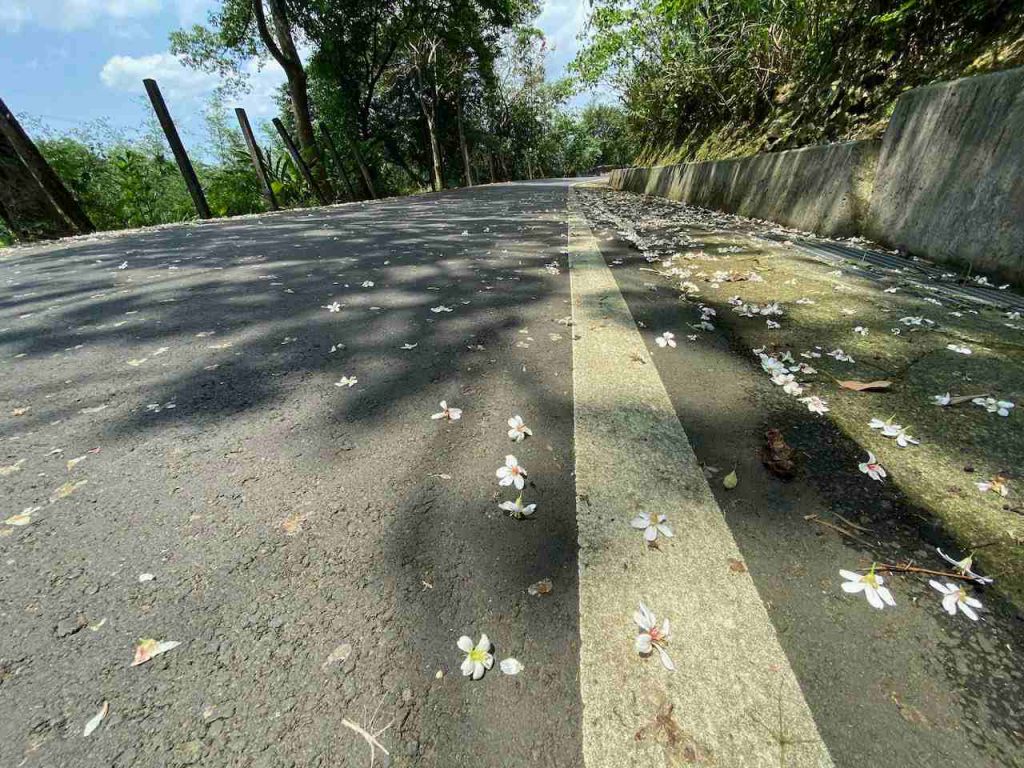 At the bottom end of Xiding Road, we passed a busy juncture and entered the quiet Riverside Bikeways of Xizhi. It's easy to miss the entrance, which is shown on the picture below. Then you will complete the route after riding for around 15 more minutes.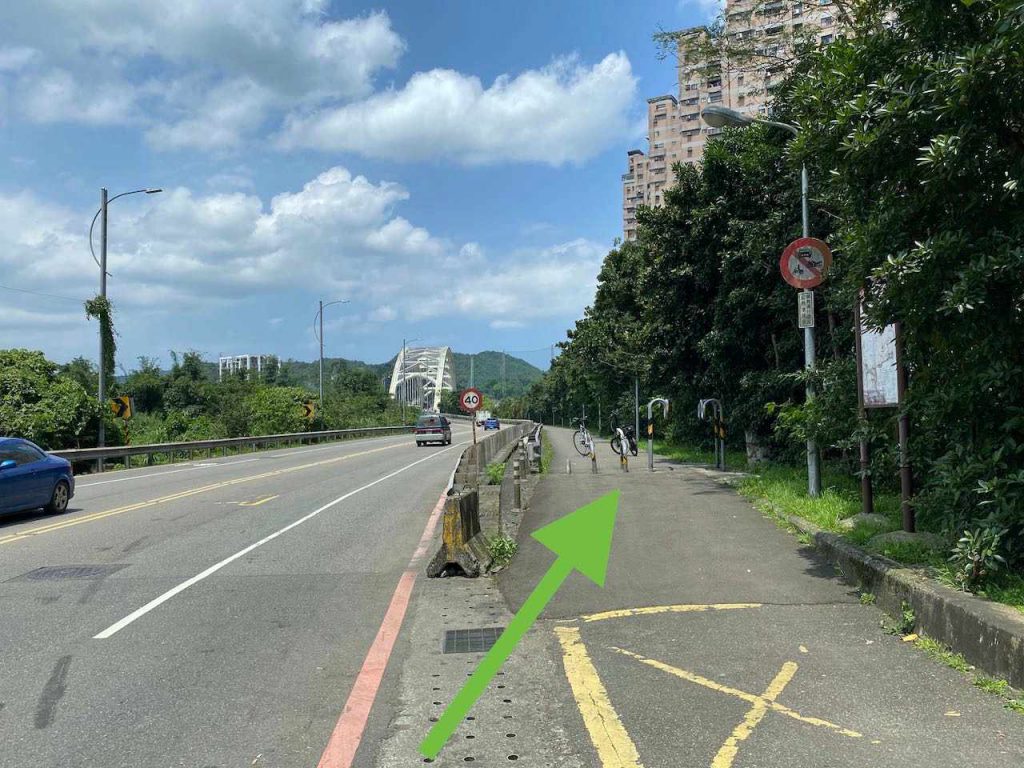 I love this route because its elevation gives me enough training and it offers the reward of a mild downward slope which is perfect for speedy yet unthreatening descent. Traffic on the route is really low and therefore makes it very bike friendly. No wonder we ran into several groups of cyclists even on a weekday.
If you want more climbing after doing Xizhi Pigeon, Fengguizui lookout is just about 13km away via Dahu Street, which offers a 636m climb. GPS route available at the end of this post.
If you want a low-carb meal, an authentic American smokehouse serving juicy brisket, Bogart's Smokehouse, is about 1km away.
For me and Lois, our pick is this local hotpot restaurant that offers all-you-can-eat duck-blood curds 鴨血, braised pork rice 魯肉飯, and free drinks and ice cream along with a very generous portion of meat and veggies in a standard lunch set. That's a very satisfying conclusion for a great ride.
Routes
Xizhi Pigeon
Fengguizui Lookout from Nanhu Bridge
NOTE: To use the routes, please install the App on your smartphone. The App will launch and load the route automatically after you tap the above links on your smartphone's browser. For Garmin Connect, you can then use the APP to send the route to your garmin device. If your Garmin device is not purchased in Taiwan, you will also need make sure you have the Taiwan map on your device. Here is our blog post on this topic.