On a Friday in October 2020, I went cycling from Yingge District 鶯歌 to Yulao Lookout 宇老觀景台 (altitude 1500m) via the Northern Cross-Island Highway 北部橫貫公路 / 北橫, and then descended to Hsinchu High Speed Railway Station 新竹高鐵站. It was a 127km route with a maximum elevation of 1500m, plotted by my friend Sandy, who would be joining a cycling event the next day in Zhudong Township 竹東鎮 with her friend Teresa. The downloadable GPX file of this cycling route is at the end of this post.
She wanted to challenge herself by climbing to the lookout en route. She invited me to join them because the two ladies wanted a guy for company in the wilds. The route looked much like the one we did in Dongyanshan 東眼山, which I had enjoyed a lot. So I immediately said yes without putting much thought into it nor doing any further research.

We took a train from Taipei to Yingge and started our trip there at 7:00 am (more details about bikes on public transportations can be found here). We made good progress and merged with the Northern Cross-Island Highway at San-min before 9:00. Then we had some supplies in the convenience store Hilife at Jiaobanshan 角板山. Toilets are available in the gas station nearby. Beyond this little town, the only supplies available (bottled water and soft drinks) will be from those small stalls outside the settlements of the indigenous tribes along the road. From the two Fuxing Bridges 復興橋, I saw some big trucks on the river bed loading up sand. That explained why there had been heavy trucks passing by occasionally.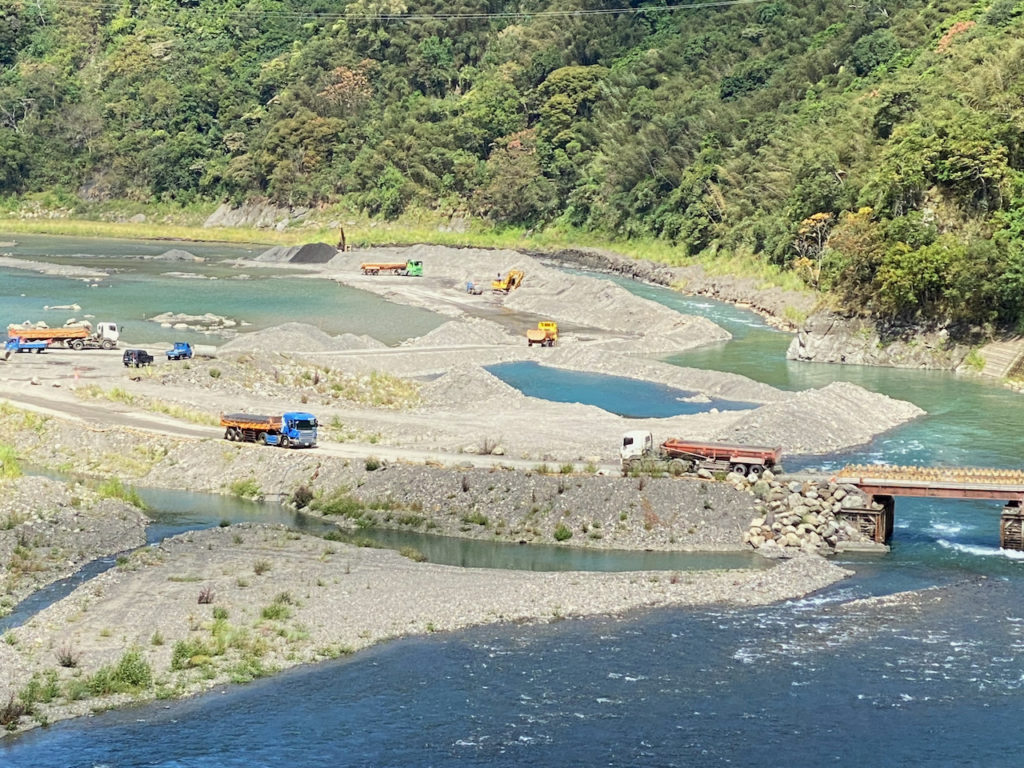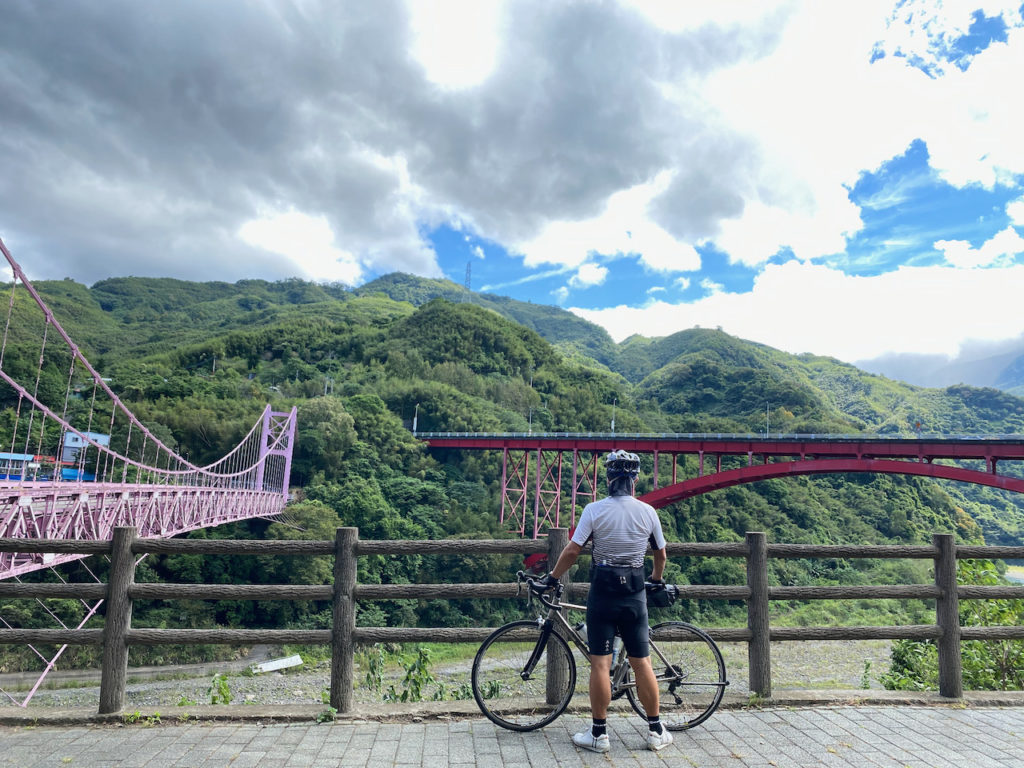 After hanging around there for some photos, Sandy found that she got a flat tire on her tubeless wheel. The sealant inside could only slow down the leaking, so I fixed it by installing an inner tube and at the same time gave the ladies a short course on how to do it. 30 minutes later, we were good to go.
The Northern Cross-Island Highway (Provincial Highway No. 7) linking Taoyuan to Yilan is one of the three cross-island highways that connect the island's east coast to its west coast by climbing over the Central Mountain Range 中央山脈. The other two are the Central Cross-Island Highway 中部橫貫公路 / 中橫 (Taichung to Hualien) and the Southern Cross-Island Highway 南部橫貫公路 / 南橫 (Tainan to Taitung supposedly). While the Central Cross-Island Highway becomes so famous because of the Taiwan KOM Challenge, the Southern Cross-Island Highway is still being reconstructed after damages caused by a typhoon in 2009. Some sections of the highway are reopening and attracting many cycling enthusiasts.
With a total length of 130km and maximum altitude of 1250m, the Northern Cross-Island Highway is so enjoyable and suitable for cycling that I sometimes wonder if it was built especially for bikes. Road surfaces are well maintained except for some sections with the hazard of falling rocks.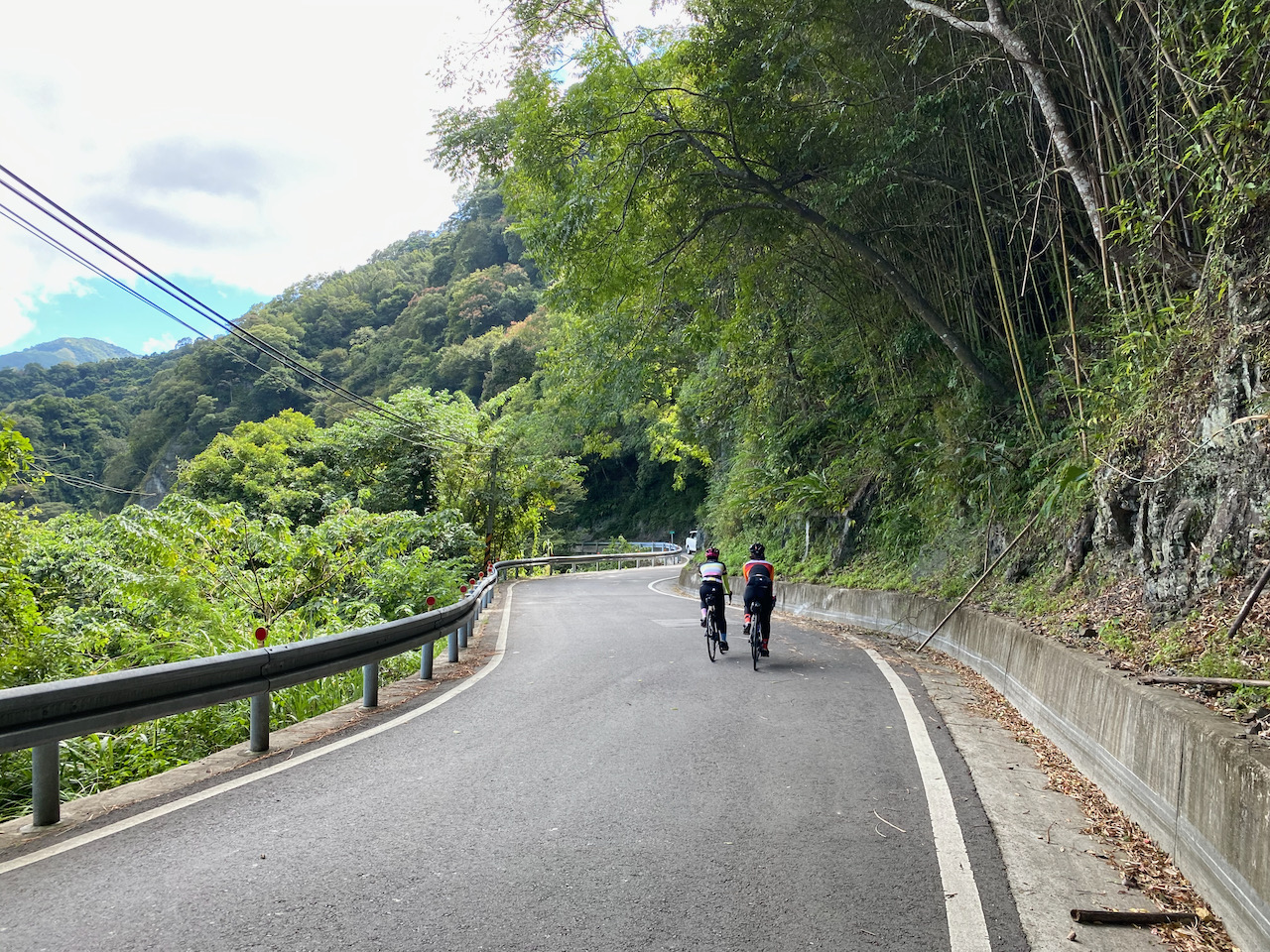 We had a great time cycling in the gorge and reached a junction called Sule 蘇樂 for lunch before 14:00. The small restaurant there was open and serving hot meals. Lucky! At that time, we had covered 53km and reached 660m altitude without spending too much effort on climbing. Yulao Lookout was around 25km away and there was around 900m to climb. And once we reached the top, we just needed to glide back to the ground level without pedalling.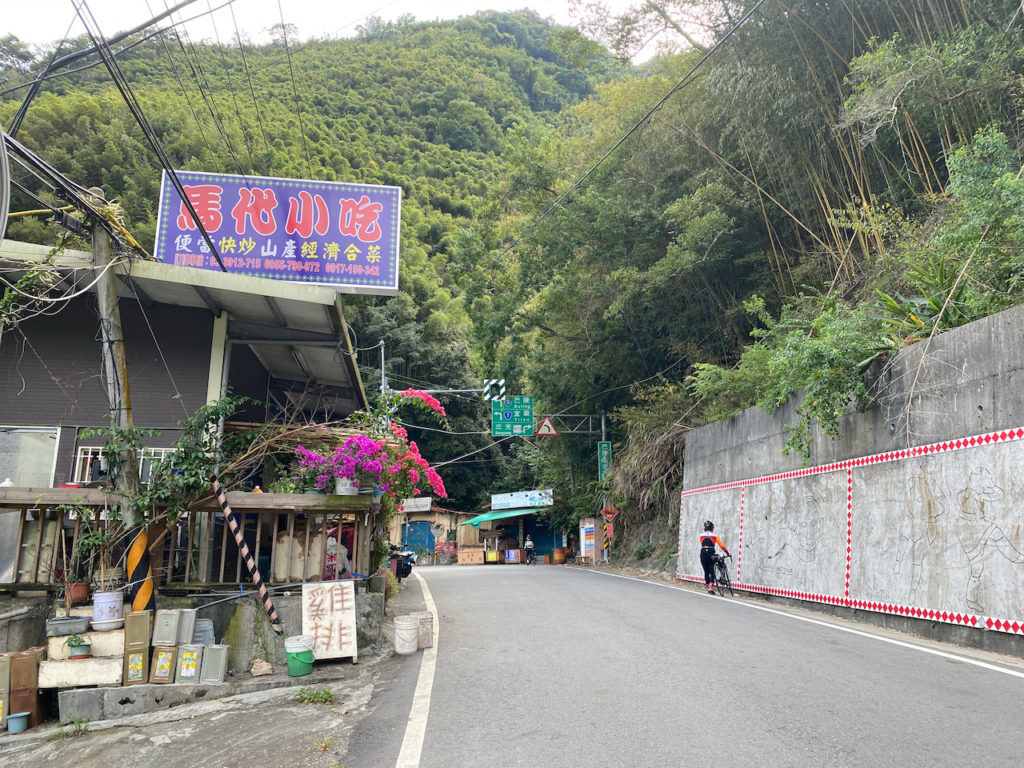 After lunch, we left the Northern Cross-Island Highway and turned to Yufend Road 玉峰道路 (TY113 or 桃113 and then 竹60-1 or HC60-1) for Yulao Lookout and then Zhudong Township, the east fringe of Hsinchu. The views were even better and we had the whole route to ourselves. Sandy was in the mood of taking short detours to find indigenous tribes settlements and take photos for her social media account. I told Teresa that we might have to descend from Yulao Lookout in the dark because the sun sets around 17:30 in October.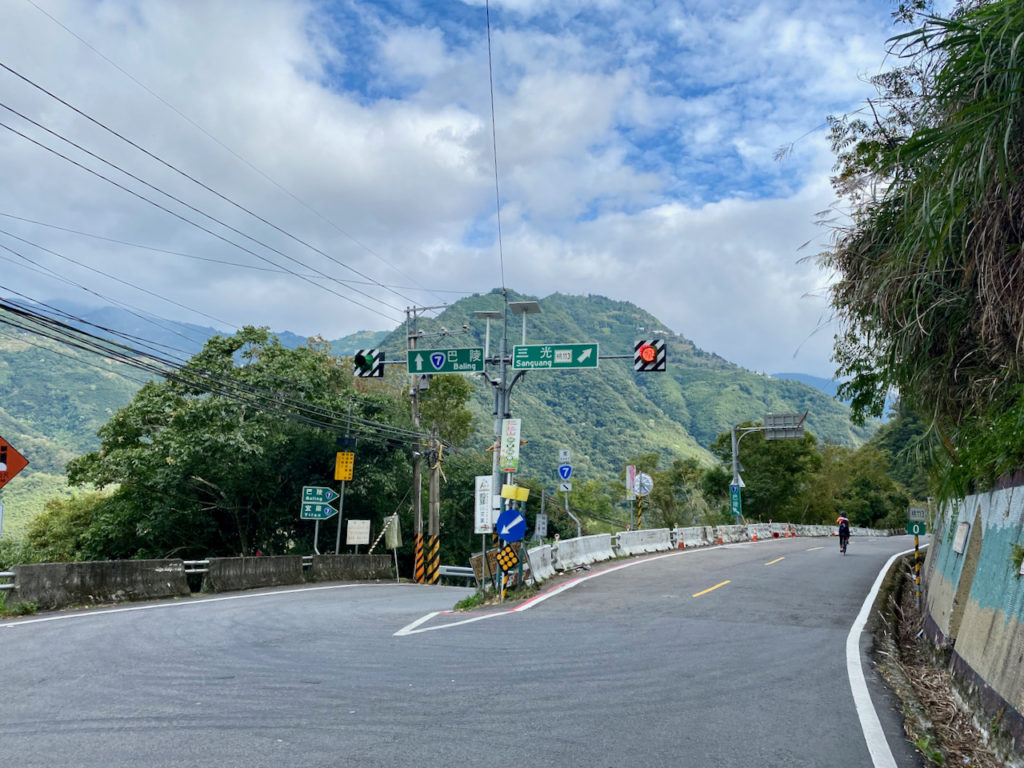 The mild slopes in front of us fooled us into believing that the route ahead would be easy. Then, we hit the real climb after Yufeng Bridge 玉峰橋. It is a 750m gain in 10km to reach Yulao Outlook, an average gradient of 7.5%. We had long passed the point of no return. We had no choice but to keep going. I was not worn out yet but I needed to get off and push the bike half the time. I needed to be conservative lest I got spasm on my legs. We finally made it to the top to catch the last glimpse of sunlight at around 17:45. All the stalls were closed. Even the police station was vacant.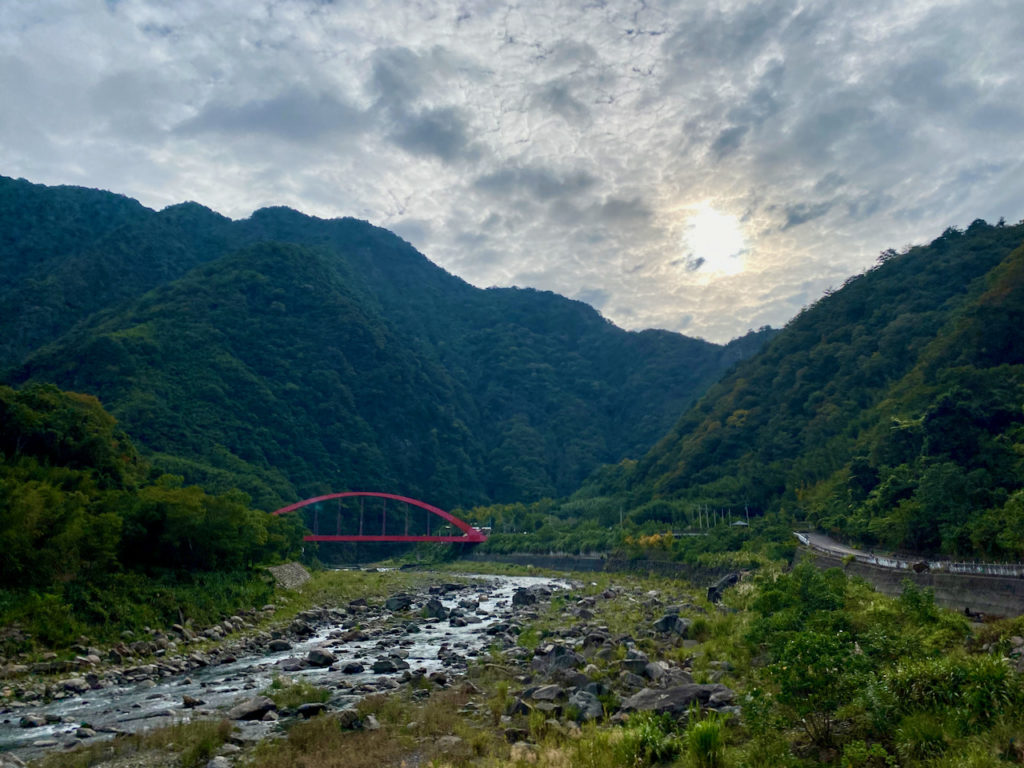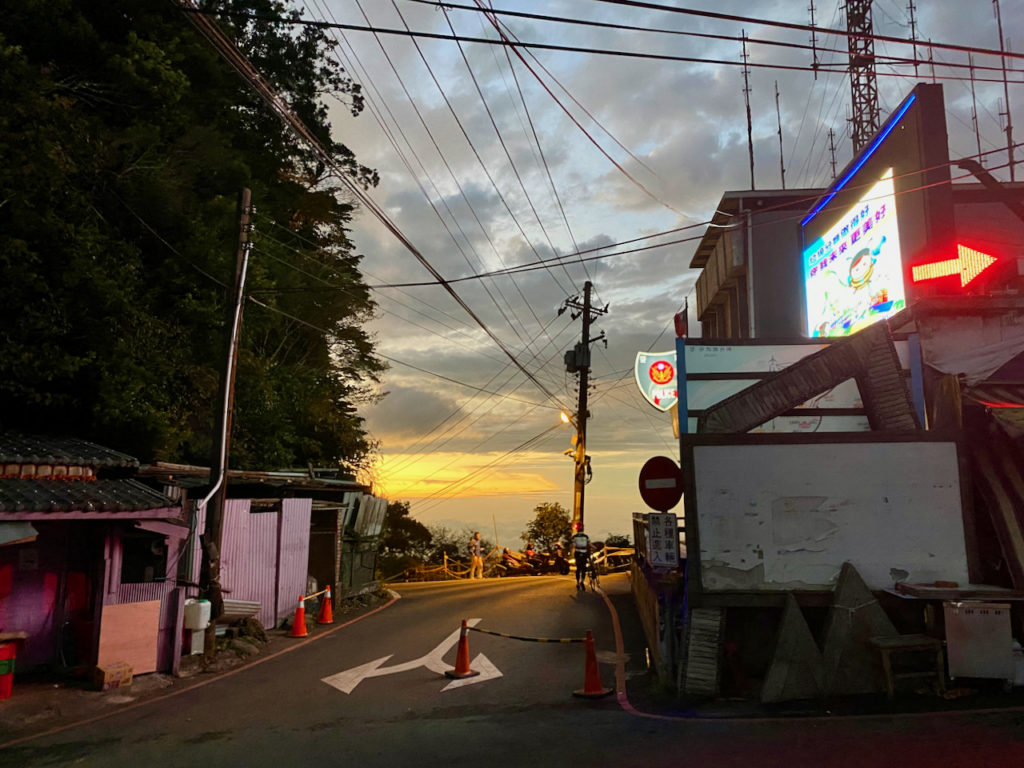 Then it went dark completely when we started to descend. The 20km of 8% downhill slope ahead was not lit. The countless hairpin turns made the descending even trickier. We had bike lights but they could not light up the road far enough. If we went too fast we would not have enough reaction time and could have thrown ourselves into the bush or rocks on any one of the sharp turns. On the other hand, my inability to descend with my hands on the drops had created another problem. I have only been using drop bar road bikes for less than 2 years. I can only do a decent with my hands on the hoods, where the braking leverage is substantially less than that on the drops. Therefore I had to squeeze the brakes very hard to limit my speed because of the slope and poor lighting. Soon I was losing my gripping power. We had to take breaks regularly for my hands to recover. The effortless downhill dive I had imagined turned out to be a survival challenge. There were cars passing by though I had no idea where they came from. One gentleman rolled down his window and yelled "Jiayou 加油" at us to give us some moral support. Thank you! That really helped. I meant it. At least he did not say that we were stupid.
Sandy was not bothered by the aggressive downhill slope even though she could only cycle with her hands on the hoods, too. It's probably because she weighs around half my weight. Less braking force was needed to control the speed. But she started to worry about the lights. We did not expect to be stuck in the mountain like this and we did not know how long the lights would last because we could not recall when was the last time we charged them. Anyway, this was just a potential problem. We should focus on getting back to the ground level. After something like forever, we finally saw a betel nut stall, the first sign of civilization. I stopped to buy a bottle of water just to reconnect with other human beings. The road was still not lit but the slope got milder which was easier to handle. Then, we were back to those well lit county highways and were able to pick up some speed to get to Zhudong Township, where the two ladies would stay overnight for the event next day.
After a quick dinner, they went to collect their luggage from a convenience store before checking in to a hotel. They used the courier service of the convenience stores to send their stuff over so that they wouldn't need to carry the luggages while cycling. For me, there were buses bound for Taipei that could take my bike, but I decided to take the High Speed Railway instead because it is much faster and I live close to one of the stations in Taipei. So, I hopped on my bike and cycled 12km more to the Hsinchu HSR station. When I reached the station, it was around 3.5 hours after we left Yulao Lookout. In an hour, I would be home.
It is an unforgettable cycling trip. I will definitely try to complete the Northern Cross-Island Highway in the future. But we have to be more careful when planning for a long cycling trip in an area where the population is so sparse. We were really lucky this time. There were many things that could have gone wrong. What if the restaurant was not open? We would have to climb with empty stomachs. What if it got cold and wet when we were heading down from the top? Our fingers would have been frozen and unable to control our speed. What if either one of our lights were out of battery…
Be well prepared. I don't just mean your bike, but also your muscles. Fuel them with plenty of carbohydrates. Don't follow your friends blindly. They don't know your limits. Study the route beforehand and plan your time carefully. This is a lesson I learned from this trip.

Routes:
NOTE: To use the routes, please install the App on your smartphone. The App will launch and load the route automatically after you tap the above links on your smartphone's browser. For Garmin Connect, you can then use the APP to send the route to your garmin device. If your Garmin device is not purchased in Taiwan, you will also need make sure you have the Taiwan map on your device. Here is our blog post on this topic.
Afterwords
After writing this post, I learned the story about Daniel Greenhoe, an American PhD student studying in Hsinchu years ago, who once volunteered to teach English in a small primary school in Shihlei 石磊, after learning that the school was struggling to find an English teacher to teach the kids of the indiginous Taiya tribe. He started to travel the 60km with 1700m of climbing in the small hour of every Monday for 3 years. The vehicle he used was a mountain bike. The route he climbed was the one that had freaked me out when I was descending.
More details here:
https://www.taipeitimes.com/News/taiwan/archives/2006/01/17/2003289400