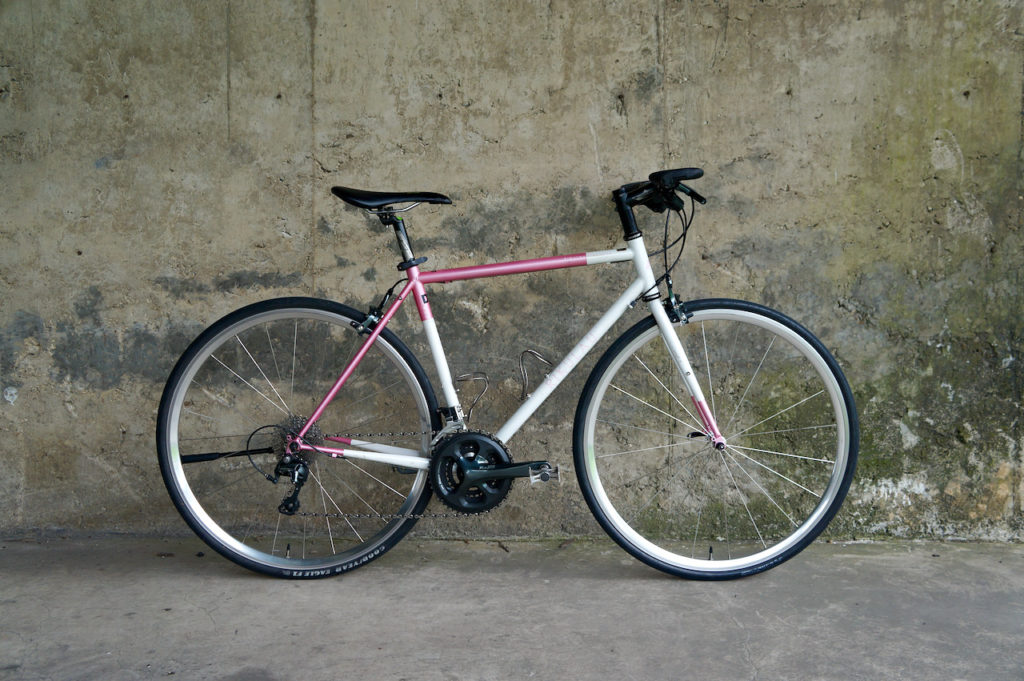 Audax Hercules from Rikulau, a flat bar road bike, is the most popular model in our fleet for multi-day cycling trips in Taiwan. I have been using one for more than a year now mainly to explore cycling routes in Taiwan, and also very intensively in Nov 2020 for a 360 km within 20 hour challenge that goes from from Taipei to Kaohsiung.
Here is an introduction of some of the features of Audax Hercules.
Frame
The frame is made of Rikulau's Hercules steel tubeset, which belongs to the 4130 Chromoly family. Chromoly steel is light and strong. While it flexes well and absorbs unpleasant shocks and vibrations, it maintains its forms, making the bike durable and easily remain at its peak performance even after numerous, prolonged heavy uses.
According to Rikulau, The raw material of the Hercules steel tubeset is from the renowned Nippon Steel (Japan). Precision extrusion, heat treatment and all other processes are done in Taiwan to assure the precision level required by Rikulau is achieved.
The frame size available in our fleet ranges from XXS to XL with effective top tube length from 495mm to 570mm. If your height is 150cm or more than 185cm, you will find a bike with the correct size for you.
The geometry of the Audax series is optimized for comfortable long distance rides, and our fleet of Audax Hercules is specifically configured to adapt to the different road surfaces and terrains in Taiwan, which makes them ideal for exploring the island.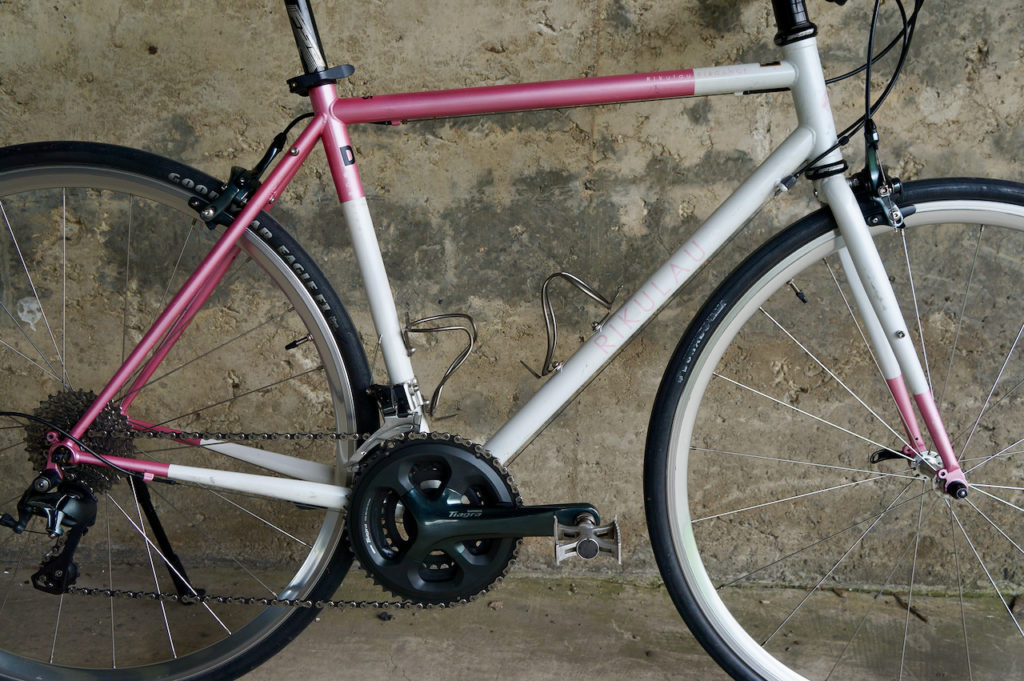 Wheelset
The 700c wheelset is strong and can carry around 100kg of loading. The tyre width of 25/28c enables the bike to run efficiently on most cycling routes in Taiwan, mainly consisting of intracity and intercity roads and designated bike trails. They are usually paved with asphalt or cement, both perfect matches for road bikes. But some segments may get damaged because of weather or heavy uses, and are not always repaved in time. There are also segments of roads that are decorated with wood stripes or bricks, making them rather bumpy. That's why we err on the wider side of the tyre width.
We use clincher tyres (with inner tubes) for easier and quicker roadside fixes in the case of punctures. Replacement tools and spare tubes are included in our rental package. But we hardly have any clients returning with punctured tubes because those tyres are puncture resistant.
The wheelsets are attached to the bike with quick release skewers so that you can remove the wheels and bag your bikes easily when boarding public transportation in Taiwan.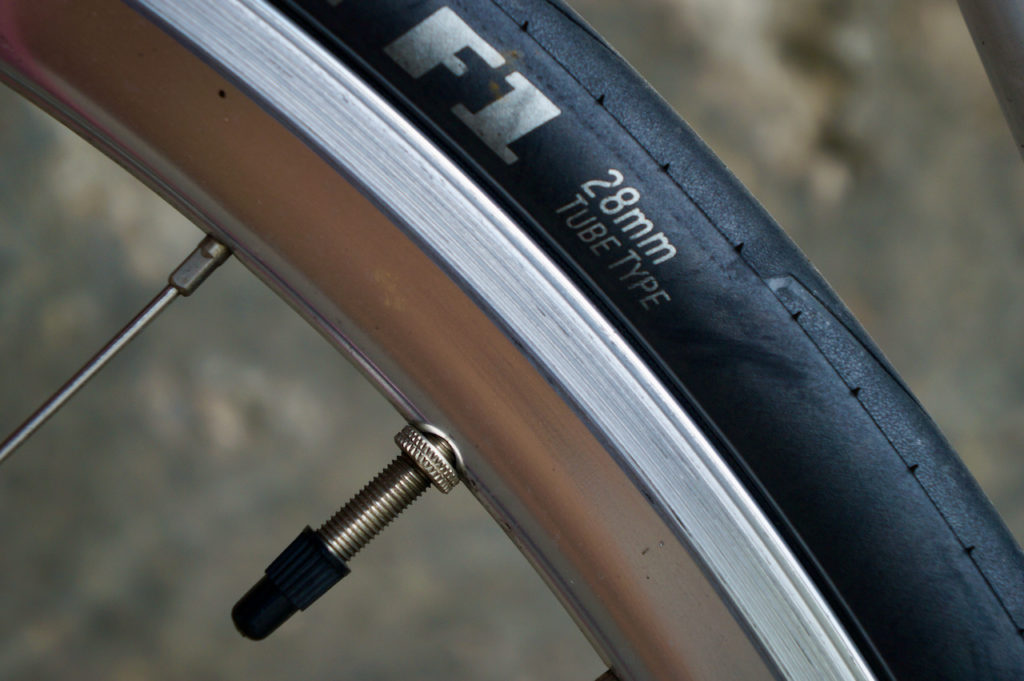 Groupset
Audax Hercules comes with Shimano Tiagra, a mid-range groupset made for endurance, sports and fitness, or Apex, its SRAM equivalence. The compact chainring on the bike (50/34, front) runs with a 11/32 cassette (rear) instead of the 11/28 cassette found on most road bikes. The 32-teeth sprocket at the rear wheel gives you more leverage to climb steeper slopes or to press against the head wind. When it is set to the gear combination of 50 teeth with 11 teeth, for each turn you made on the crankset, you turn the rear wheel by 4.54 turns and a normal fit person can usually pedal at the speed of 60 turns per minute (cadence). The groupset and the wheelset will then make you travel at 34.95km/h. Of course, you could pedal faster to race with the tail wind or add some more speed when you are diving down from the hills.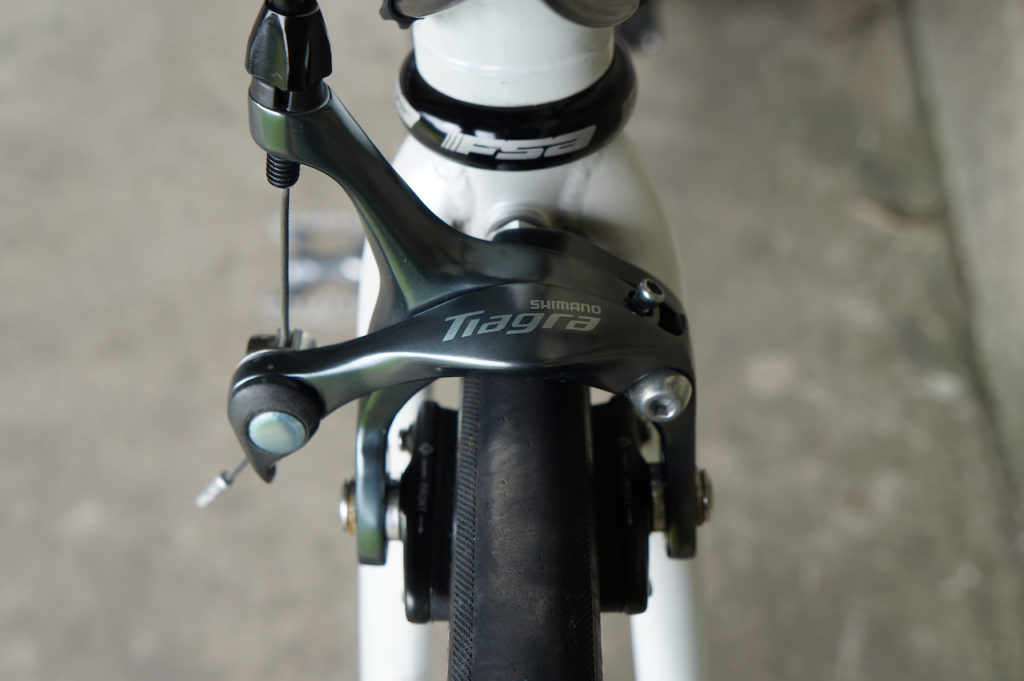 | Terrain | Gear Setting | Chainring (front) | Cassette Sprocket (rear) | Gear Ratio |
| --- | --- | --- | --- | --- |
| Hilly | Lowest Gear | 30-tooth for 3x crankset | 32-tooth | 0.9375 |
| Hilly | Lowest Gear | 34-tooth for 2x crankset | 32-tooth | 1.06 |
| Flat | Highest Gear | 50-tooth | 11-tooth | 4.54 |
Here's the maths:
50/11 (gear ratio) X 2.136 (tyre circumference) X 60 (Cadence RPM) X60 (convert to hour) = 34,952 metre/hour
With 2 chainrings and 10 speeds at the cassette, you have 20 combinations of speed to choose from. Some of the bikes in our fleet come with three chainrings (50/39/30), which gives you an even wider range of gear ratio and more choices of speeds (30).
After each use, the bikes are sent back to the workshop of our partner Rikulau, manufacturer of the bikes, for thorough cleaning, oiling and tuning to keep them at their peak performance.
One of our customers commented on our bikes:
Honestly the bikes were way better than we had expected! You guys maintained the Tiagra groupset like a charm, I had never had such crisp shifting experience on rental bikes 🙂
Handlebar Grips
The Velo ergonomic grips have a broad surface to provide comfortable support to your hands. The "L" shaped grip gives you one extra position to hold the handlebar so that you can relax your wrists by rotating between different positions during long rides.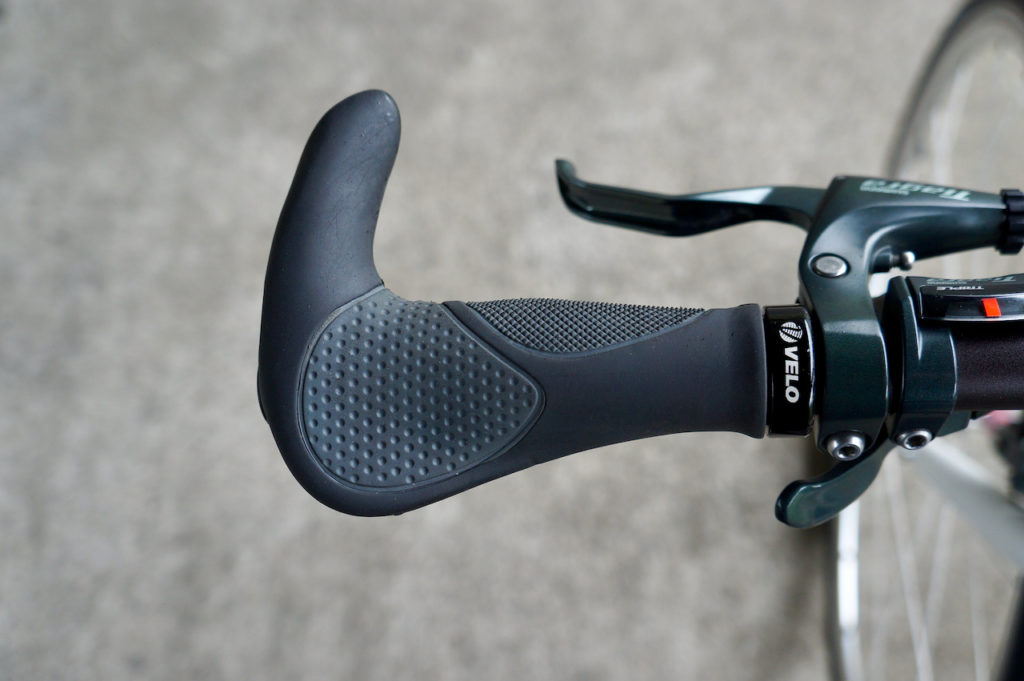 Saddle
The road bike saddles that come with Audax Hercules have narrow noses to avoid chafing when pedalling for hours. The saddle position can be fine tuned to support your seat bone properly. As mentioned in the beginning of this review, I had spent close to 20 hours on an Audex Hercules in a 360km challenge and my butt did not complain.
There is a quick release on the seat post clamp for you to adjust the height on the fly. There is also a thumb screw on the other side to adjust the pressure of the quick release so that you can make sure the desired height is firmly secured.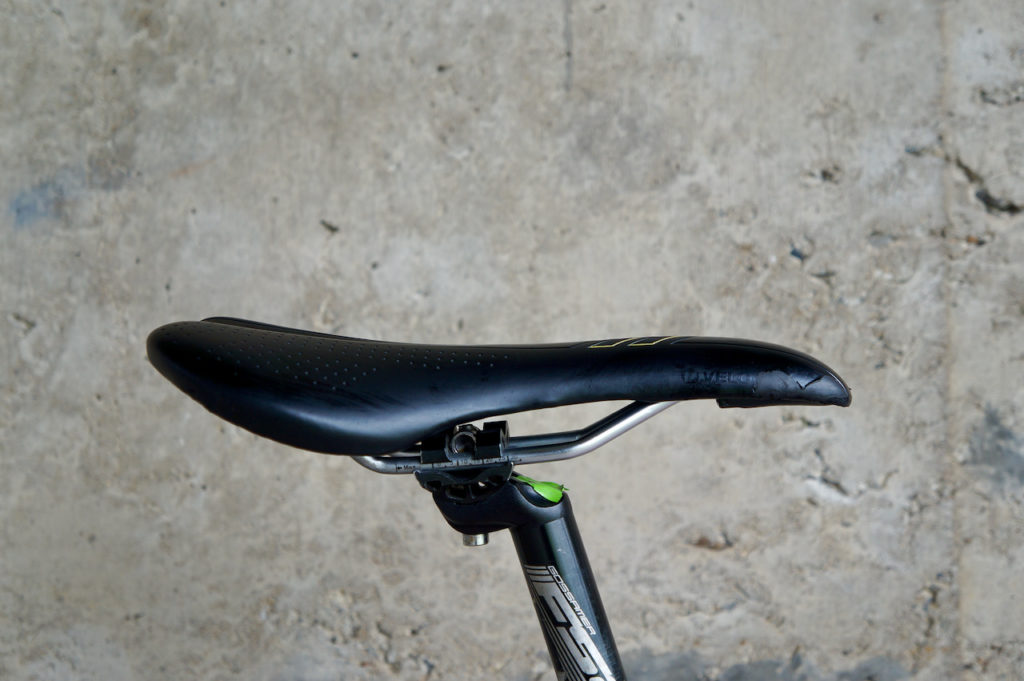 Pedal
The pedals found on our Audax Hercules are made-in-Japan Touring lite ezy superior from MKS. According to the official website, it "features MKS's High-Polished Cup and Cone bearing system for smooth rotation and serviceability, combined with a directional wave shape tooth profile on the step plates to keep your foot from slipping without the need for straps or toe-clips".
If you prefer, you can also bring your own clipless pedals.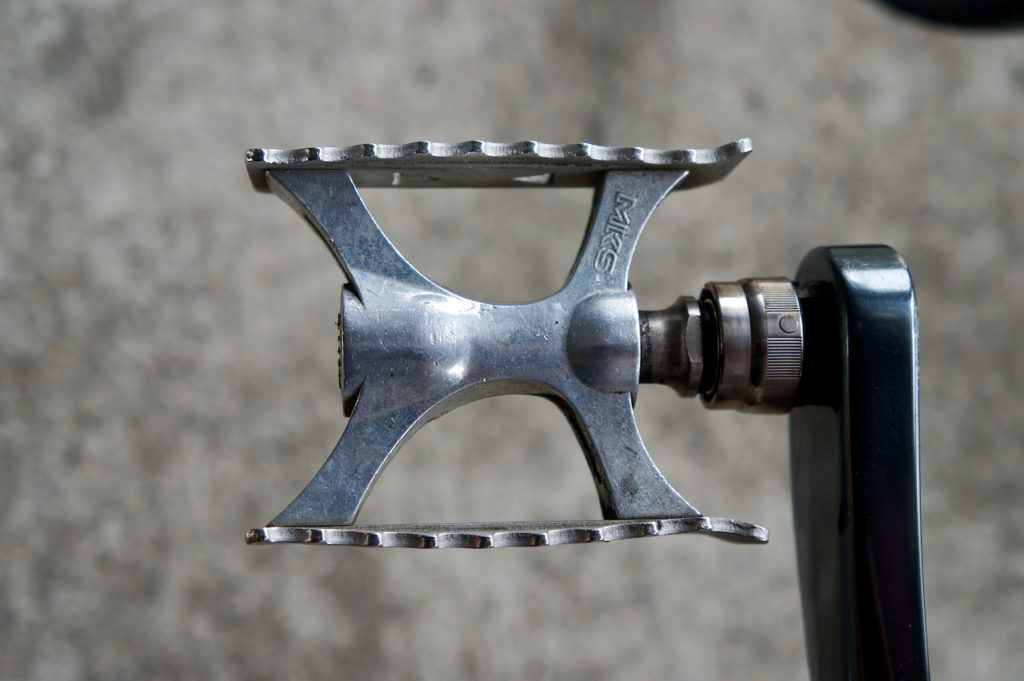 A versatile bike made for Taiwan
With the aforementioned built and configuration, Audax Hercules is a good looking, versatile bike that is easy to manage for beginners and works brilliantly for more experienced cyclists. It also stays in good shape during your multi-day cycling trips. We provide a smartphone case, a repair tool kit for inner tube replacement, an optional pannier with a pair of saddle bags.
We have customers hiring the bike for leisure rides on the Riverside Bikeways in Taipei, for exploration of small townships in the rural areas, for the classic route of around-the-island, for sprinting along the coastlines, for bikepacking in the Huadong Valley, for climbing the mountains and enjoying the tranquilizing dive from the tops… you name it. Audax Hercules have proved to be a great companion for all of them. Here are some examples of the configuration and the accessories with the the bike.