The "Taipei to Kaohsiung in One Day" Challenge 一日北高 is one of the most popular cycling events in Taiwan, organised by Taiwan Bike Association 台灣自行車協會 and held every November. In order to be awarded the certificate of completion, participants need to cycle from Taipei to Kaohsiung along the west coast within 20 hours. The total distance is around 360 km. There is actually another more advanced challenge held at the same time and along the same route, the "Two Towers in One Day" Challenge 一日雙塔, which starts at the island's northernmost lighthouse Fuguijiao Lighthouse and ends at the southernmost lighthouse Eluanbi Lighthouse, making it a 520 km route instead. To get the certificate of completion, you have to complete the route within 28 hours. These two Challenges are so popular that on average there are more than 3,000 participants signing up for the events every year. I was one of them in 2020. It was such a wonderful experience! I have learned a lot and I would like to share with you in this post.
Rules and Administration
Participants can usually sign up and pay for the event online from 1 January to 30 June via the organizer's website. Participant's pack will be distributed 2 weeks before the event commences. A sticker with an IC chip will need to be stuck onto the helmet for the sensors at the starting point and finish line to mark your time. There are also 3 gates/checkpoints en route which the participants will have to pass by a certain time. As the roads won't be closed for the event, participants will need to follow traffic rules like other normal road users. But there will be voluntary helpers stationed at important junctions to direct traffic. A suggested route in GPS format is also available for download.
Supports
The organiser provides essential support only, which includes transferring a small backpack for each participant from the starting point to the finishing point. No food nor drinks are served at checkpoints so you will have to prepare for your own. In case of emergency, participants can reach out to an emergency hotline for help. But everyone is responsible for arranging their own transportation home.
The organizer recommends participating in groups so that it will become more affordable to hire support vehicles to provide services like supplies, repair and maintenance, luggage transportation, charging of phones and navigation devices, and the return trip home.
But for a free soul like me, I prefer doing it at my own pace. I can get my own supplies from the convenience stores and small shops in the towns along the route. I am also able to fix any small issues with my bike if needed.
Bike
Bikes used in this event were predominantly road bikes but there were also folding bikes like Bromptons. I think as long as your bike is comfortable for long rides, properly fitted and has enough gear ratio, it would be fine.
For me, I picked an Audax Hercules, a flat bar road bike from Rikulau specifically designed for long distance cycling. It is one of the most popular models in our rental fleet for multi-day rides. I could ride in a more relaxed posture on this bike for the long journey. And I wouldn't need a drop bar for the benefit of aerodynamics as there would be prevailing winds from the north east to give me a push.
I supposed weight is not that important for this event as the route is mostly flat. Therefore I had packed everything I needed on the bike.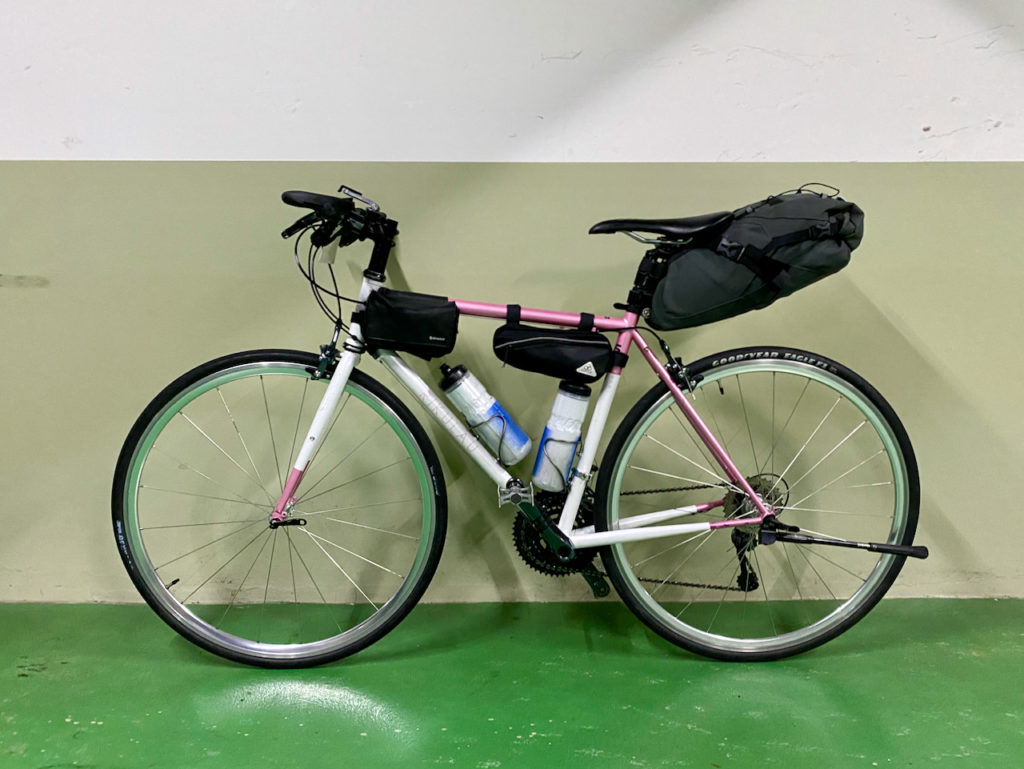 Accessories
Lights were paramount. The event started at midnight and when we arrived at Kaohsiung, it would be dark again. We would need to cycle in the dark for more than 10 hours. The roads on the west coast are not well lit. Potholes and stones can ruin your bike or throw you off balance if you ride over them unexpectedly in the dark. I have a friend who crashed because of a small piece of stone when she was doing night training on that route. A big bright front light can provide you with better vision and help you go faster and safer. For safety's sake, participants of the event are also required to wear reflective stripe vest when it's dark.
November is the wet season so you should prepare to cycle in the rain. Your spare clothes and electronic devices should be kept in watertight bags.
My other advice is to load up your Easy Card for quicker transactions in the convenience stores. You may also keep some small change in hand so that you can buy water from those betel nut booths if needed. They can be found in the middle of nowhere and they have long opening hours, too.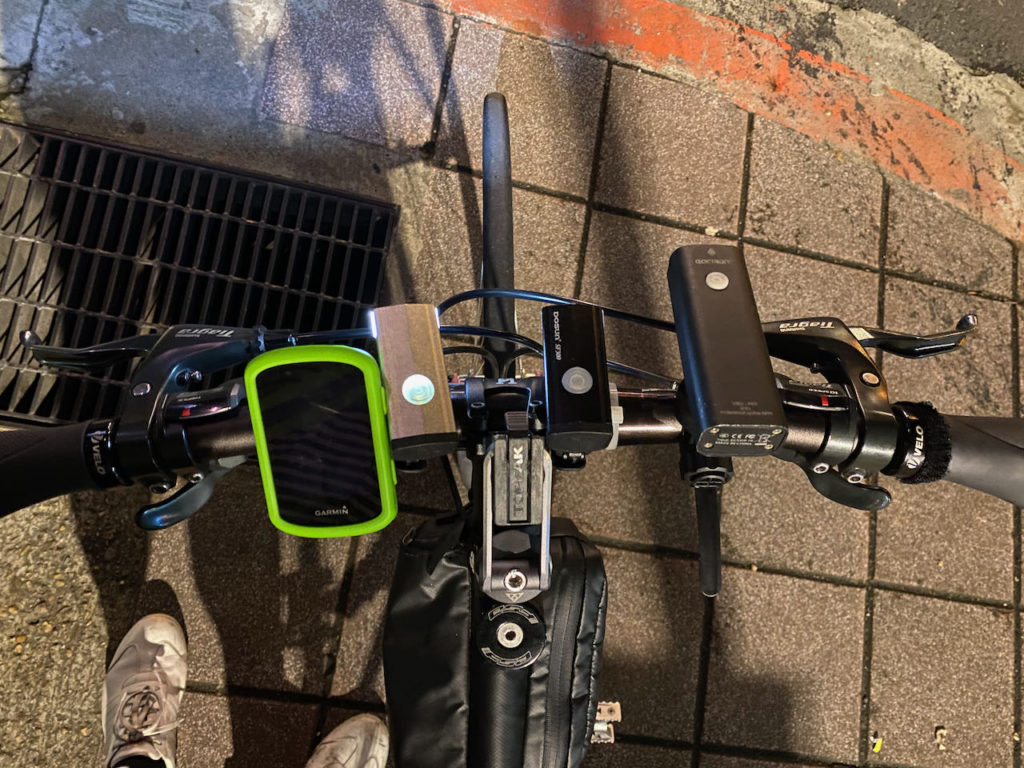 Training
My goal was just to finish it within the required time. I didn't think I needed any extra training as I had been cycling regularly and would cycle once or twice a month for routes more than 70km with elevation gain of 800 metres or so. The route of this challenge is rather flat with a short climb of 100 metres elevation gain. It shouldn't be too difficult. Nonetheless, I did do 3 training rides on this route with my friends to see how my body would react to long rides. I had cycled from Taipei to Lukang (180km) twice, the first one during daytime to familiarize myself with the route and the second one at night just to simulate what I would need to do in the event. Then I did the second half from Taichung to Kaohsiung (200km) just to find out what to expect from the route.
I was totally fine during those training rides except that my forefeet hurt a little bit after pedalling for numerous times. I expected that it should be easier in the event with the help of the wind in November. However, the full effect of cycling 360 km in one go was yet to be discovered.
After these three training sessions, I started to formulate a strategy. If my average speed was 25km/h, I would be able to cover 360km in 14.4 hours. I would then have 5.6 hours (20 – 14.4) for breaks and meals, which seemed to be quite sufficient. Even if I did it at a slower pace like 22km/h, I would still be able to cover the whole route in 16.4 hours with 3.6 hours to spare. So, I just needed to keep my speed well above 25km/h. And if It's too hard for some parts, 22km/h was also good enough. Just take it easy lest I drive myself too hard and get hurt, this was what I had believed at the time. I would also need to keep myself awake for 20 hours. My strategy was to take a day off right before the event. I would start sleeping after lunch and then get up at 21:00 to start going to the starting point. For my friends, they planned to do it as fast as they could the first half when they still had the tail wind and then see what would happen.