Execution
In order to make sure I have a quiet place to sleep in the afternoon before the event, and also to welcome me at the finish line, Lois brought the kids to a resort in Kaohsiung in the morning of the event. I was left alone at home to prepare for the event. There had been a typhoon near the southern part of Taiwan but it left just in time. The event went on as planned. I had a big lunch to load up more calories before putting myself to sleep. Perfect! So I thought.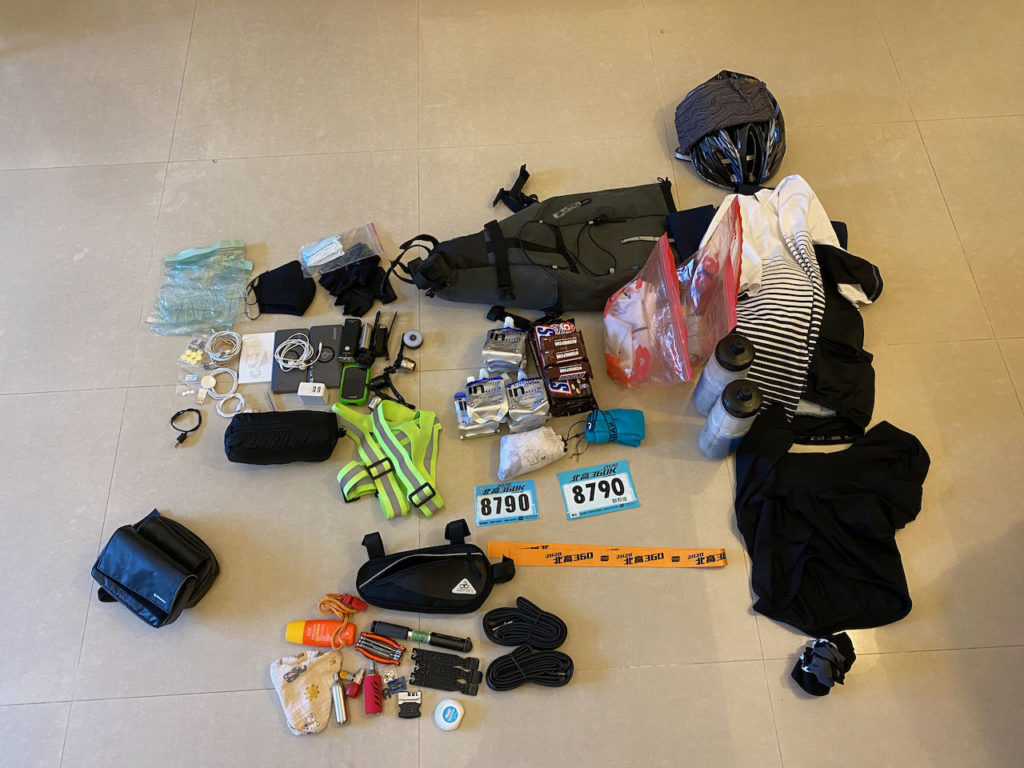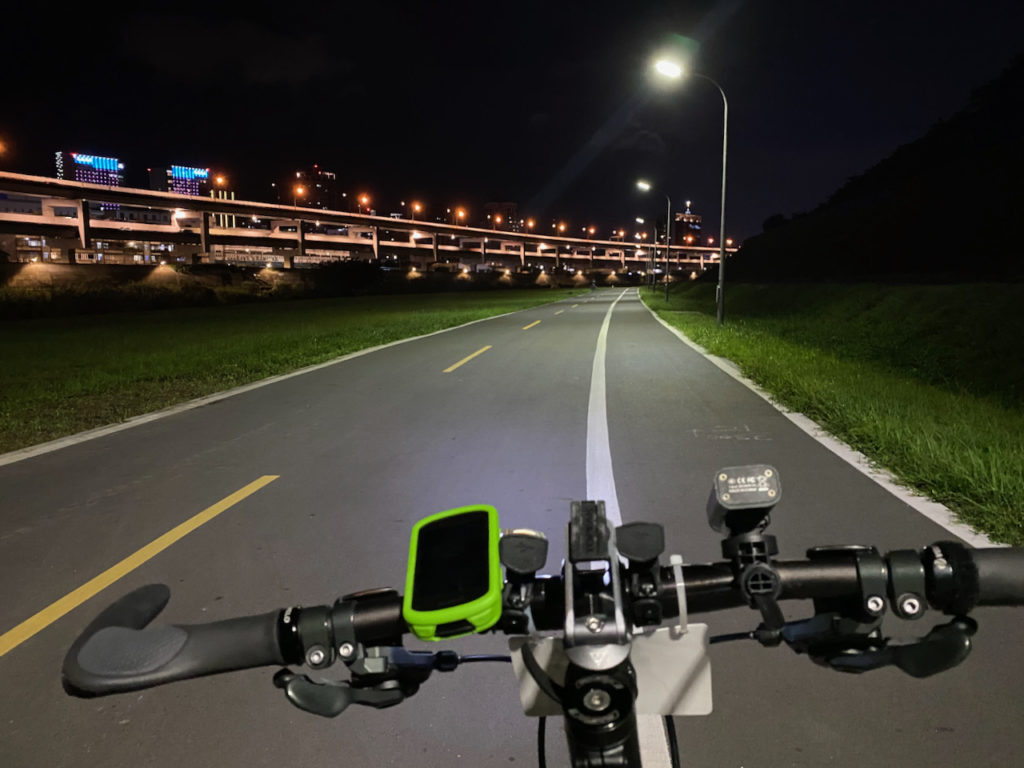 Unfortunately, I was met with an unexpected issue. I woke up in the evening with a weird feeling in my stomach. My digestive tract must have shut down when I was asleep. It didn't get a chance to deal with the food I ate and now the food was frozen up inside! Oh… I should not have eaten such a big meal before sleeping.
I cycled 35km to the starting point from home. As I was approaching the gathering point, the convenience stores were getting more crowded. The weather was so fine and my stomach started to wake up. I stopped at a convenience store and ate microwave noodles to encourage my bowel movement. But instead I made it worse. My stomach froze up again. Well, anyway, now I had a full load of food inside my digestive tract. I wouldn't need to stop to eat.
There were coaches and vans unloading bikes everywhere near the gathering point. Some of the participants were actually from Kaohsiung or the southern part of the island. They had already spent hours in the coaches just to get there. It must be harder for them as they had a much longer day on the road.
When it was about time, I pushed my bike to the starting line. There was already a long queue building up, occupying a traffic lane. But the crowd was quiet and orderly. There was no need to fight for any specific positions as individuals' records would be taken when we passed the gates.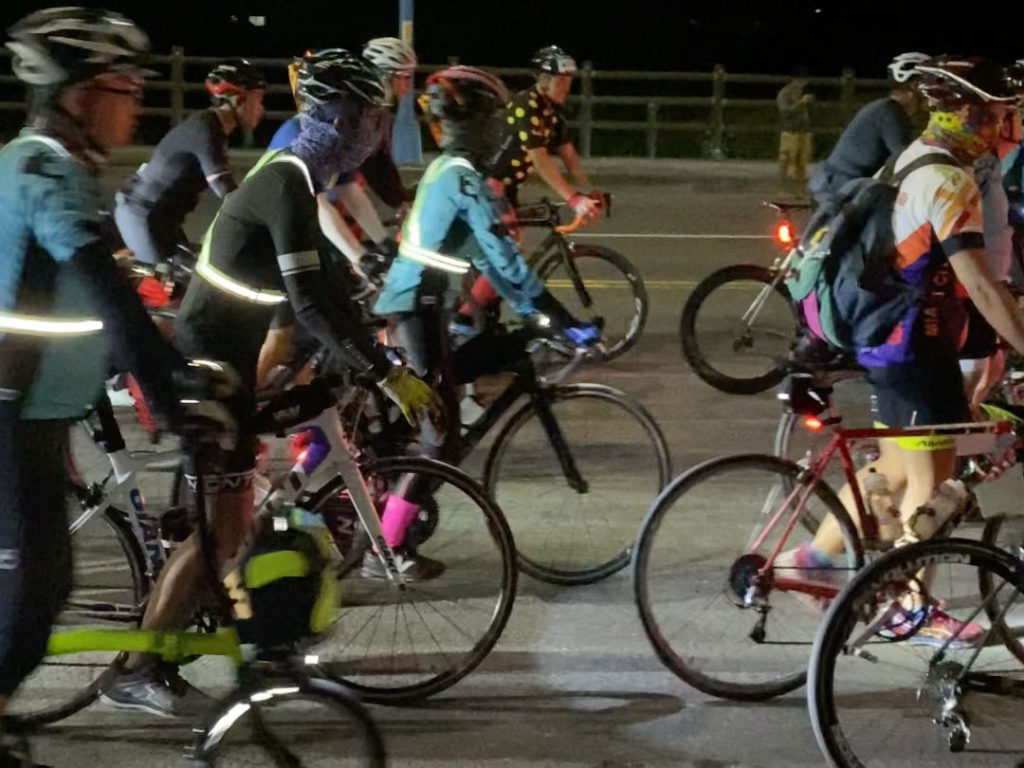 The race started finally! The whole fleet moved forward slowly feeding into the starting gate. When it's my turn to go through the gate, I heard through the PA system lots of beeping sounds and the organiser's repeated announcements about the latest weather conditions. Then we were free to set our own pace as the road before us became wider. It was fun to have so many people doing something together. I took it easy, kept my effort constant and managed to keep up with my friends at the first stop, Yongan Fishing Harbour, at 50km. I had a full load of energy bars and energy gels in my bags but I did not eat much because I wanted to take this opportunity to burn some fat. And in any case, my digestive tract had not been moving.
At 100km, the 2nd stop Baishatun Gontian Temple, I could hardly keep up with my friends. I arrived just when they had taken a good rest and were about to leave. My average speed was 23km/hour. It was acceptable. But I was on my own from that moment onward.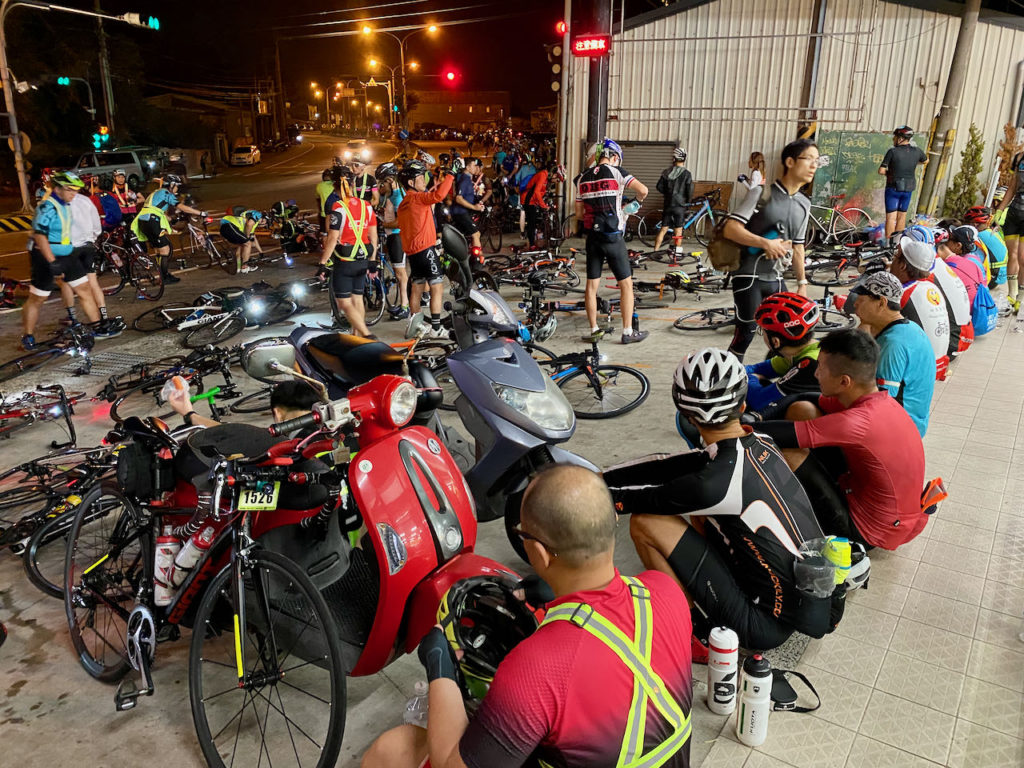 My energy level started to plunge and the typhoon, as it was heading west leaving the island, had driven the air to the opposite direction, making the wind blow against us on the southern part of the island. It took me longer and longer to reach my target speed again after each pause in front of the traffic lights. When I was about to cross a long bridge, a fellow cyclist, while catching up from behind, shouted to me telling me to follow tight with the group ahead to save some effort. But it was too late. The wind had nipped me away from the group. I had to press on against the wind all by myself on the bridge.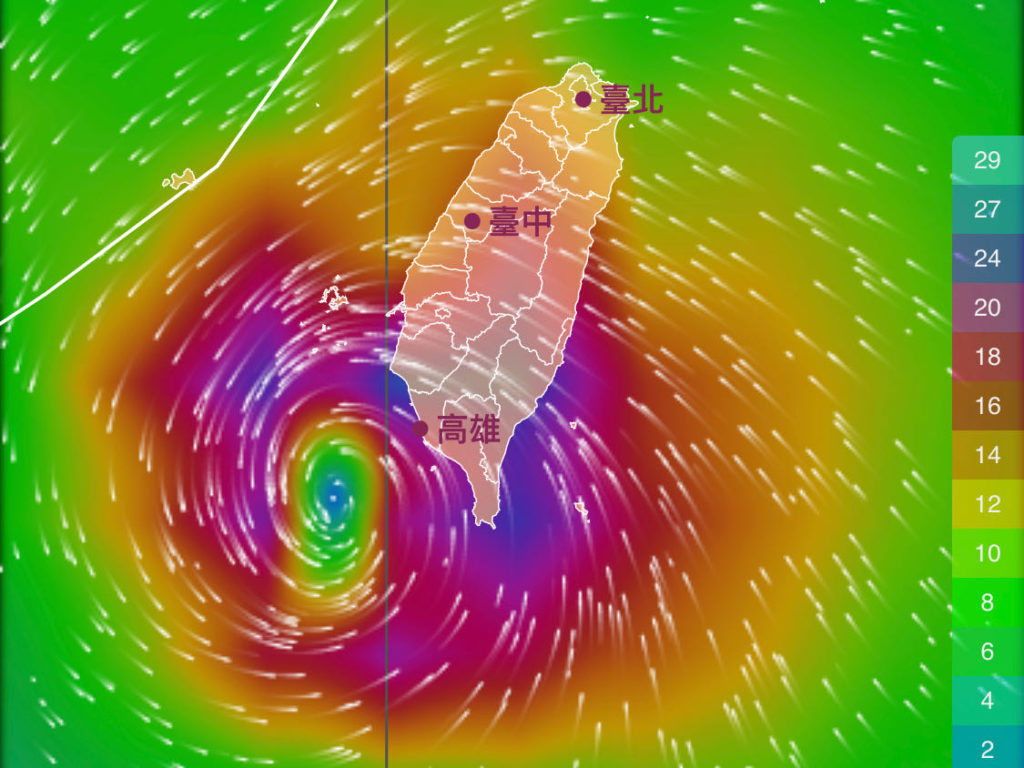 Here is the link for the latest forecast
Then I tried to follow those groups in double pace line. They were moving steadily ahead like a locomotive and radiating a spirit of determination. I could save myself some energy from the wind by joining them. But they were moving at a much faster pace than I could manage so I kept dropping off. I tucked myself in the wind shadows of some solo riders who were cycling slightly faster than I did. The benefit and help was noticeable. The resistance from my pedals was lower so that I could switch my gear one stop higher. I could pedal in a lower cadence with less effort. I kept scanning for other riders with speeds that suit me better, rather like a parasite jumping from rider to rider. But I felt no shame at all. I had seen others using their support vans to push away the wind for them at the front. After the challenge, I learned that not only the riders at the back could save energy as high as 30%, the riders being followed could also save 10% of power. I am glad I reciprocated their favor.
It began to rain. I did not bother to put on my rain jacket. It's good to take away some heat from me. A driver in a support van at the traffic light rolled down his window and offered to give me a disposable poncho.
A friend of mine was running a supply stall as a way to promote their cycling App, Velodash. She invited me to get some food or drink when I was there. I asked nicely for a banana from a group of people sitting next to their banner. They enthusiastically offered everything they had. Then I realized I had mistaken them as the staff of my friend. They were actually just there to support their own friends. But they were so ready to help, like most people in Taiwan, who are always kind and generous.
I was not worried about my progress as my meter showed an average speed well above 23km/h. Then at around 15:00, I texted Lois to tell her about my progress. I had completed 263km already and with 97km more to go. It's down to a two-digit figure now! But wait a minute! That meant my average speed for the 263km was only 17.3km/h instead of 23km/h! If I were to finish the whole trip within 20 hours, my average speed had to be well above 18km/h. I was misled by my meter. It was the Average Moving Speed. The timer would stop when I was not moving!
Just when I realized that I had to speed up, something magical happened: bowel movements. I discarded some significant weight of burden in the toilet and my body was more willing to take in energy bars and energy gels! I started to follow the experienced riders' advice: eat before feeling powerless, at least once an hour.
I had packed lots of Snickers because of their high energy concentration of weight and volume. Each bar has 220kcal of energy, weighing only 47 grams. In case all the food was sold out or there were long queues in the convenience stores, I would still have enough kcal available with me. I could tear open the bag and eat it while I was cycling. Though it has to go down with lots of water, drinking water is easier to get. These are the upsides I found during the training sessions. But there are downsides. I almost choked on it when I was in a rush to finish it in front of a traffic light. And there are 10 grams of fats, corresponding to 90kcal, in each bar. I have a copious amount of fat in my body. If I wanted to burn my own fats, I should just eat pure carbohydrates, which are also essential to boost muscle power output.
There was no shortage of food as I was told by one of my friends who had participated in this event years ago. The convenience stores along the route are getting smarter. They knew that there would be lots of cyclists looking for supplies during the event. So they would load up much more food and energy gels in their shelves and storage. The only thing in short supply is toilets. The queue for toilets in the gas stations and temples were always shorter. They were very generous in letting the participants use their toilets.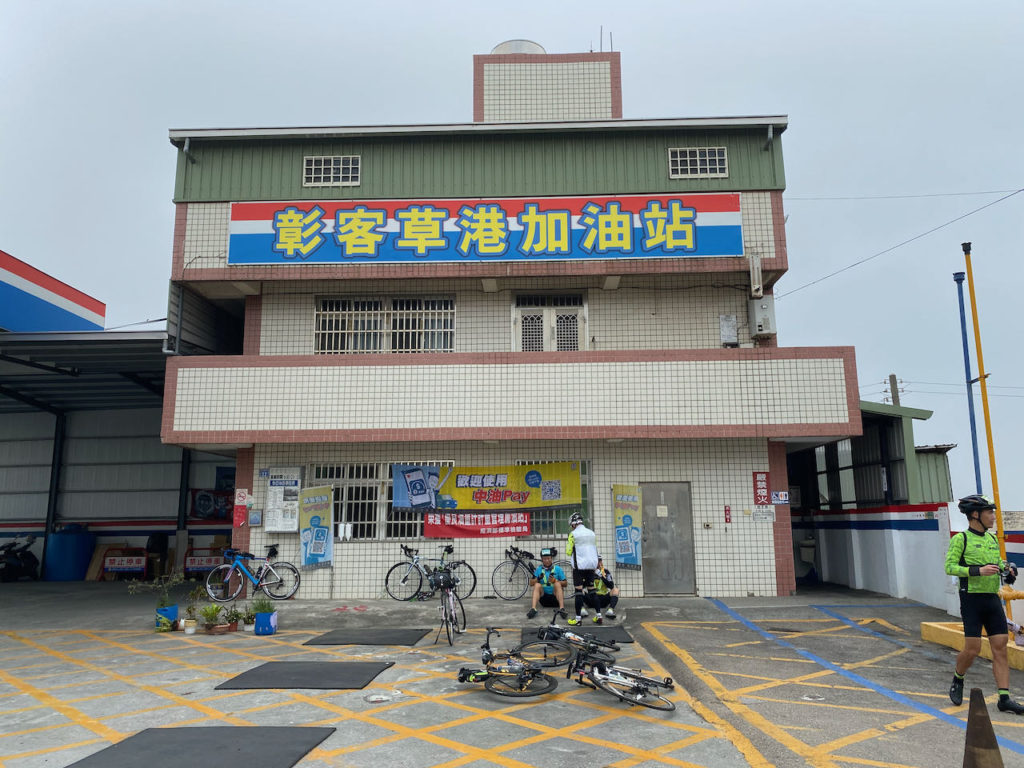 To my surprise, my legs were working afresh after I adopted this energy intake strategy. My speed was picking up and my legs never felt tired. Actually, they had not been tired the whole time. I had mistaken the feeling of lack of fuel as tiredness. It got dark but the rain stopped. I was cruising powerfully. No more wind shadow chasing. Instead, I was aiming at overtaking the others. I had the idea of taking a short break but shook it off my head. I knew there would be many traffic lights inside the Kaohsiung city before I reached the finishing line. I did not want to risk having the finish gate closed in front of Lois and my kids.
Finally, I made it to the finishing line at 19:50, 10 minutes before the cut off time of 20:00.
Along the way, I saw quite a number of bikes pulling over upside down, probably with flat tires. Lucky me! I had puncture resistant tyres. If there were any flat tyres, I probably would not make it in time. My Apple watch showed that my active calorie burned that day was 8319 CAL. I burned at least 415CAL per hour. So, It's really important to keep eating to refuel the body.
After finishing the challenge, my friends took the HSR back to Taipei right away. I went to the resort with my family for a good night's sleep and a family day in Kaohsiung before returning to Taipei. For those who still want to cycle after finishing the challenge, how about heading to the east coast and completing the around the island? You have done half way anyway.
Routes:
This is a suggested route by the organizer. Participants can plot their own routes as long as they passed the gates/checkpoints.
NOTE: To use the routes, please install the App on your smartphone. The App will launch and load the route automatically after you tap the above links on your smartphone's browser. For Garmin Connect, you can then use the APP to send the route to your garmin device. If your Garmin device is not purchased in Taiwan, you will also need make sure you have the Taiwan map on your device. Here is our blog post on this topic.