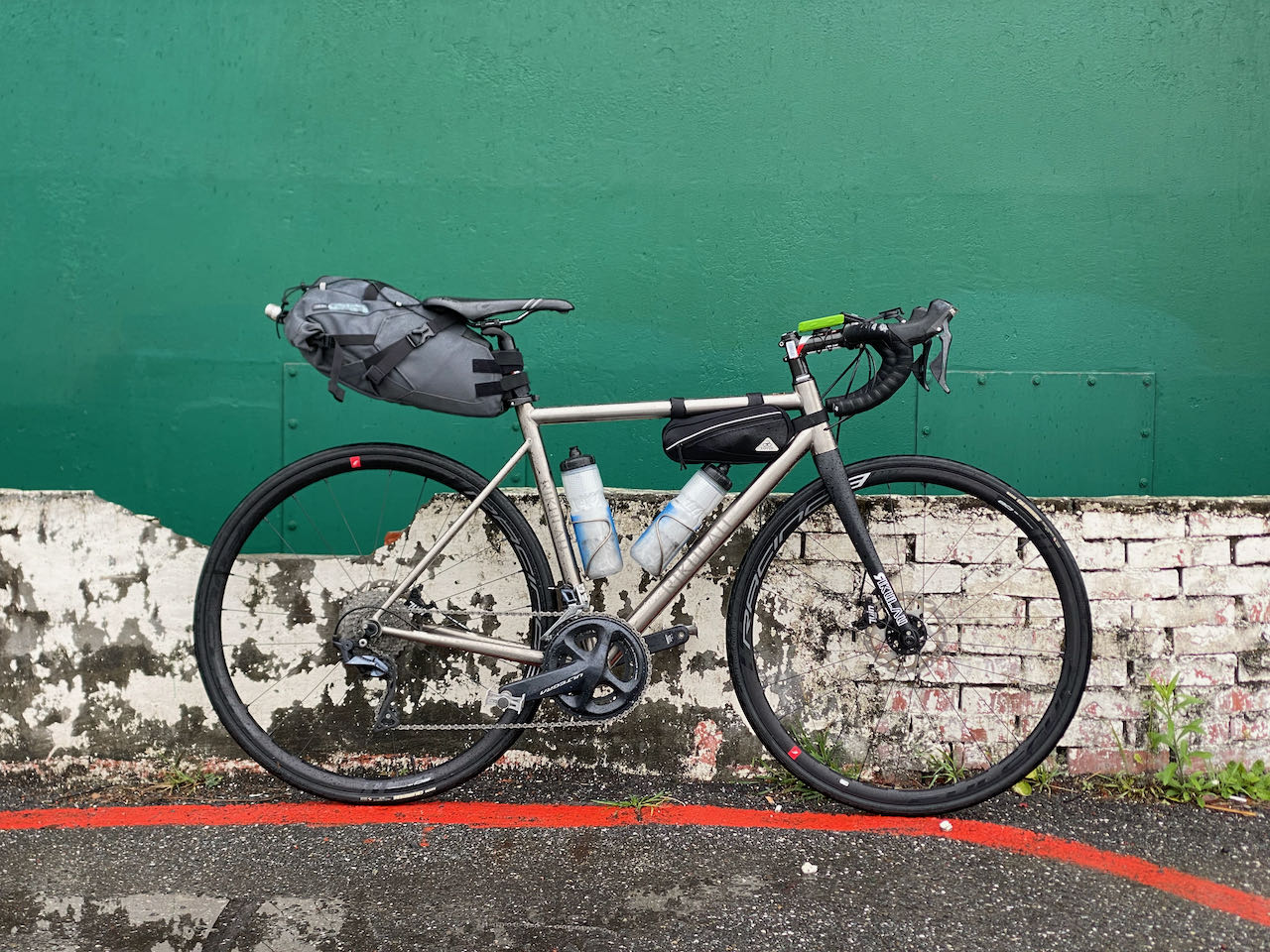 Cycling around Taiwan in multiple stages is an itinerary I planned for my expat friends in Taipei who don't have the luxury of taking 9 – 10 days off from work to do it in one go. For each stage, one can use a weekend plus 1 – 2 day(s) off before or after to make it a 3 – 4 days cycling holiday. The downloadable GPX file of the cycling route is at the end of each sections.
By dividing the route into multiple stages, we will get some extra bonus such as being able to visit different parts of the island in their best seasons. We can also incorporate some detours to visit more interesting places as we are more relaxed about time. For those who do it in one go, they are bound to cycle against the prevailing wind (North-East for winters and South-West for summers) on one side of the island. When doing it in multiple stages, we can change our direction for different stages so that we will always have the wind at our back.
In the detailed itinerary, I have provided an alternate GPS route plotted to maximise the use of the dedicated bikeways, which my friends found more enjoyable. These bikeways provide a break from the noisy traffic, well paved road surface and sometimes shades by trees. Some even offer us very pleasant views and lead us to interesting places.
However, these bikeways are usually narrower than regular roads, which means you could be slowed down by other users. Your rhythm could be hampered by those roadblocks built to stop other vehicles from entering. Please also note that the conditions on those bikeways could change drastically during unfavourable weather. Some can be flooded, populated by slippery mosses, blocked by sands or even completely destroyed by the natural forces. So, please observe and proceed with caution. When in doubt, switch to the main roads for your own safety.
I have marked some convenience stores on GoogleMaps for your reference. They are reliable supply stops as they mostly open 24 hours a day. But I'd also like to support small businesses such as local grocery stores and betel nut stalls. They sell water at half the price we pay in the convenience stores.
For my said trips with friends, we took public transportations to get to the starting point and return from the end of each stage outside of Taipei. Please refer to this post for details on how to travel with your bikes on public transportation. As lots if people in Taipei would spend their weekends away from the city, I highly recommend you avoid ending your trips on Sundays so as not to compete for tickets with the crowd, especially when you plan to carry your bike onto a train carriage/coach.
Here are the details of what we did for your reference.
Stage One – The West Coast, Taipei to Tainan or Kaohsiung 西濱, 台北至台南或高雄
There are 3 routes to go on the west part of the island: the coastal route, a route close to the mountains and a route in the middle. I picked the coastal route as it is wide and flat with sparse traffic lights. There are heavy vehicles occasionally passing by but most of the traffic is on the elevated highways, leaving us plenty of space on the ground level. There are less supply stops and not many choices of hotels, so we needed to commit to a longer day of cycling than wanted.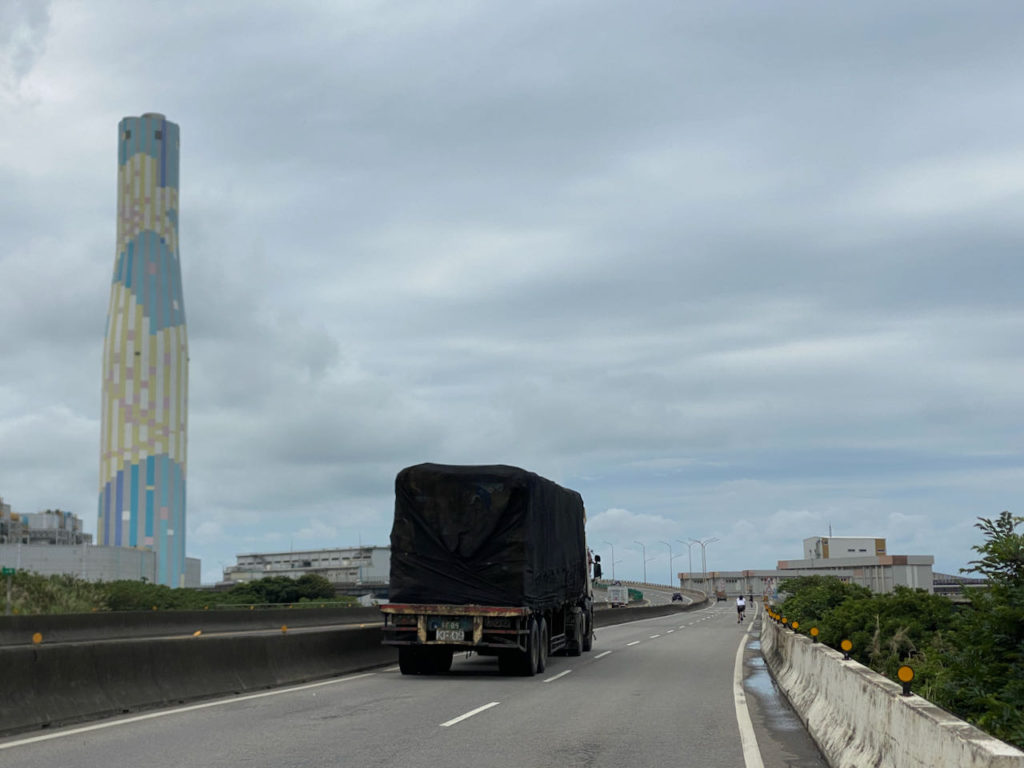 Day 1 Taipei to Hsinchu City (89km, Ascent 165m, Descent 160m) 台北至新竹
Suggested Lunch Break: Yongan Fishing Harbour 永安漁港
Accomodations: Small hotels available right next to the route, more choices available in the city centre, 7km more.
Route:
Alt Route :
Day 2 Hsinchu City to Lukang (110km, Ascent 205m, Descent 206m) 新竹至鹿港
Suggested Lunch Break: Baishatun or Tongxiao 白沙屯或通宵
If 110km a day is too ambitious, you can plan your stay in Wuqi District, Taichung 台中梧棲區 instead of Lukang, leaving the remaining 20km for Day 3. But I believe that extra 20 km should not impose much impact as the route for Day 3 is direct and flat. Gaomei Wetlands 高美濕地 is a nice place to visit. I have even pondered staying over in the small hotel there. But the dinner plan could be tricky. Wuqi District may be a better choice as it's only 7km from Gaomei.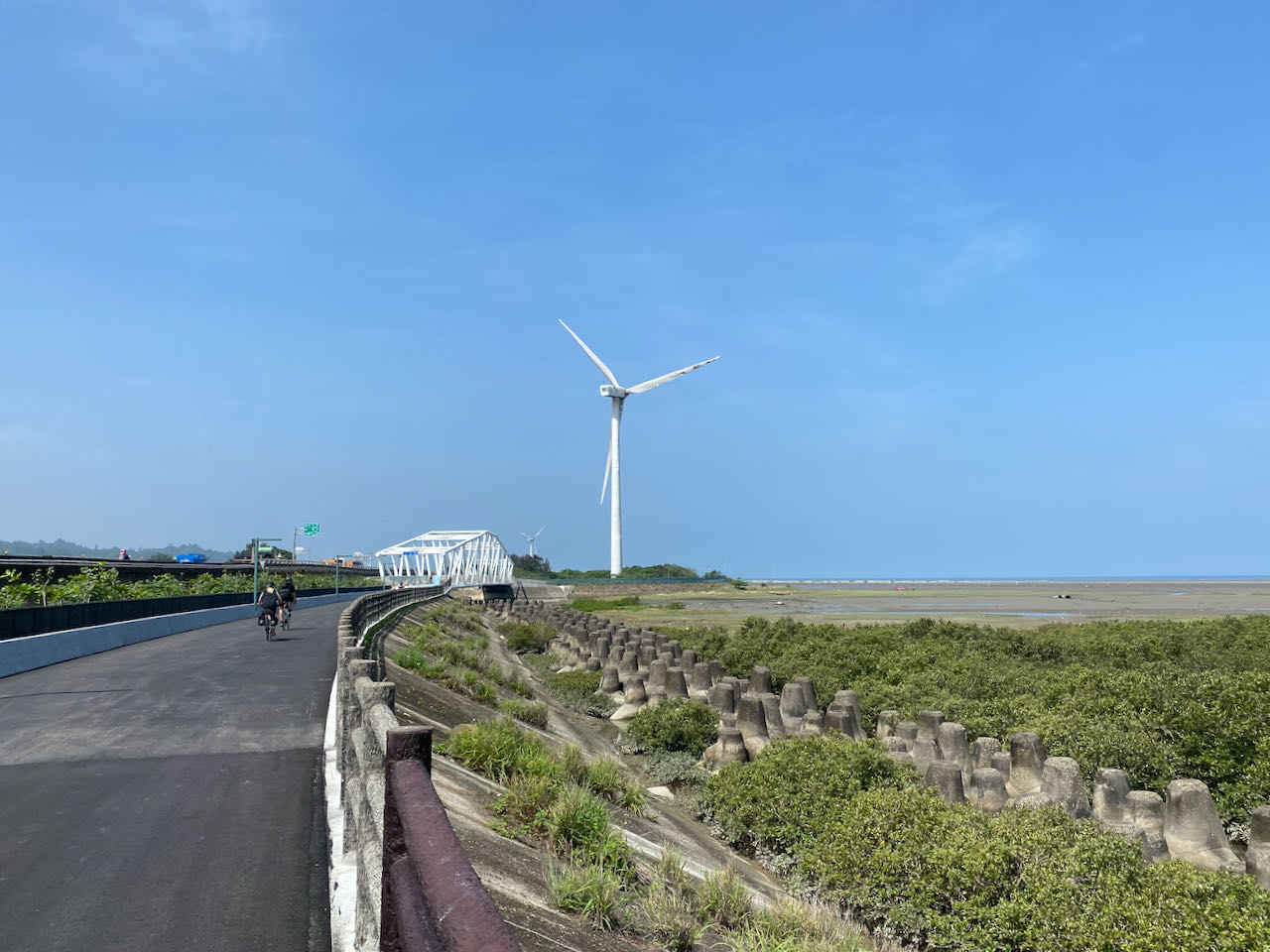 Lukang is a popular tourist destination. There are plenty of hotels to choose from but they can be fully booked during weekends.
Route:
Alt Route
Day 3 Lukang to Budai (91km, Ascent 80m, Descent 83m) 鹿港至布袋
Suggested Lunch Break: Mailiao 麥寮
For day 3, if you want to cover less distance, you may stay over in Dongshi 東石 which is 10km less. But choices of hotels are very limited.
A detour to Fangyuan Lighthouse 芳苑燈塔 is around 3km from the main route. The oyster farm nearby has become a tourist attraction where people can ride a cart out to the oyster field and dig some oysters.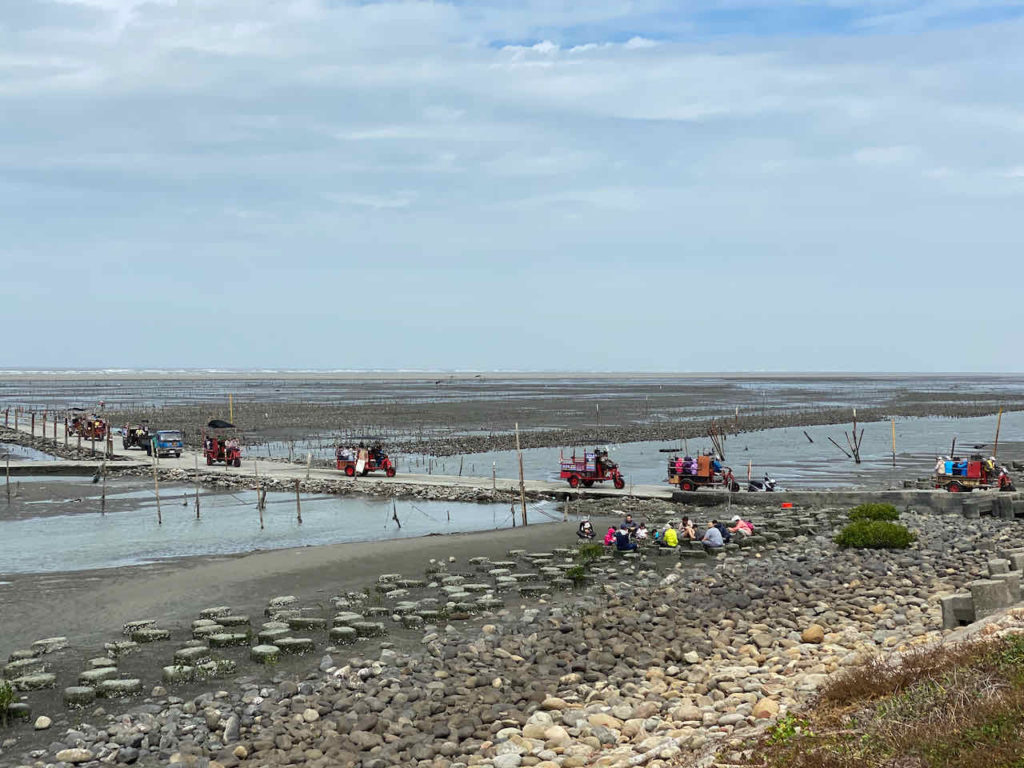 We stayed on the isle of Budai. There are plenty of hotels to choose from. The Budai Harbour Fish Market offers seafood with great atmosphere like in the night markets. If you have more days to spare, there is ferry service to bring you to Penghu County 澎湖 with your bike.
Route:
Day 4a Budai to Tainan Train Station (50km, Ascent 153m, Descent 142m) 布袋至台南火車站
Suggested Lunch Break: Tainan
This is the last day of our Stage 1. We dropped our bikes at Tainan Train Station Luggage Room to be sent back to Wanhua 萬華 or Songshan Station 松山車站 in Taipei. They were available for pick up the next day. The Tainan Station Luggage Room is hidden behind a private scooter parking. You need to get into the gate to find it. Then we took the train to Shalun Station 沙崙車站 for the High Speed Railway. You can also take the train or inter-city buses to get back to Taipei.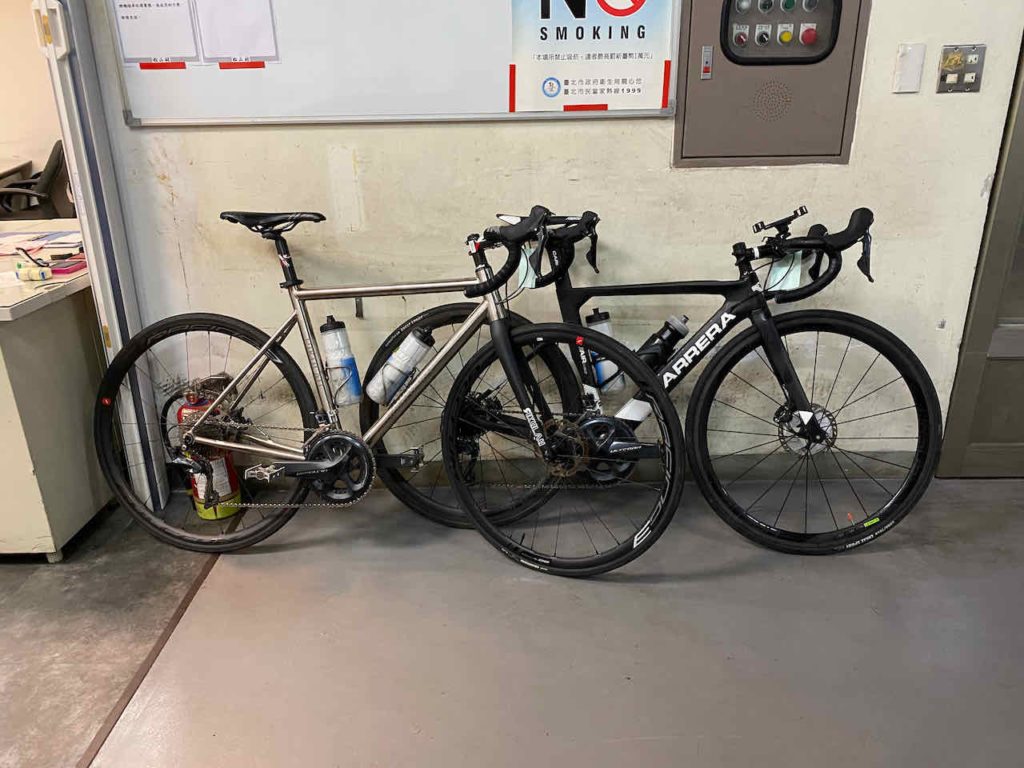 I prefer having my bike shipped for less hassle. And we have an e-bike in the group which would be too heavy to carry. Another option is bagging your bike and carrying them onto the train or HSR but the carriage can be too crowded to take in such a big piece of luggage during peak hours.
Route:
If you want to cycle more on day 4, you can cycle to Kaoshsiung as shown in this Day 4b plan.
Day 4b Budai to Kaohsiung (89km, Ascent 135m, Descent 112m) 布袋至高雄
There are two train stations in Kaohsiung that provide bike shipping services, Nanzi Station 楠梓車站 and Fengshan Station 鳳山車站. Nanzi Station is more preferable as it is much closer to the High Speed Railway Station in Kaohsiung. I have used Fengshan Station before. The luggage room was very difficult to locate and it is hidden behind a construction site, the work of which seems to be unlikely to finish soon.
Route
Alt Route: