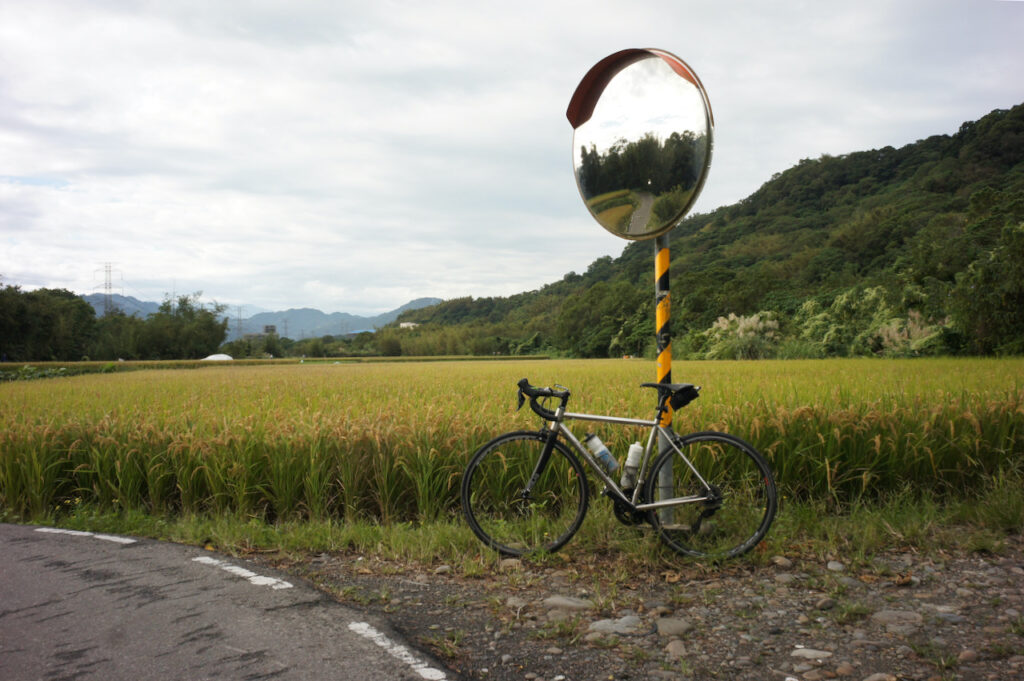 I went cycling with my friends on a Sunday in November to explore a route plotted by Sandy. She was about to lead a local cycling group to do part of the around-the-island in the northern part of Taiwan. Since it's already the 3rd time the group did the around-the-island, Sandy wanted to try something different. The route she plotted turned out to be a very nice one with beautiful views on the countryside. Most of the time you'll be riding on the bikeways. It's also quiet and without much climbs.
I have converted my GPS record that day to a Garmin Course for navigation, with the starting point set at Songshan Train Station, which is the official starting point of Taiwan Cycling Route No. 1. The GPX route is available for download at the end of this post.
If you are planning for an around-the-island trip, instead of following the official route, you may consider using this route for your day 1 itinerary. The route ends at an old town called Beipu 北埔 in Hsinchu 新竹, which is a small town with limited hotel choices. If you cannot book one, you may need to switch to Hsinchu City 新竹市 from Zhudong 竹東. There are more hotels to choose from.
Here are more details about the route.
Road Conditions
Starting from Songshan Train Station 松山火車站, you will head west and cut across Taipei on Nanjing East Road 南京東路. Nanjing East Road is very bike friendly because there are bike lanes on the wide sidewalks. It's also fine if you want to cycle with the other vehicles on the road. The road is wide in general. For some parts, bus stops are built on the fast lanes so that bicycles and scooters won't be fighting for roadside spaces with buses. Once you reach the Dadaocheng Pier Plaza 大稻埕碼頭廣場, you will begin a 55 km ride along the Riverside Bikeways with minimal motorised vehicles. If you want to avoid city traffic as much as possible, you can get into the Riverside Bikeways directly via the evacuation gate at Rainbow Bridge 彩虹橋 from Songshan. Besides the Riverside Bikeways, the rest of the route is mostly done on the well-maintained Provincial Highway No. 3. Sandy has plotted carefully to skip most of the climbs.
Places to Visit and Things to See
What you will see along this route are mostly rural landscapes and some old infrastructure like canals and bridges. There are also some old towns and old streets where you can stop by for supply and meals.
Comparison with Other Routes
So far I have tried 3 routes to cover the first day of the around-the-island, starting from Songshan and ending in Hsinchu.
The west coast route (green one on the map) is flat and wide so that we can cycle as fast as we can. It offers panoramic views of the sea while we are cycling. There are also sections of bikeways for us to get away from the traffic though it's not too busy. There are less towns there but it's not difficult to find supply. There are also not too many trees to provide shade. Therefore it can be very hot in the summer.
Day 1 of the official Taiwan Cycling Route No. 1 (blue one on the map) is mainly done along Provincial Highway No. 3. It's well maintained but with lots of slopes. You will have to go up and down again and again. There are a couple interesting towns to stop by along the way. Provincial Highway No. 3 is also a popular route for motorbike riders to hone their cornering skills. So, it could get very noisy especially during weekends.
If you take the route plotted by Sandy (orange one on the map), you will spend much more time on dedicated bikeways and rural country roads. It is flat and quiet. You can cycle more leisurely and enjoy the views. But you may tend to spend more time pausing to take photos. If it gets dark, it will become very difficult to navigate. So, make sure you get back to the main roads before the sun sets. Also pay attention to the local weather before you set off. After heavy rain, those bikeways could be flooded.
Routes:
NOTE: To use the routes, please install the App on your smartphone. The App will launch and load the route automatically after you tap the above links on your smartphone's browser. For Garmin Connect, you can then use the APP to send the route to your garmin device. If your Garmin device is not purchased in Taiwan, you will also need make sure you have the Taiwan map on your device. Here is our blog post on this topic.