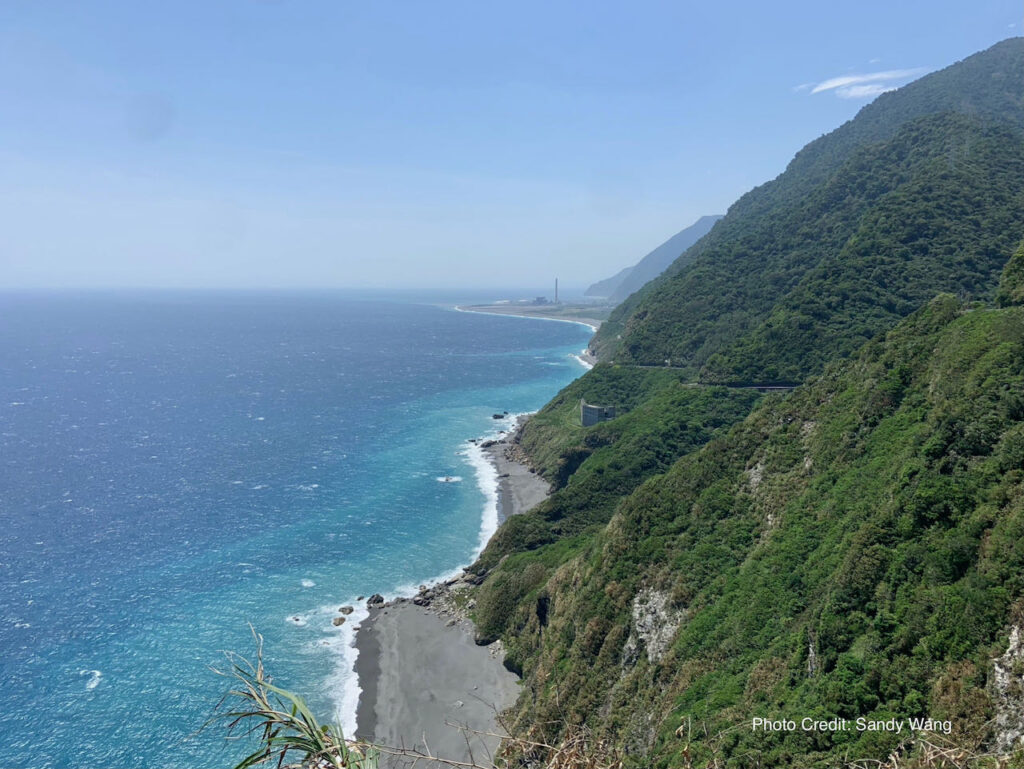 The Suhua Highway is a treacherous and narrow roadway that winds along the edge of a steep cliff, connecting Hualien to Yilan. It navigates through hilly terrain, featuring three major climbs and noisy tunnels. Cycling on this route is considerably more challenging compared to other sections of Cycle Route No. 1. As a result, it is often recommended to take the train with our bikes to bypass this segment.
However, cycling on Suhua Highway offers stunning coastal views, challenging terrain, a sense of adventure, and a refreshing experience in nature. Some cyclists embrace the opportunity for the breathtaking views and the exhilarating experience of tackling the challenging terrain.
We had customers wondering if they should do it. Here are my thoughts about whether to cycle on this part.
Challenging: long with lots of climbing
The Suhua Highway from Xincheng to Su'aoxin is not an easy one. We have 82 km to cover with several peaks to climb, resulting in a total ascent of 1,675m according to Garmin Connect. We need to estimate our strength and decide how challenging we want our day to be.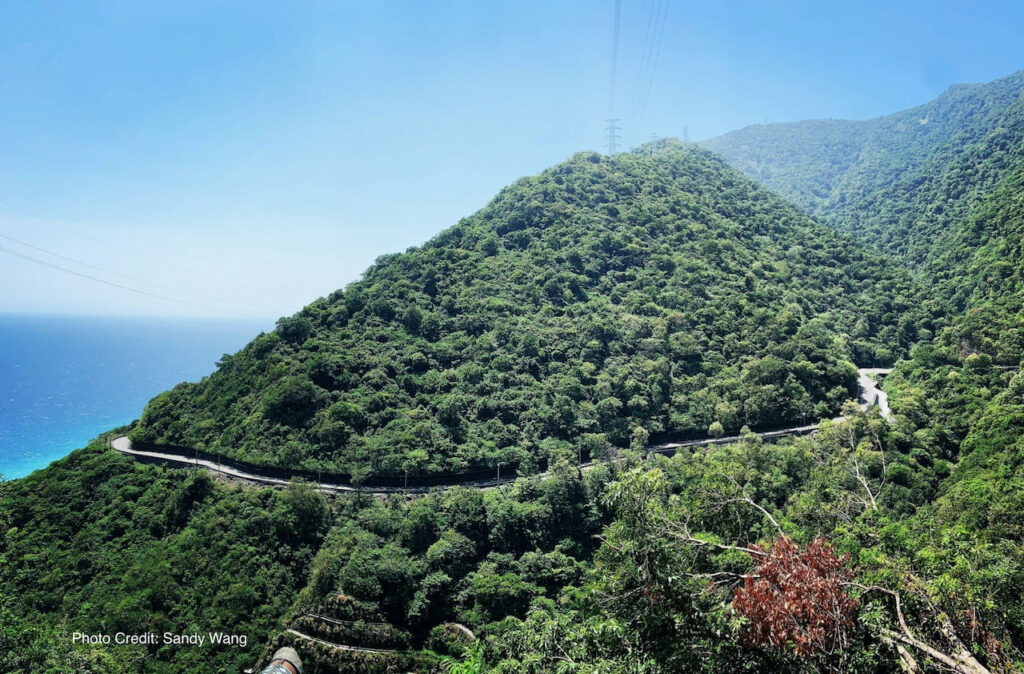 Risks posed by Mother Nature
There are also some risks involved in cycling on this route. First, the risk posed by mother nature. Landslides and falling rocks on the road, though not common, can occur, particularly after earthquakes, heavy rains, and typhoons.
Risk posed by other vehicles
Secondly, there is a risk posed by other road users such as heavy trucks, coaches, and cars. The road is narrow, leaving less space for those vehicles to overtake bicycles.
Another challenge is cycling through the tunnels with those vehicles. Along the route, there are several narrow tunnels where the noises produced by heavy vehicles can be trapped inside, making it unpleasant to the ears.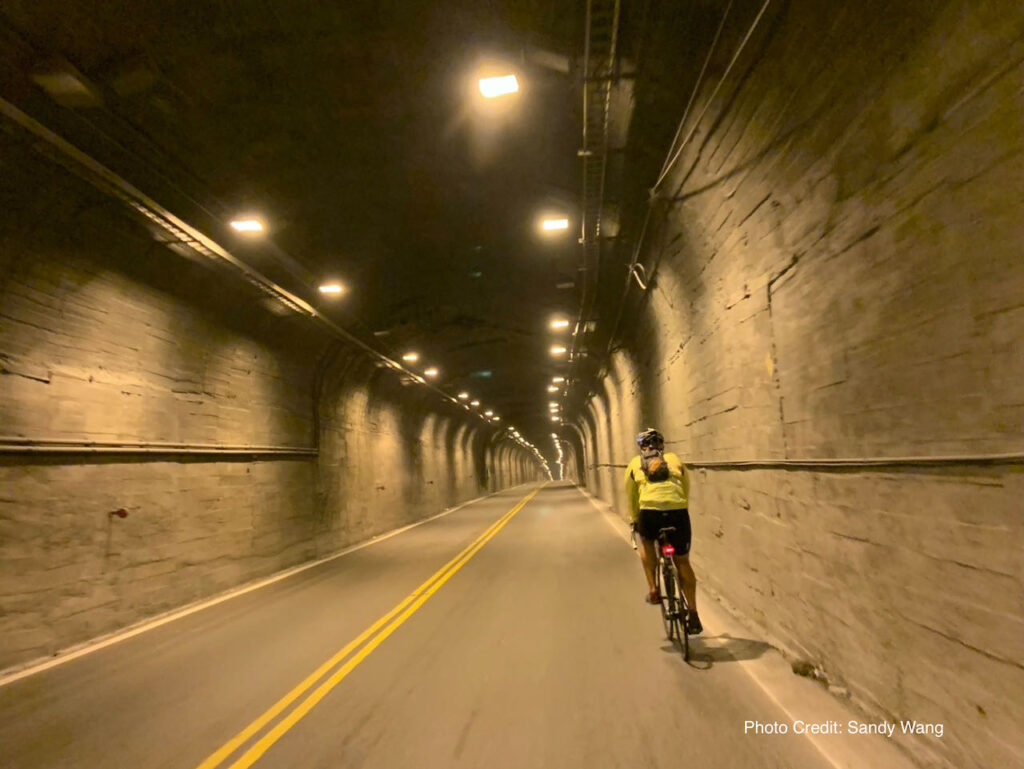 New Suhua Highway
The situation has improved after the Directorate General of Highways finished building the new Suhua Highway (Provincial Highway 9) in 2021. The new highway has diverted more traffic from the old one (Provincial Highway 9丁), making some of the sections more like a road exclusively for bikes. Which are shown on the map below in blue:
Daqingshui to Hezhong: 10.7km, Total Ascent 252m
Heping to Nanao: 25.9km, Total Ascent 453m
Dongao to Suaoxing: 18.84km, Total Ascent 420m
Overlapping Sections
However, there are still some sections where the two highways merge and combine the traffic. (shown on the above map in red)These sections are:
Xincheng to Daqinshui: 12.66km, Total Ascent 323m with 4 tunnels

崇德隧道 (Chongde Tunnel): Length 325m, Width 7.5m
匯德隧道 (Huide Tunnel): Length 1460m, Width 7.5m
錦文隧道 (Jinwen Tunnel): Length 406m
大清水隧道 (Daqingshui Tunnel): Length 521m, Width 7.5m
Hezhong to Heping: 3.63km, Total Ascent 24m
Nanao to Dongao: 10.94km, Total Ascent 275m with 1 tunnel

新澳隧道 (Xinao Tunnel): Length 1267m, Two pipes (northbound pipe has two lanes)
Strategies and Tips
If you are well-informed and decide to cycle on this part, here are some tips I would like to share with you:
Choose to cycle only in favorable weather conditions. It's no fun and risky to cycle in poor weather conditions.
Heavy trucks can be noisy, but they are very familiar with the route. They usually wait patiently until it's safe to overtake the bikes. To facilitate their overtaking, it's recommended to cycle in a group of two. A long line of bikes would make it hard for trucks to overtake safely.
Cycling northwards, which means anti-clockwise around the island, is more favorable. Most of the points of interest are on the sea side, and as Taiwan adopts right-hand traffic, you'll have better views of the sea while cycling in this direction without needing to cross the road for stops. Additionally, it's easier to spot falling rocks on this side of the road.
If you go northwards, start your day early to cover the four tunnels between Chongde and Daqingshui before the traffic gets busy. After Daqingshui, most of the tunnels are found on the Old Suhua Highway (9丁 or 9D), which has less traffic. The last section where the two routes combine is Nanao to Dongao, which is 11km long with a total ascent of 275m and a 1.2km tunnel to cover. Evaluate your strength, traffic and weather conditions, and the time of the day. If needed, you can take a train without bagging your bikes to Dongao or Suaoxin.
If you go southwards, start your day early to cover the session between Nanao and Dongao before the traffic gets busy.
Most truck drivers have their lunch breaks between 12:00-1:00pm which leaves the road less busy. Try to use this window to cover the overlapping sessions.
Experience sharing from our customer
Kevin, who did the around-the-island in September 2023, rode the Suhua Highway. He set off at 5:00 am from Xincheng and found the overlapping sections in Chongde very manageable in the early morning. When he reached Nan'ao around 10:00 am, there were heavy trucks. He said the heavy trucks usually came in waves. His strategy was to stop at the roadside to give way to the trucks first. Then he would have a window of about 10 minutes or so without the trucks. It would be long enough to cover a tunnel.
For information on trains that allow naked bikes daily and more details on using public transportation with your bike, you can find additional information here.