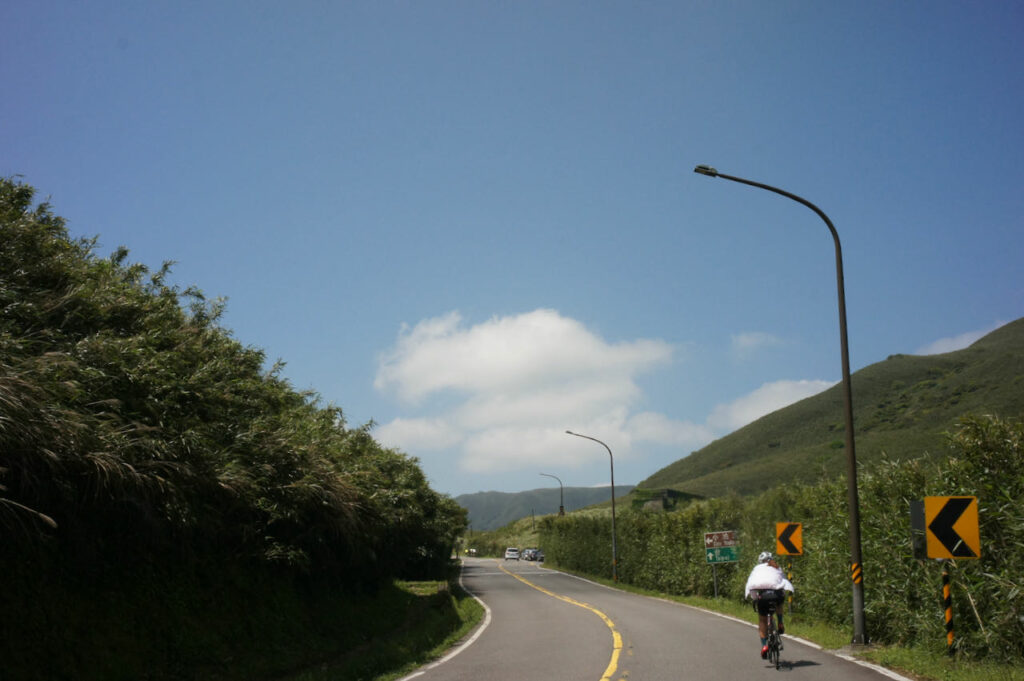 Yangmingshan National Park is one of Taiwan's nine national parks, renowned for its volcanic terrain, breathtaking peaks, and tranquil lakes. The park offers a variety of hiking trails that allow visitors to explore and savour panoramic vistas, including the renowned Seven Star Mountain and the picturesque beauty of Xiaoyoukeng. Due to its elevation of over 800 metres, well-maintained roads, and convenient accessibility from Taipei, it has become a favoured destination for cycling enthusiasts.
The nearest starting points to climb the mountain from Taipei are accessible via the Riverside Bikeways, which are Yangde Boulevard (Provincial Highway 2A or 2甲) and Zhishan Road, followed by Pingjing Street. Yangde Boulevard is a less steep and more easily navigable option, but it often experiences heavier traffic. To avoid inhaling exhaust fumes while pushing my lungs to their limits, I generally prefer not to choose this route for climbing, unless it's early in the morning. Descending on Yangde Boulevard, however, is less physically demanding and can be completed relatively quickly. On the other hand, despite its steeper incline, I personally enjoy taking the Zhishan Road and Pingjing Street route the most, as encounters with cars are infrequent.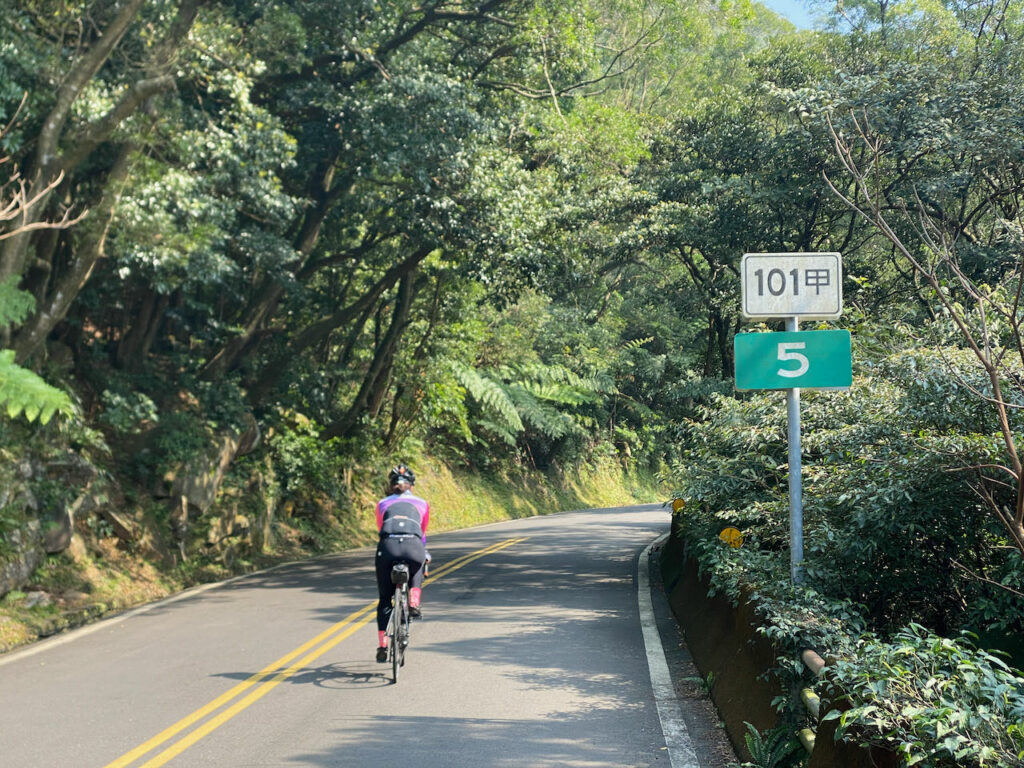 If steepness is not your preference, County Highway 101 followed by County Highway 101A or 101甲 provides a more gentle approach. However, you need to get to Hongshulin to begin the climb. If you prefer not to ride there, you may take an MRT (Mass Rapid Transit) instead. The other two starting points, Jinshan District and Sanzhi District, are quite remote from the city centre.
Here, I have plotted different routes with varying lengths and difficulties for you to choose from.
Route 1: Ascend Pingjing Street, Descend Yangde Boulevard 36km 982m Total Ascent
It's a 17 km climb that takes you to Lengshuikeng Visitor Centre at 746 m where you can see the vegetation changes. Then the final kilometres on the Zhonghu Road of Armaments (中湖戰備道路) offer a captivating panoramic view with stunning vistas of the surrounding mountains. Upon reaching Xiaoyoukeng Visitor Center, you can take a short walk on a pleasant hiking trail to explore a volcanic steam vent area (fumaroles), provided you are comfortable leaving your bike unattended for an hour. If you have more time, you can take a detour to the Bamboo Lake where you can find many restaurants and flower farms. For the descent, you can take Yangde Boulevard to return to Taipei city. There is a smooth transition to get to the Riverside Bikeways that connect to the other area of the city.
This is a flexible route. If you wish to shorten your ride before completing the climb, there are several shortcuts available that can take you directly to Yangde Boulevard.
Routes:
NOTE: To use the routes, please install the App on your smartphone. The App will launch and load the route automatically after you tap the above links on your smartphone's browser. For Garmin Connect, you can then use the APP to send the route to your garmin device. If your Garmin device is not purchased in Taiwan, you will also need make sure you have the Taiwan map on your device. Here is our blog post on this topic.
Route 2: Ascend Pingjing Street, Descend Balaka Highway (County Highway 101A or 101甲) 48 km 1267 m Total Ascent
The climbing is the same as Route 1. However when you reach Erziping Visitor Center, you have the option to continue climbing towards the Mount Datun Air Navigation Station. This segment spans 2.36km with a total ascent of 247 m, resulting in an average gradient of over 11%. I recommend attempting this climb only under favourable weather conditions.
Descending on Balaka Highway (101A or 101甲) is a fun and thrilling experience due to ideal level of steepness. It's a quiet road, but please remember not to assume sole ownership of it as occasional cars may pass by. On County Highway 101, you'll come across Wuji Tianyuan Temple, distinguished by its building that resembles an umbrella. The temple boasts a beautiful cherry blossom garden, which is worth visiting during the appropriate season, typically around March and April.
At the end of the descent, you will find yourself in Tamsui, an area with numerous tourist attractions. Among my favourites are the Hobe Fort and Fort San Domingo.
From there, you have the option to cycle back to Taipei using the Riverside Bikeways or simply take the MRT from Hongshulin Station.
As I mentioned earlier, Balaka Highway (101A or 101甲) is less steep to climb. Therefore, this route is equally enjoyable when done in reservse.
Routes:
Route 3: Ascend Pingjing Street, Descend Yangjin Road (Provincial Highway 2A or 2甲), Ascend again to Fenguizui 74km 1597 m Total ascent
This route features two climbs. The first climb follows the same route as Route 1. By descending to Jinshan District, you will reach the picturesque north coast. The Yehliu Geopark offers a plethora of fascinating orange rock formations to explore. Afterward, you can resupply and embark on your climb back to Taipei via Fengguizui (600 m), following the suggested route.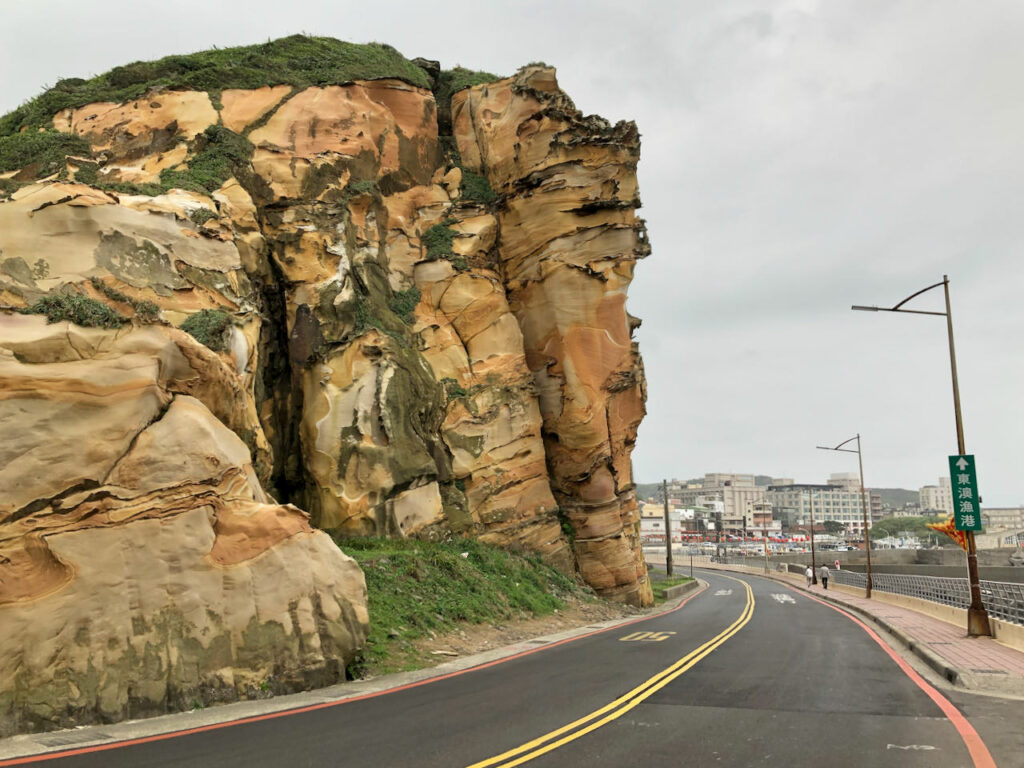 Alternatively, you may cycle to Keelung through the Waimushan Seaside Scenic Area followed by a comparably flat route on Provincial Highway 5 to get back to Taipei. Yehliu to Keelung is a refreshing route to cycle. The Keelung to Taipei leg has nothing to boast of. Sometimes, I prefer to take the train from Keelung back to Taipei, alighting at Nangan, Songshan or Wanhua station. Normally, before 15:30 each day, there are 1 to 2 trains every hour that accommodate unbagged bikes. After 15:30, you'll need to wait until 18:16. For more details about taking trains with you bikes, refer to the provided link here.
Routes:
Route 4: Ascend Pingjing Street, Descend to Jinshan, Ascend again on County Highway 101 and Balaka 96 km 1985 m Total Ascent
This route features two climbs on Yangmingshan. The first half of this route is the same as Route 3, but we would head west after descending to Jinshan District and cycle along the invigorating and magnificent north coast. On weekends, you can find cafe trucks near Jhungjiao Bay. The Fugui Cape Park, situated on the northern tip of Taiwan's main island, presents a pristine lighthouse and is an idyllic place to visit. After a short ride from Fugui Cape, there is a popular sticky rice dumpling restaurant that provides a delicious calorie boost at a very reasonable price. The final climb begins at Sanzhi District, where you can restock your supplies. At the junction of County Highway 101 and 101A (or 101甲), there is a convenience store for further provisions before reaching the top. As you finish descending on Yangde Boulevard and check your Strava, you'll notice you have traced a big fist on the map. Therefore, I suggest we name it the Budha's Fist as the 5th Route is referred to as the Budhda's Palm, a route that deserves a dedicated post.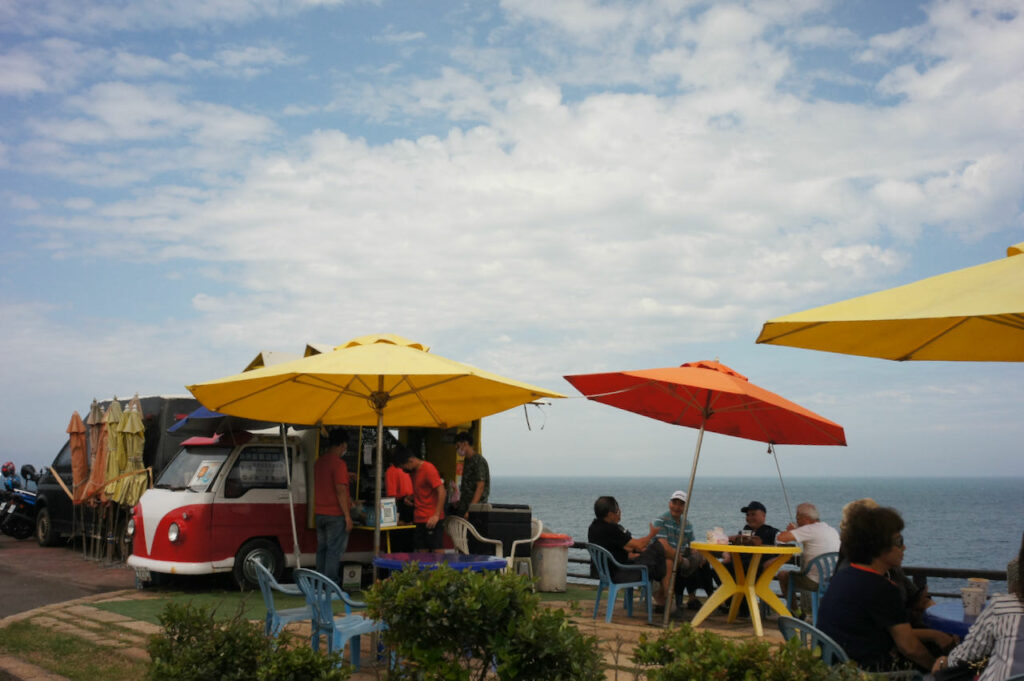 If you don't want to make the 2nd climb, you can simply cycle straight to Tamsui and return to Taipei. The route is a little hilly but the total ascent is smaller.
Routes:
After cycling these 5 routes, there is still much more to explore within Yangmingshan National Park. The roads are well-maintained, offering numerous interesting stops along the way. Feel free to plan your own route and embark on further exploration, but it's important to be prepared as weather conditions can change dramatically. We've had fellow cyclists who experienced difficulties descending from the top due to rain rapidly draining their body heat, which can lead to hypothermia. In such cases, they had to resort to hiring a van for transportation back. Stay cautious and enjoy your explorations!