(This is post will be updated regularly)
Cycling in a new city can be intimidating when you are not familiar with the roads, traffic patterns, and cycling infrastructure. The fear of getting lost or not knowing the safest routes can discourage first-time visitors from hopping on a bike. Understanding local cycling rules, regulations, and etiquette can also be challenging. Many of our customers, even though they are here in Taiwan for a cycling trip, are very reluctant to mount a bike among the busy traffic within Taipei city.
But it may not be as daunting as it seems. Once you know the general rules, which are mostly common sense and universal, and have a basic idea of the layouts of several main roads in Taipei, you'll be able to get around the city on a bike with much ease.
General Rules
Bicycles in Taiwan fall under the classification of "Scooters and Slow Vehicles" 機慢車. The regulations that apply to scooters also apply to bicycles. In larger cities like Taipei City, there are dedicated infrastructures designed specifically for slow vehicles, such as slow lanes and separate slopes on flyovers. Generally, bicycles are permitted on all roads in Taipei, except for elevated expressways and lanes marked with 禁行機車 ("no scooters" in Chinese) on the ground. Riding on uncovered sidewalks is allowed, but pedestrians always have the right of way, so it's important to be courteous and yield to them. Cycling is prohibited on covered sidewalks; in such cases, you must dismount and push your bike.
One of the regulations specific to slow vehicles involves a special left-turning procedure known as the two-stage turning. At certain junctions, when you encounter a sign with a bike and two arrows (indicated by the green arrow in the photo below), you cannot make a direct left turn. Instead, you must first go straight and proceed to the white box (indicated by the blue arrow), stop and turn to left, then wait for the traffic light in front of you to turn green.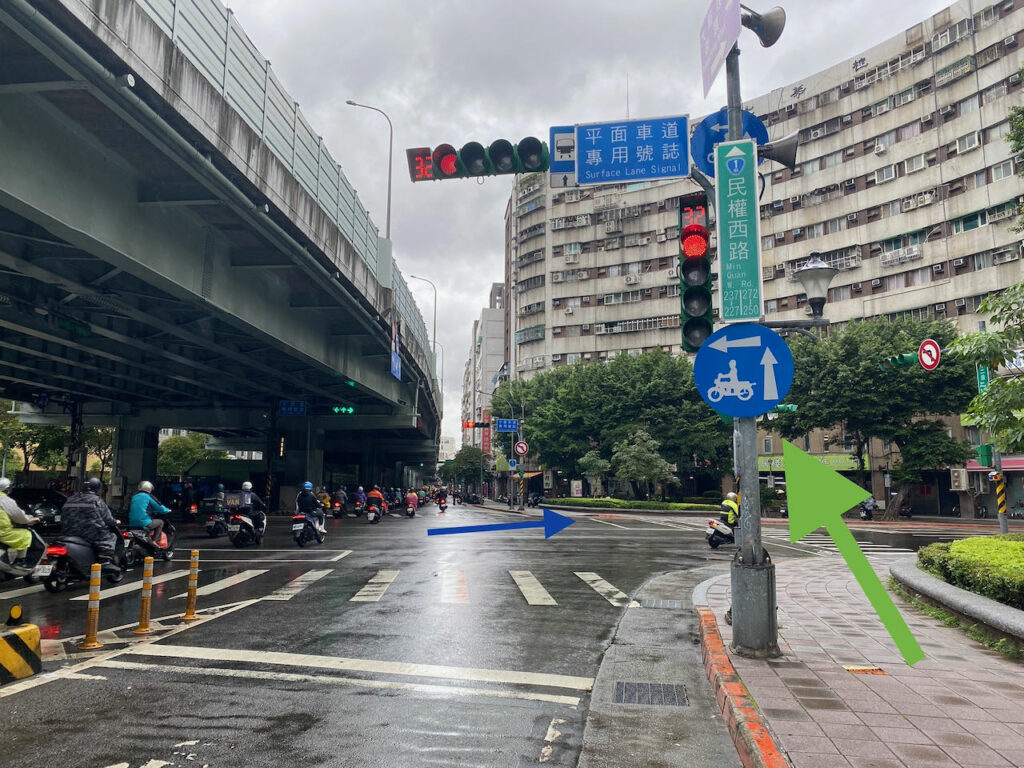 While we have the freedom to cycle throughout the city on most roads, it's important to note that during peak hours, when traffic is heavy, motor vehicle drivers may provide less space and safety when interacting with other road users. This means that cars may come closer to cyclists than they should, leading to added stress for most cyclists.
Buses are required to stop at bus stops located on the roadside, while bicycles are encouraged to travel in the outside lane. During certain hours, bikes and buses may hinder each other's progress. In such situations, I prefer to ride through smaller alleys where there are no buses and traffic tends to be slower.
For instance, when traveling from Songshan or Xinyi to National Taiwan University, I opt for a slightly more complex route instead of the direct and straightforward path via Keelung Road. The route is a bit complicated. I needed to load it onto my bike computer before I know it by heart.
There are some wide, bike-friendly roads in Taipei that facilitate navigation and route planning. On the outside lanes (or inside lanes for readers from the UK) of these roads, cycling conditions are more favorable due to fewer buses and bus stops. As a result, riding in the slow lanes becomes more comfortable. Additionally, most of these roads feature wide sidewalks with designated bike lanes. If you prefer not to ride alongside motorized vehicles, you can switch to the bike lanes. However, it's important to ride at a slower pace and remain vigilant for pedestrians who may inadvertently stray into the bike lanes.
Navigating Taipei – the Main Roads
If you take a closer look at the city map of Taipei, you can see that the urban areas can actually be viewed in grids, formed by a number of thoroughfares that go from West to East and North to South. Once you know these grids well enough, you don't need to worry about getting lost in the city anymore. Below is a simplified graph of these road networks.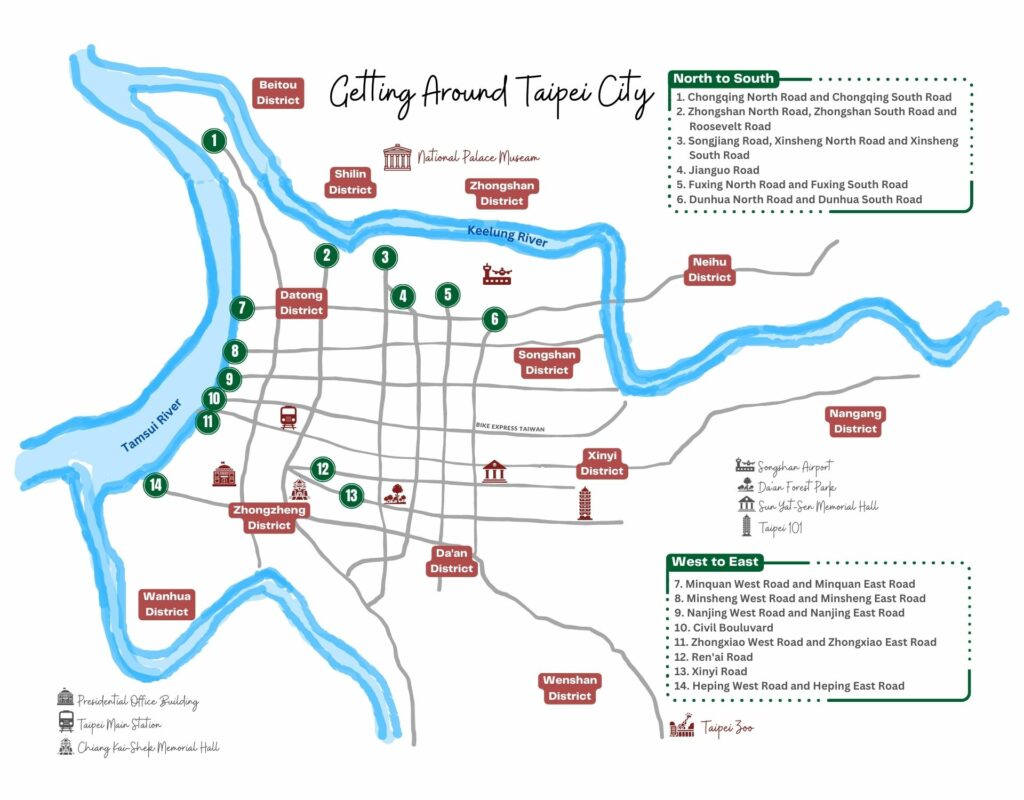 Roads leading from North to South
Chongqing North Road and Chongqing South Road 重慶北路, 重慶南路
Zhongshan North Road, Zhongshan South Road and Roosevelt Road 中山北路, 中山南路, 羅斯福路
Jianguo Road 建國路
Fuxing North Road and Fuxing South Road 復興北路, 復興南路
Dunhua North Road and Dunhua South Road 敦化北路, 敦化南路
Roads leading from West to East
Minquan West Road and Minquan East Road 民權西路, 民權東路
Minsheng West Road and Minsheng East Road 民生西路, 民生東路
Nanjing West Road and Nanjing East Road 南京西路, 南京西路
Civil Bouluvard 市民大道
Zhongxiao West Road and Zhongxiao East Road 忠孝西路, 忠孝東路
Ren'ai Road 仁愛路
Xinyi Road 信義路
Heping West Road and Heping East Road 和平西路, 和平東路
Bike-friendly Roads in Taipei City
We have cycled and evaluated these roads to determine their level of bike-friendliness. While the conclusions may be subjective, they are not arbitrary. Our assessments are based on three main criteria and are given a rating out of five stars in total:
Are there designated bike lanes and can you ride on the sidewalks?
How busy are the outside lanes, where bikes should ride on?
Does the road have easy access to the Riverside Bikeways, where you can bypass city traffic altogether?
---
Zhongshan North Road, Zhongshan South Road and Roosevelt Road
Bike Lanes can be found on the sidewalks on Zhongshan North Road and Zhongshan South Road. When there is no bike lane, the sidewalks are still wide enough to cycle
All bus stops are on the outside lane on Zhongshan North Road and Zhongshan South Road
Access to Riverside Bikeways
At the northern end, there is a bike ramp located approximately 20 meters further north of this parking lot, providing access to Yuanshan Park for cycling. On the southern end, the Riverside Bikeways can be reached via a ramp adjacent to Taipei City Hakka Culture Theme Park or the footbridge in this area. Please note that while the footbridge is equipped with elevators on both sides, their operation might be limited to certain hours and not available around the clock
---
Songjiang Road, Xinsheng North Road and Xinsheng South Road
There are bike lanes on the sidewalks but not continuously. When there is no bike lanes, the sidewalks are still ridable
There are dedicated bus lanes and bus stops on the inside lanes, though some bus stops are still found on the outside lane. But bus traffic is expected to be lower in these areas
Access to Riverside Bikeways
At the northern end, you can get into the Riverside Bikeways at Lin A Tai Evacuation Gate, which is connected to Xinsheng Park, where cycling is allowed. At the southern end, the Riverside Bikeways can be accessed via Siyuan Street, adjacent to Gongguan Waterfront Plaza
---
Fuxing North Road and Fuxing South Road
Dedicated bike lanes on found some sections of the sidewalk on the south-bound side. Sidewalk on the north-bound side is narrower but still ridable
Bus lanes on the outside lane
Access to Riverside Bikeways
Neither of these two roads has provides direct access to the Riverside Bikeways. The northern end of Fuxing North Road connects with Minzu East Road (Songshan Airport) Tunnel, where bikes not allowed. The southern end of Fuxing South Road leads to National Taiwan University
---
Dunhua North Road and Dunhua South Road
There is no dedicated bike lane on the sidewalks but they are still ridable
Bus stops are found both on the inside lane and outside lane. Bus traffic is expected to be lower on the outside lane
Access to Riverside Bikeways
Neither of these two roads provides direct access to the Riverside Bikeways. Dunhua North Road meets Minquan East Road Section 3 and Section 4 at the northern end, while Dunhua South Road meets Keelung Road at the southern end
---
Minquan West Road and Minquan East Road
There is no dedicated bike lane on the sidewalks but they are so wide that cycling is not an issue
Bus stops are rarely found on the outside lane as there are dedicated bus lanes in the middle of the road
Access to Riverside Bikeways
At the western end of Minquan West Road, there is a stairway with a narrow ramp that allows you to push your bike and climb up to Taipei Bridge, providing access to the Riverside Bikeways. On the eastern end of Section 5 of Minquan East Road, you can utilize the scooter lane on Minquan Bridge to reach Neihu. Additionally, there is the Tayou Water Gate available for accessing the Riverside Bikeways
---
Nanjing West Road and Nanjing East Road
There are continuous bike lanes on the sidewalks
Bus stops are rarely found on the outside lane as there are dedicated bus lanes in the middle of the road
Access to Riverside Bikeways
Located at the western end of Nanjing West Road, you will come across a small gate providing access to the Riverside Bikeways. However, exercise caution when using this gate as there is still a road with fast-moving motorized vehicles. Alternatively, for a safer route, simply follow the signs for Cycling Route No. 1, leading you to the Dadaocheng Pier Plaza
At the eastern end of Nanjing West Road, you will encounter Maishuaiyi Bridge, featuring a dedicated scooter lane that leads to Neihu. Although I seldom use this bridge as, personally, I prefer to use the more comfortable option of entering the Riverside Bikeways via Raohe Evacuation Gate
---
Ren'ai Road
The sidewalks are generally spacious enough to accommodate cycling, although not many of them have designated bike lanes marked on the ground
Most buses travel on the inside lanes and their stops are conveniently located next to those lanes. There are a few bus stops found on the outside lanes. But the likelihood of encountering buses blocking your way on these lanes is relatively low compared to other roads
Access to Riverside Bikeways
Ren'ai Road provides no direct access to the Riverside Bikeways. Its eastern end meets Taipei City Hall and its western end connects with Xinyi Road Section 1 and National Taiwan University Hospital
---
Xinyi Road
There are continuous bike lanes on the sidewalks
Most of the buses travel and stop along the inside lanes. You would rarely be blocked by buses on the outside lanes
Access to Riverside Bikeways
There is no direct access to the Riverside Bikeways. But if you head north from Xiangshan MRT Station at the eastern end, you can get to Raohe Evacuation Gate, which is an entry point to the Riverside Bikeways