Garmin devices are preloaded only with maps of your country. If you plan to use your Garmin device for navigation overseas, you will need to load the maps of the foreign country onto your device beforehand. Otherwise, you will only see a blank screen or a single line on your display.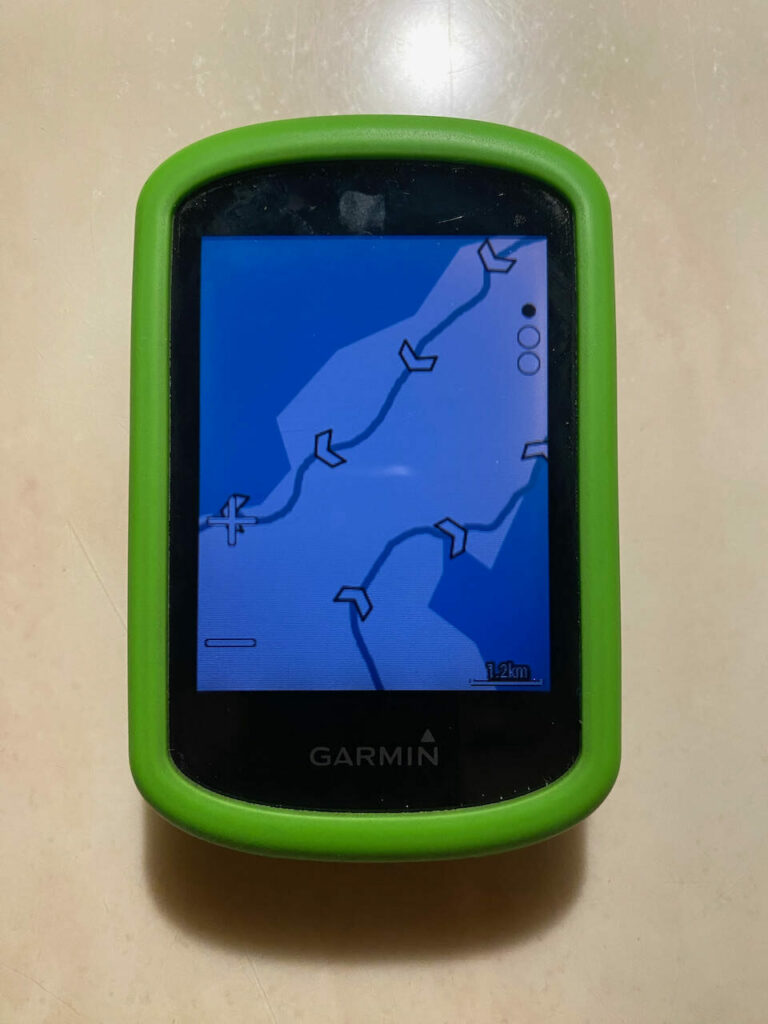 According to this web page of Garmin, if you own one of the Edge® 540/840/1040 Series devices, you don't need to purchase maps separately. You can utilize Garmin Express, a computer software tool, to perform free map swaps and load them onto your device.
For other series, purchasing the map at USD 19.99 is required. However, even if you are willing to pay for the map, you might not find the map of Taiwan available for purchase on Garmin's website. Thankfully, there are alternatives: OpenStreetMap and BBBike Extract Services. The process is straightforward. Simply visit this website, https://garmin3.bbbike.org/, and follow the instructions to download your desired maps. Unzip the file and copy the "gmapsupp.img" file to the "Garmin" folder on your Garmin device. If you need to download maps of multiple areas, you can rename the file, such as "gmapsupp_Taiwan.img". When you power up the device, the map will be automatically loaded. There are various formats available, and you can find details about the formats on this link, https://garmin3.bbbike.org/garmin.html. I wanted to use UTF-8, but my Garmin EDGE 530 only supports Latin1.
To double check that the map of Taiwan is properly loaded on your Garmin device, you can send one of our routes to your device and check if the map displays the details correctly. If the map is loaded properly, the route on your device should appear as shown in the picture below.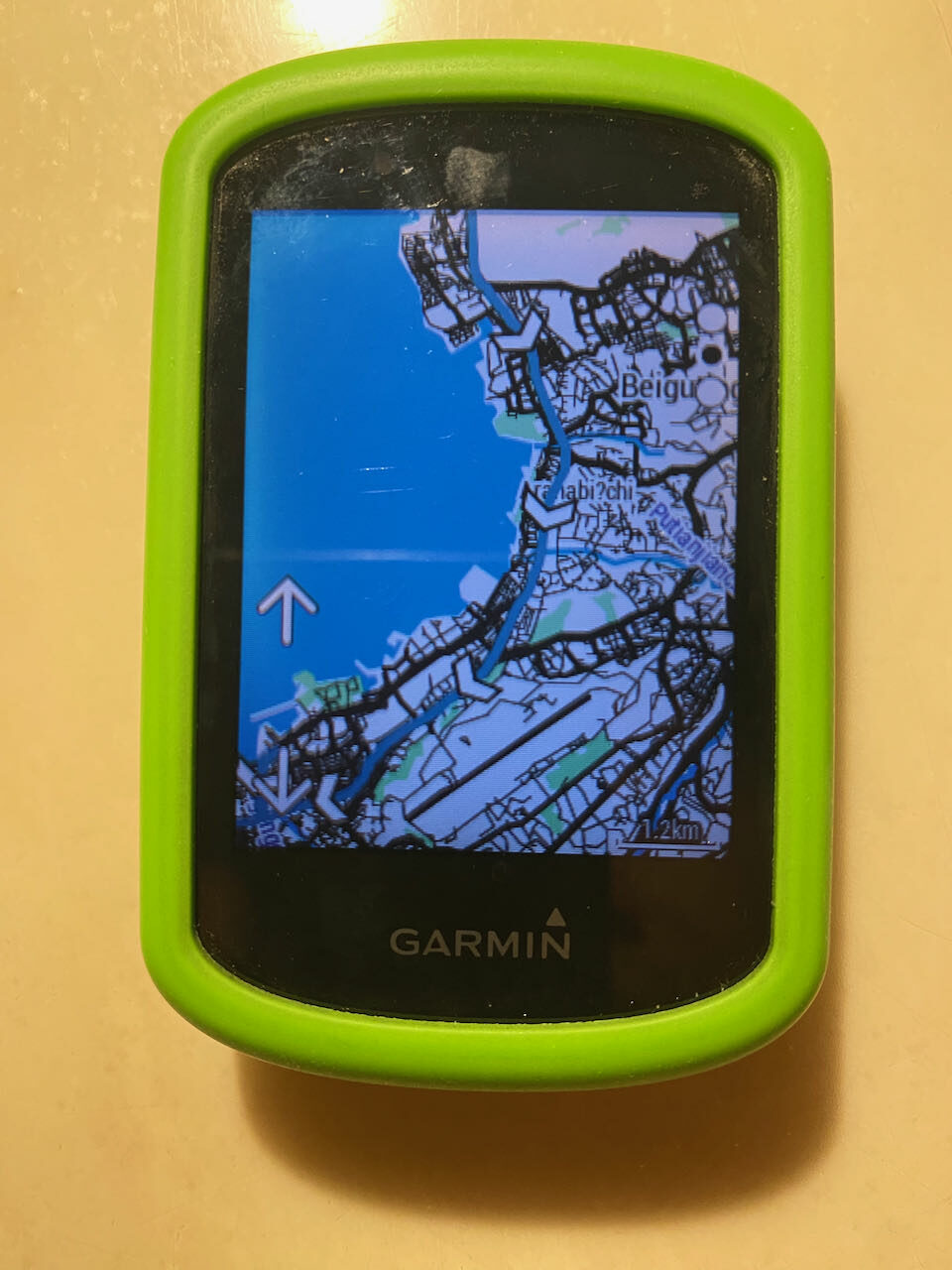 Step by Step Guide to Download the OSM for Garmin devices (e.g. EDGE 530)
On your computer's browser, navigate to the website: https://garmin3.bbbike.org/. This website allows you to extract data from OpenStreetMap and package it in your preferred format for Garmin devices.
Once you're on the website, you'll see various format options. Look for the "Format" section and select "Garmin Openfietsmap Lite (latin1)".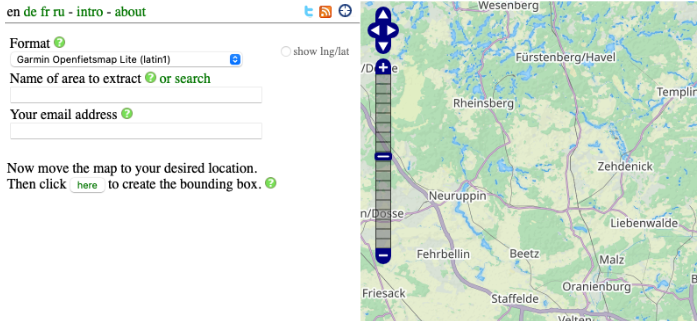 Click on search and key in "Taiwan" to jump to the Taiwan section

Fill in your email address and click the button "here". An orange box will appear on the map.

Click on the orange box. Two small circles will appear. Use the one inside the box to move it and the one on the right bottom corner to resize the box.

Hit Extract and the page below will appear.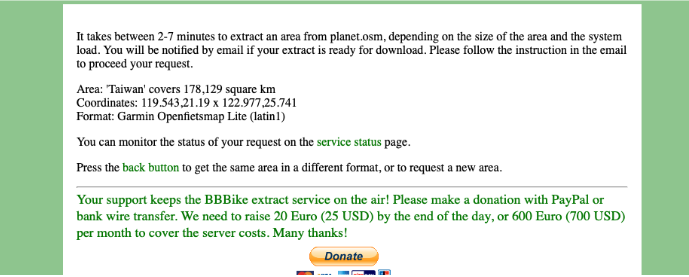 Click on the link "service status" page
The "Taiwan" is being generated. Enable the auto refresh and wait until the download link is available.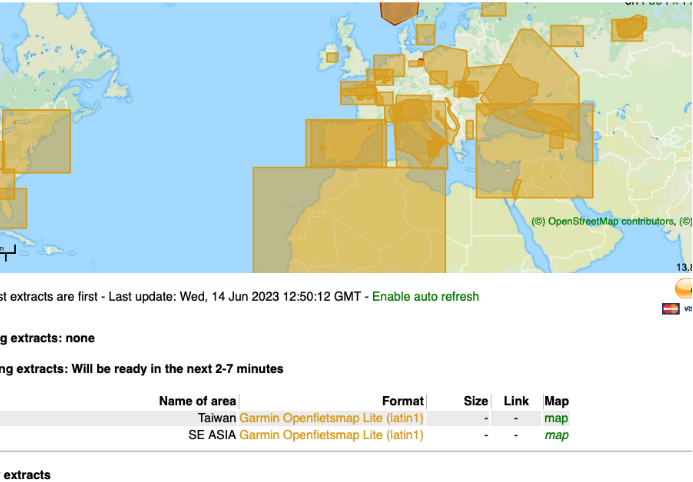 Click on the "Download" to download the map.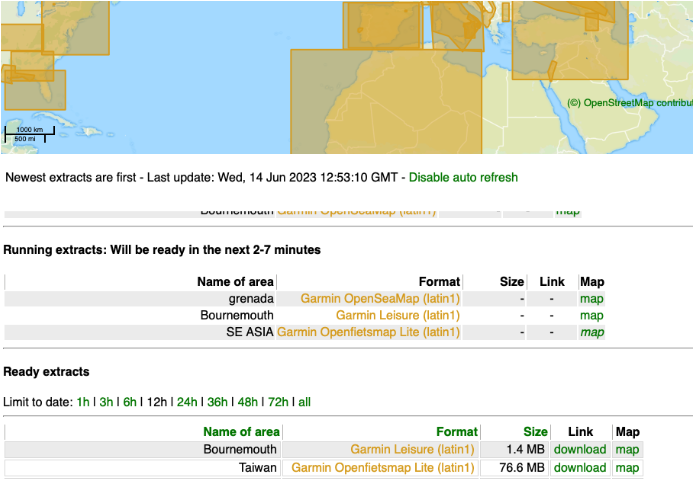 Unzipped the downloaded file. For MacOS computers, the file is unzipped automatically
Connect your Garmin Device, say Edge 530, to your computer. It will become a USB drive of the computer
Copy the file named gmapsupp.img to the folder "Garmin" of the USB Drive. (i.e. Garmin Edge 530)
Eject the USB drive from your computer and then disconnect the USB cable.
When the Garmin Edge 530 powers up, it will use the map automatically.
Feel free to make some donations to OpenStreetMap and BBBike.org