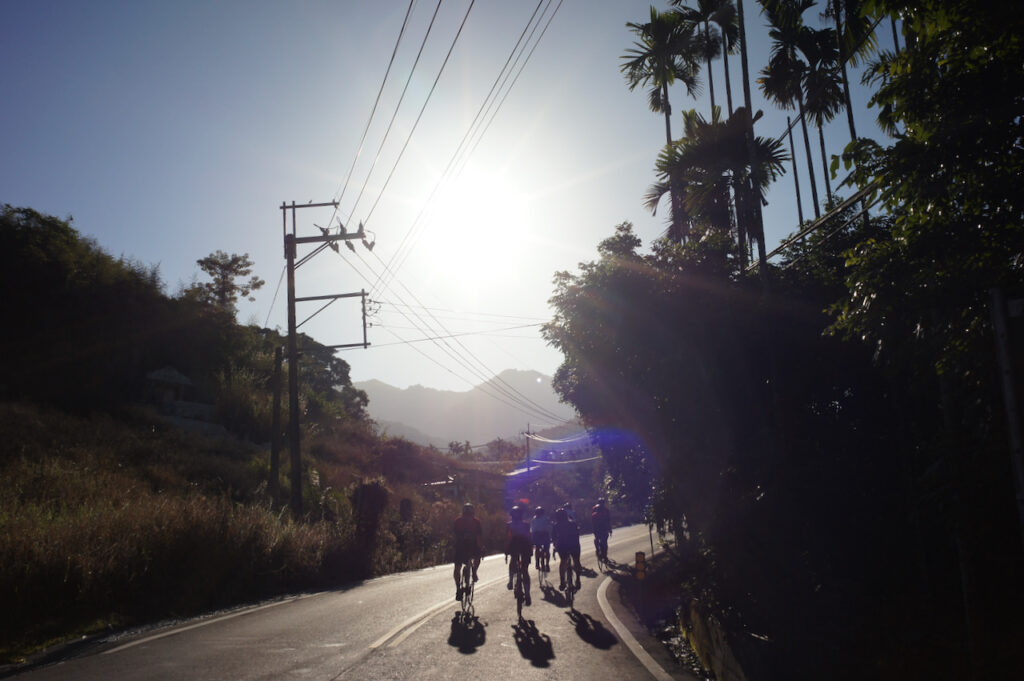 Taiping 36 Bends, or Meishan 36 Bends 梅山36彎 as known in Chinese, is a 15km route with 800m elevation gain in Meishan, Chiayi. It's famous among local cyclists for its 36 hairpin turns and beautiful scenery along the way. It's also the course of a popular cycling challenge. Even if you are not participating in the challenge, anytime when you have completed the course, you can get a certificate from the local government office by paying a nominal admin fee of NT$100.
I hadn't had a chance to ride this route because it is more than 250 km away from Taipei, where I live. Invited by my cycling fellows, I finally decided to do it on a Saturday in January by joining a cycling group in Taiwan.
In the small hours of that Saturday, we boarded a coach bound for the starting point with our bikes. We were going to spend the morning cycling and then hop on the same coach to get back to Taipei later in the day.
We arrived at Meishan Park, the starting point, around 8:00 a.m. and started our ride right away. The climb began immediately. I wasn't quite ready for it after a sleepless night. But then there was the sign of the first bend which is stylised as Traditional Chinese paper cutting in bright red. It was encouraging to me. Some of our group members decided to take pictures with all the 36 signs.
As we slowly passed more bends and gained our elevation, we got better and better views of the Chiayi-Tainan Plain 嘉南平原. After spending 2 hours climbing and finishing all the 36 bends, we reached Taiping Old Street. Actually there is much much more to climb if you want to. You can reach Alishan National Forest Recreation Area ultimately at 2,200m of elevation. I would like to do a multi-day cycling trip with that as the destination.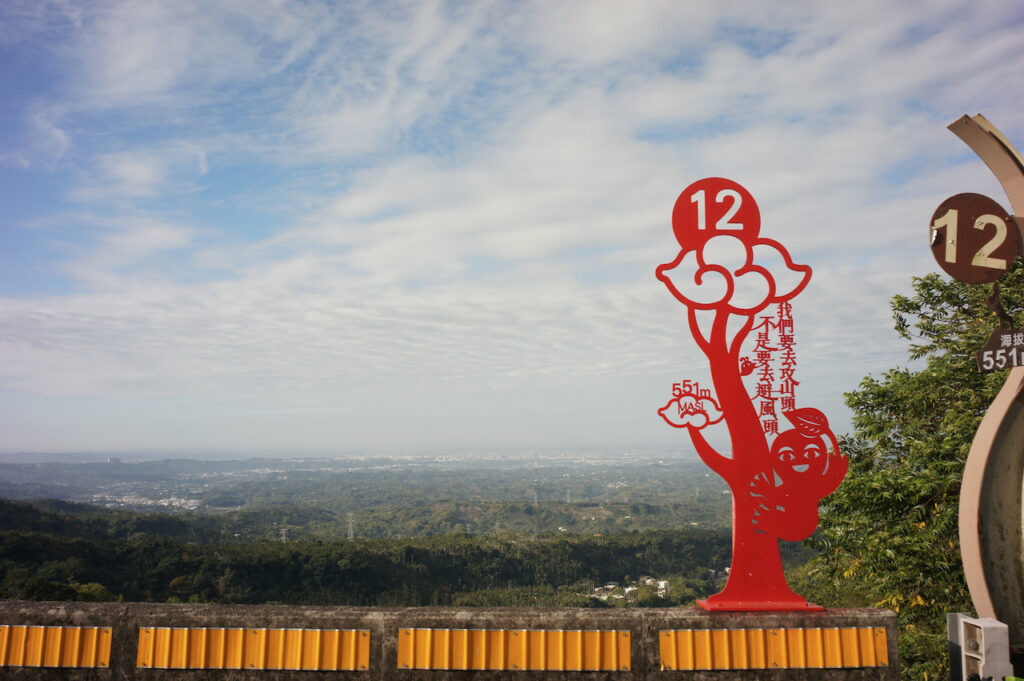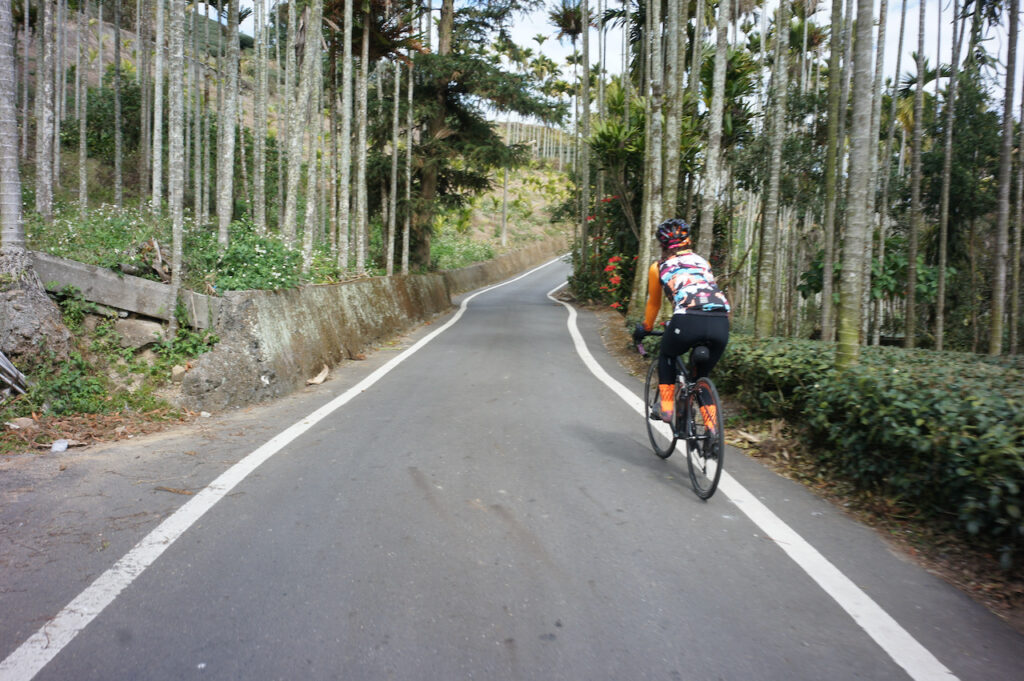 It would have been fun to descend back to Meishan Park via the 36 bends, but we had other plans. We continued on the Township Road 嘉154, saw lots of beautiful tea farms and reached Liyuanliao Station 梨園寮車站, one of the stations of the Alishan Forest Railway. The long descent back to Provincial Highway No. 3 was mild and long without many bends. It was a very pleasant ride but it could be dangerous as we accumulated more speed while comfortably going down hill with our alert level getting lower. Sandy said she could have fallen asleep.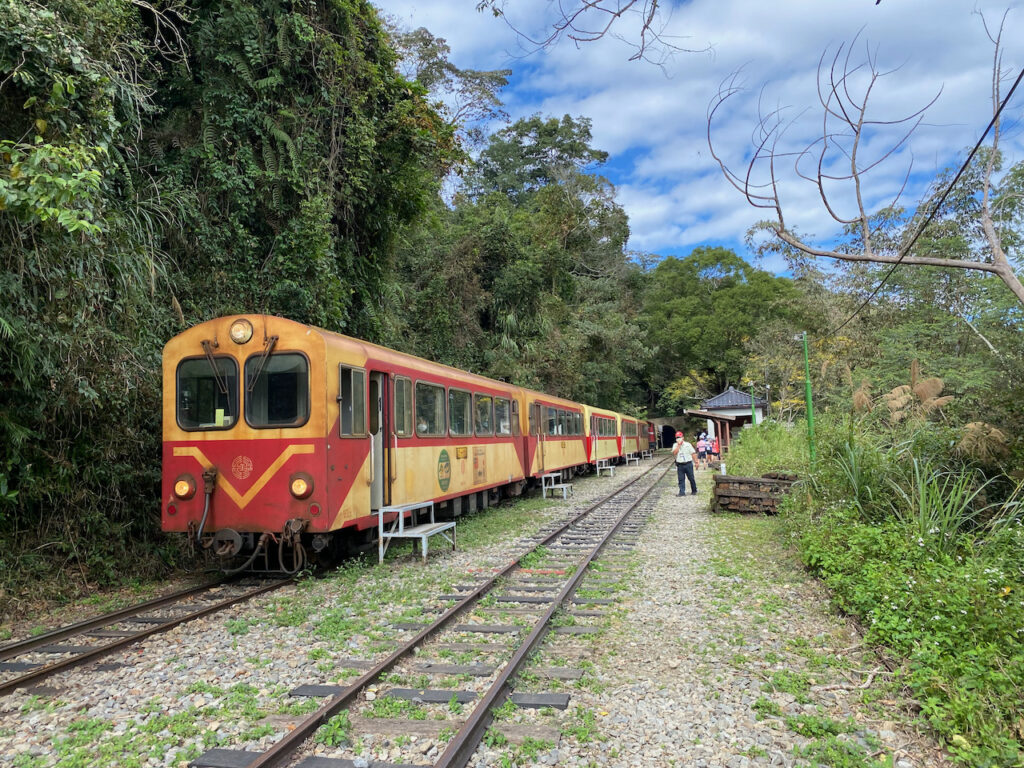 We cycled back to Meishan Park for lunch along Provincial Highway No. 3 and then took the coach back to Taipei. It was totally dark when we were back home.
Doing It Yourself

To ride this route without joining an organised tour, you can take a train to Dalin Station, which is around 13 km from Meishan Park. It'll take around 5 hours from Taipei to Dalin. The other option is HSR, which takes around 1.5 hours to get from Taipei to Yunlin Station, about 28 km away from the starting point. Here are some details on how to take public transportation with a bike. Please note that there is only one convenience store as a decent supply stop at Taiping Old Street. Some grocery stores can be found on GoogleMaps after passing Taiping Old Street, but I am not sure about the opening hours. So, plan your water consumption and supply carefully.
Route:
NOTE: To use the routes, please install the App on your smartphone. The App will launch and load the route automatically after you tap the above links on your smartphone's browser. For Garmin Connect, you can then use the APP to send the route to your garmin device. If your Garmin device is not purchased in Taiwan, you will also need make sure you have the Taiwan map on your device. Here is our blog post on this topic.