A day-by-day itinerary plan complimenting the official Cycle Route No. 1 with additional suggestions and alternate routes to enhance your experience and ensure a smoother ride.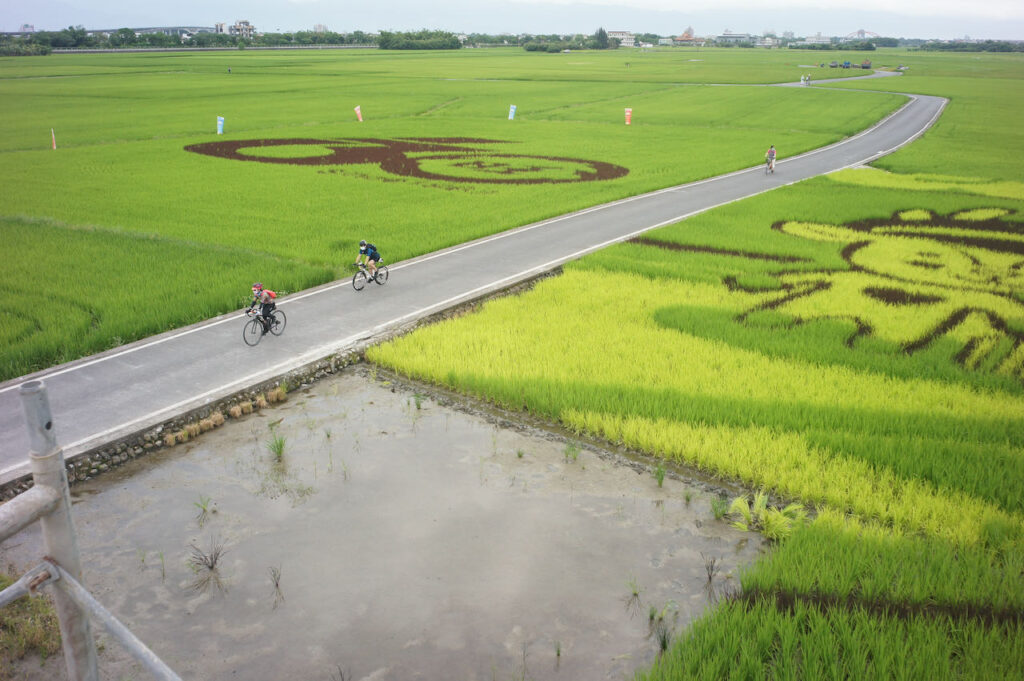 While the Tourism Bureau's Cycle Route No. 1 provides an excellent framework for planning our cycling trip around the island, many fellow cyclists have identified areas that can be improved. One common issue is the numerous traffic lights along the route, particularly in urban areas on the west side, which can be quite disruptive and significantly slow down the journey.
Through meticulous planning and routing, we can achieve a smoother and more enjoyable ride. Here, I've put together a 9-day itinerary that incorporates quieter alternate routes to enhance your cycling experience. It's important to note that these alternative routes often involve smaller roads with less supply stops.
It's worth mentioning that the government is prompt in repairing roads damaged by earthquakes, typhoons, and monsoons. However, the priority for reparies doesn't necessarily favour smaller roads. So, if you find that these routes are not in ideal conditions, it's advisable to switch to the main road as recommended by Cycle Route No. 1.
I recommend an anti-clockwise direction because we drive on the right-hand side of the road (with the driver's seat on the left side of the car). In this direction, cyclists can enjoy better views of the sea along coastal routes, and most attractions are conveniently located on the seaside. This eliminates the need to cross the road when stopping to visit these places.
Day 1: Songshan Station (Taipei) to Hsinchu County
Follow the rivers to reach Taoyuan and ascend for a brief climb to reach Hsinchu on the west coast.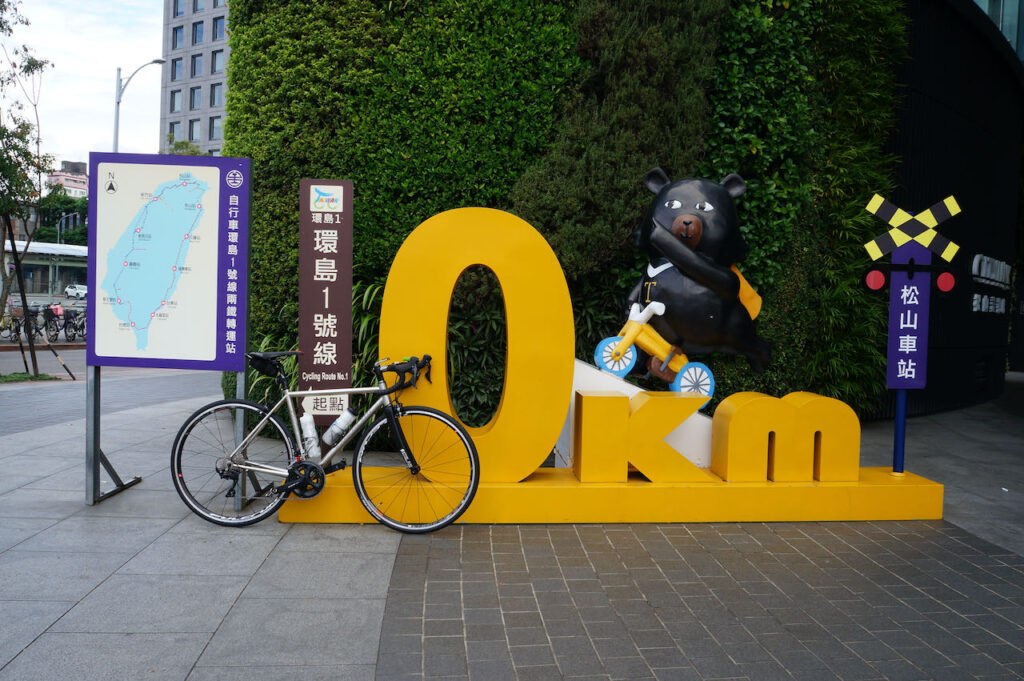 Cycle Route No. 1 officially begins at Songshan Station. The official GPS route directs you through Nanjing EAst Road, guiding you across Taipei.From there, you'll enter the serene Riverside Bikeway via Dadaocheng Pier Plaza, offering 20k of dedicated bike paths without traffic lights, leading you to the city's outskirts. Once outside the city, you'll share the road with other vehicles, which is manageable since traffic is lighter. However, the cycling experience might be hindered by occasional traffic light stops, particularly within city limits.
I have devised this alternative route with the goal of maximising the utilisation of the Riverside Bikeways, thereby minimising interruptions caused by traffic lights. The protected bike path on the first half of your journey offers a safer environment for you to familiarise yourself with with your pike's setup. Rather than cycling along Nanjing East Road, you will access the Riverside Bikeways via the Raohe Evacuation Gate, ensuring a smoother ride through Taipei. While the official route directs you towards Provincial Highway 3 upon reaching Sanxia, this alternative route provides an additional 20 km of cycling on dedicated bike paths until you reach Sankeng, where it merges with the official path.
Official Route (blue):
Alternative Route (green):
NOTE: To use the routes, please install the App on your smartphone. The App will launch and load the route automatically after you tap the above links on your smartphone's browser. For Garmin Connect, you can then use the APP to send the route to your garmin device. If your Garmin device is not purchased in Taiwan, you will also need make sure you have the Taiwan map on your device. Here is our blog post on this topic.
Day 2: Hsinchu County to Changhua City
Explore the west coast for a day and soak in the stunning sea views. Experience a long, flat stretch with minimal traffic lights, allowing for uninterrupted cycling.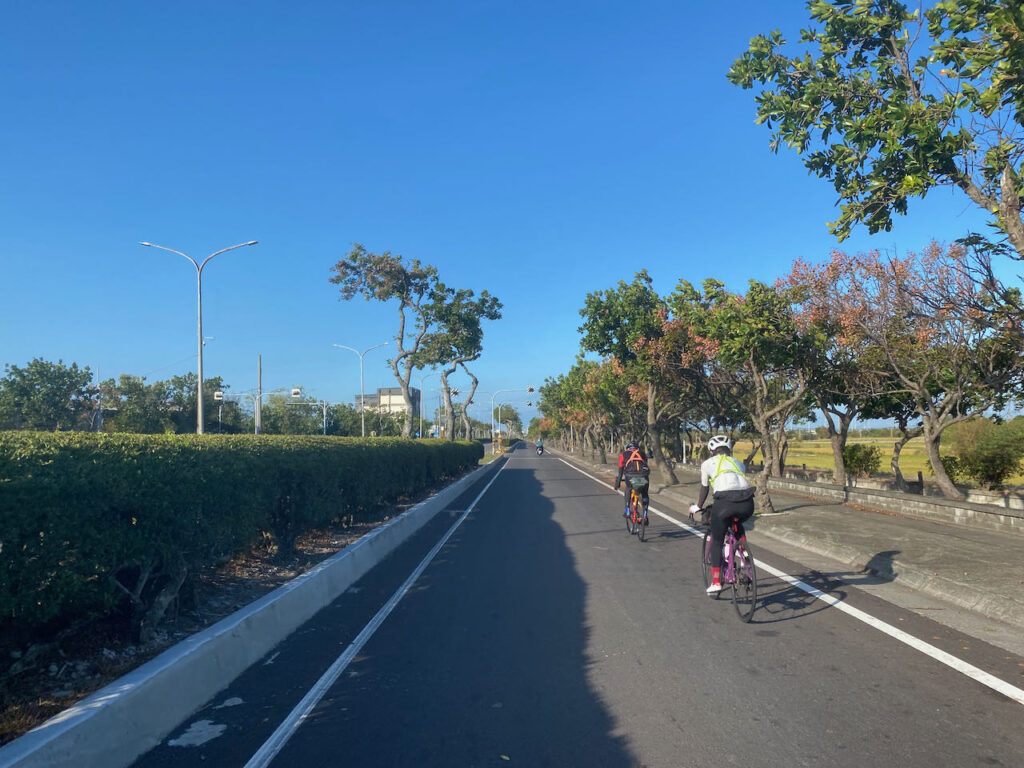 Hsinchu is situated in the western edge of the island, where the Taiwan Strait is at its narrowest. During the period of north prevailing winds (September – February), wind speed intensifies due to the Venturi effect as winds pass through this channel. Consequently, Hsinchu is renowned, or sometimes infamous, for its robust winds. In the autumn and winter months, cyclists are aided by the wind's push along the coast. From June to August, the wind direction changes, though it's typically not excessively strong.
There are numerous picturesque bike paths along this segment of the west coast. It would be a missed opportunity to solely stick to the main road. Hence, I've charted an alternative route that includes some detours, leading you to the coastal edge for quieter surroundings and shaded areas. Keep in mind that our pace might be somewhat slower than on the main road due to the narrower paths and interactions with other road users, especially during holidays. While these detours add 20 km to the overall distance, they decrease total ascents from 665 meters to 320 meters. In case reaching Changhua City becomes challenging, there's a range of hotels available for an overnight stay in Wuqi District of Taichung. This would be advisable as the following day's route is shorter, 85 km long.
Official Route:
Alternate Route:
Day 3: Changhua to Chiayi
An inland route offering a mix of townships in the first half and rustic countryside in the second.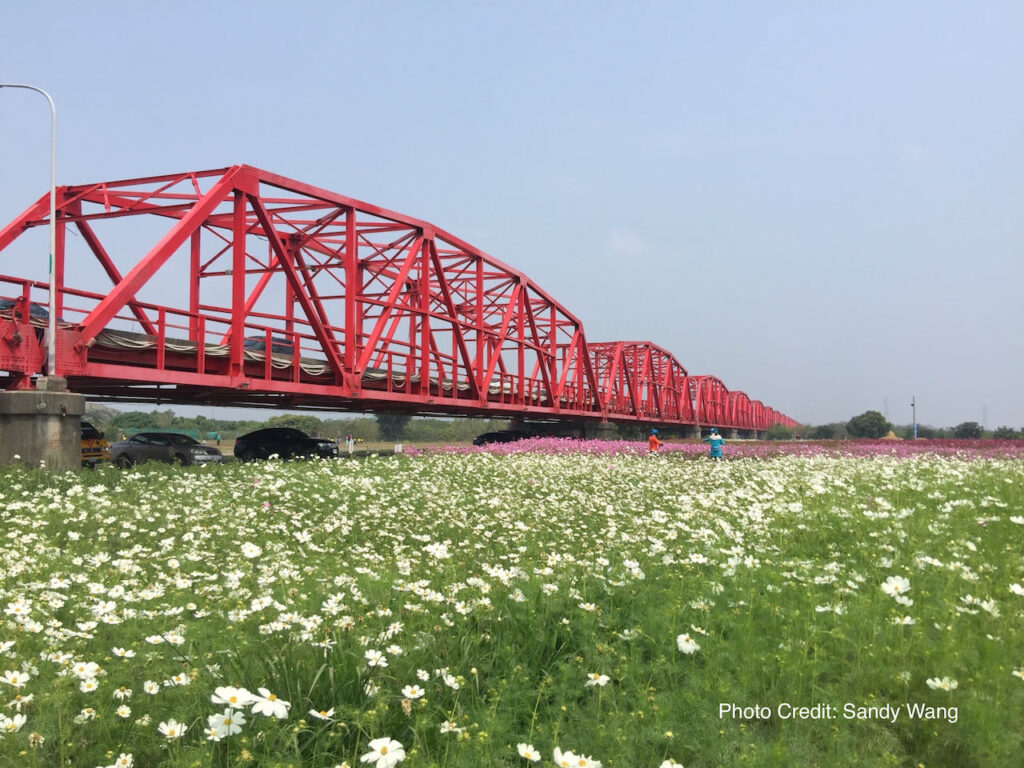 The southern part of Taiwan's main island boasts a larger expanse of flat land. Although we'll be cycling closer to the hills, the total ascent is only 301 meters over 80km. The first 35 km pass through five townships: Huatan, yuanlin, Yongjing, Beidou, and Xizhou. The roads are broad with a designated slow lane for scooters and bicycles, but be prepared for more traffic lights that might disrupt your rhythm. As you approach the picturesque Xiluo Bridge, conditions will improve. This bridge then leads to Yulin County, renowned for its agricultural products. The second part of the route offers more pleasant riding, with rustic views prevailing. If you wish to bypass the townships, you can opt to take a train to Shetou. Before departing Changhua, make sure to visit the Changhua Roundhouse, a notable attraction in the area.
Cycling Route No. 1 provides an option to cycle to Sun Moon Lake, but this would require an extra day to rejoin the main route.
Upon reaching Chiayi, consider visiting the restaurant known for its fish head soup, as featured in Netflix's 'Street Food: Asia'.
Official Route
Day 4: Chiayi to Kaohsiung
Cycle through Taiwan's vast Chiayi-Tainan Plain, also known as the Jianan Plain, on a leisurely day's ride that concludes in Kaohsiung, the country's third-largest city.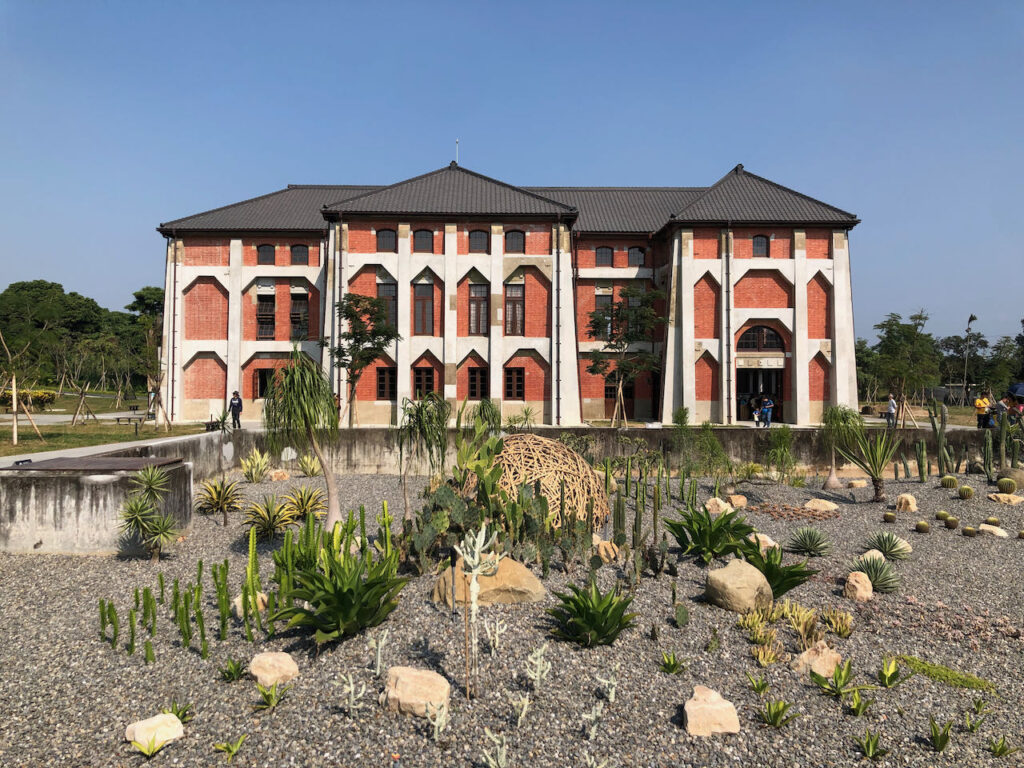 Covering a distance of 100km, this route entails a total ascent of 725 meters. The roads are spacious, featuring an additional slow lane for added comfort. You'll encounter fewer townships along the way, allowing for the enjoyment of scenic country views throughout the journey. If you're making good progress, consider a detour to the Old Waterworks Museum in Shangshang District of Tainan. This historical water process plant, constructed during the Japanese Occupation period, is worth a visit, adding only 3 kilometers to your route. Keep in mind that exploring this beautiful museum might require at least and hour of your time.
Continuing along the route and departing from Xin Hua Old Street, you'll find yourself beneath the High-Speed Railway. Following the Dahu Train station, each town you traverse will progressively grow larger and busier until you arrive at Nanzi district in Kaohsiung. While the official route concludes here for the day, it's advisable to cycle into the city center for a wider range of hotel options and to avoid morning commuting traffic the following day. More details about hsi can be found in the Day 5 itinerary.
Official Route:
Alternate Route:
Day 5: Kaohsiung to Checheng, Pingtung
Embark on a day of cycling through Kaohsiung to reach Pingtung, the southernmost county of the island, marking the conclusion of the west coast leg.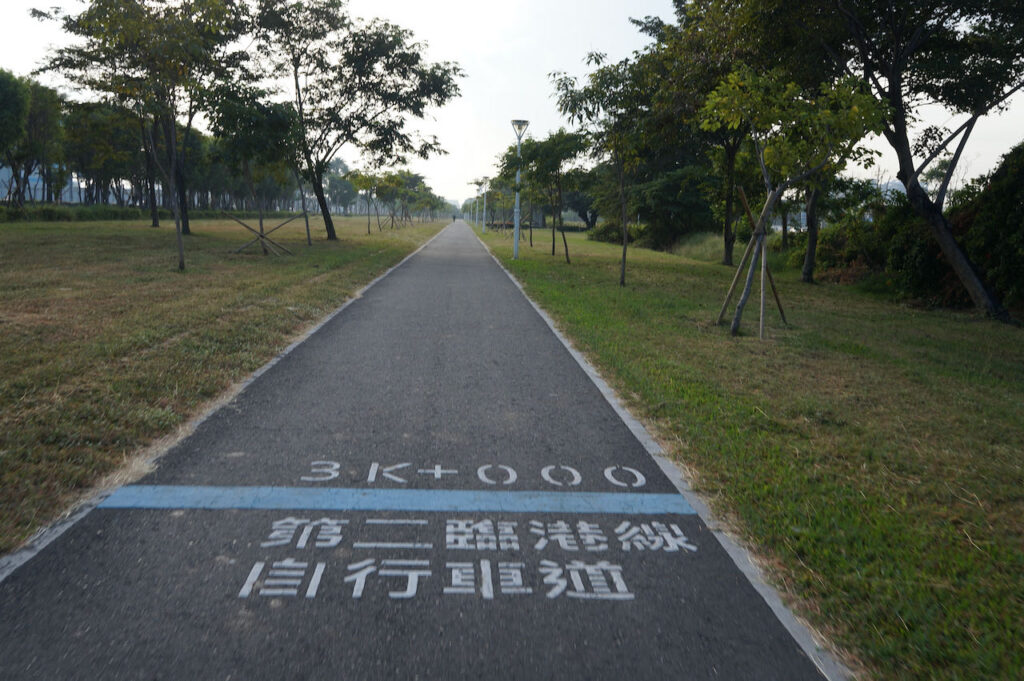 Kaohsiung stands among Taiwan's major cities, and I've sought advice from fellow cyclists on navigating it seamlessly. For those lodging in Nanzi District, Kaohsiung resident Vivian Wong suggests using the MRT to Xiaogang Station, effectively bypassing the city's traffic. Bicycles are permitted on the MRT throughout its operating hours, at a fare of NTD 60. If cycling is preferred, Vivian proposes taking County Highway 186 eastward, then transitioning to Provincial Highway 29 to head south. This route enables escape from traffic after Renwu District, with fewer traffic lights. Alternatively, for those open to some climbing, County Highway 186A (186甲) offers an even better options. The suggested route (Alternate Route) is available at the end of this section.
Eddie Chen, a renowned cycling writer and Vlogger, recommends accommodations near Kaohsiung Train Station, central to the city. As the locals predominantly commute towards the city center for work, cyclists heading in the opposite direction in the morning experience less crowding. Eddie also suggests a detour to Qijin District by ferry from Gushan Ferry Pier. This allows cycling along the picturesque bike paths tracing the elongated island's southern tip. Upon taking the ferry from Zhong Zhou Ferry Pier to Qianzhen District, the city outskirts come into view. Note that bikes are prohibited in the tunnel at the island's southern tip.
Here are the time schedules for Gushan Ferry Pier and Zhong Zhou Ferry Station, respectively.
Post departure from Fangshan Township, two routes beckon: Provincial Highway 9 and County Highway 1999. These routes lead you over the hill and onto the east coast. Provincial Highway 9 comes first. Should this be your preference, consider staying over in Fenggang. Personally, I recommend continuing further south to Checheng, offering more hostel and restaurant options. County Highway 199 also provides ideal for cycling due to lighter traffic, particularly on weekends.
Most readily available official GPX routes guide you onto Provincial Highway 9. Here the official route is modified slightly to lead you to Checheng.
Official Route
Alternate Route
D6: Pingtung County to Taitung County
Climbing over to Shoukatiemayi Station and descending to the beautiful east coast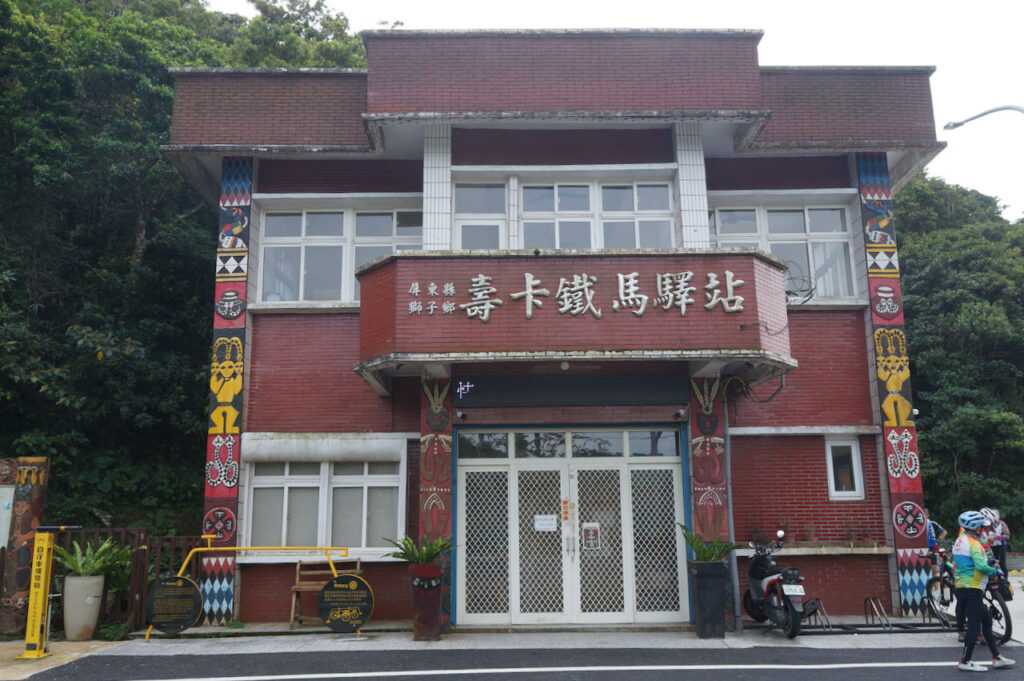 Today, we take on the challenge of climbing County Highway 199 to Shouka, reaching an altitude of 450 meters to transition from the west coast to the east coast. Due to some ups and downs upon reaching the peak, the total accumulated ascent will be 1300 meters. County Highway 199 is a tranquil road with a moderate gradient. Along the route, you'll encounter settlements of the Paiwan people, one of the 16 indigenous tribes of Taiwan. Restaurants and stores are still accessible along the route. In case they're closed as you pass, make sure to stock up on supplies and water at the convenience stores like 7-Eleven and Hi-Life in Mudan.
Upon completing the climb, you'll be rewarded with an exhilarating descent and captivating panoramic views of the azure Pacific Ocean along the route from Daren to Taitung. A few more 100-meter climbs are in store. Take breaks and replenish supplies when you reach small towns.
Following this classic 9-day itinerary, you'll move on to Provincial Highway 9 for further progress into the Huadong Rift Valley. For more lodging options, consider staying in hot spring hotels in Zhiben or Beinan. If Taitung City is your choice, switch to Provincial Highway 11 for a more direct route.
Official Route
D7: Taitung to Hualien County (Ruisui Township)
Embark on a leisurely cycling journey through Taiwan's scenic beauty in the Huadong Rift Valley.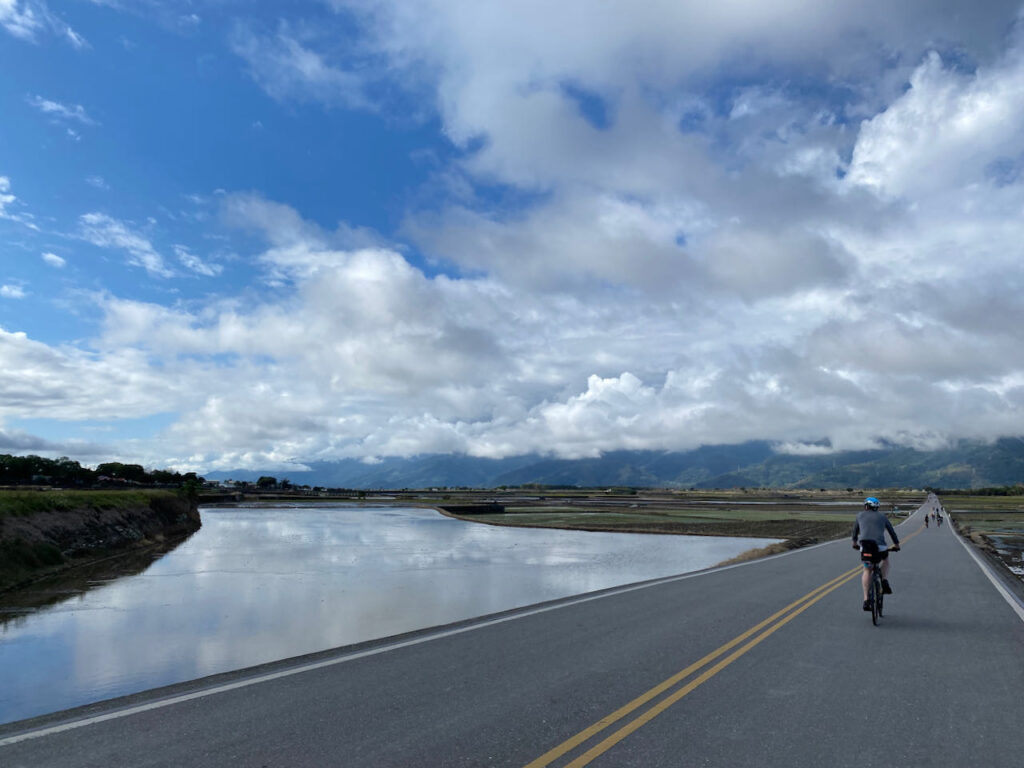 There are two cycling routes from Taitung to Hualien City: the rift valley route (Provincial Highway 9) and the coastal route (Provincial Highway 11). This classic itinerary suggests taking the rift valley route due to more supply stops and towns for overnight stays. Additionally, the rift valley provides some shielding from the north east prevailing winter winds, making northward cycling easier.
Navigation on this route is straightforward. Follow the Provincial Highways northward. Two attractions worth visiting are the Brown Boulevard in Chishang and the Old Dongli Train Station, which serves as the starting point of the Yuli-Fuli Bike Path, exclusively for bikes and running parallel to Provincial Highway 9. Along this bike path, you'll be led to the Junction of the Eurasian Plate and the Philippine Sea Plate (temporarily closed due to the earthquake on September 18, 2023, expected to reopen by June 60, 2024). Detours to these attractions and the bike path are included in the Alternate Route 1 in this section.
However, we still need to cycle on the highways sharing the road with the motorised traffic when there are no bike paths. If you prefer a route with less traffic, Eddie Chen recommends heading west after visiting Brown Boulevard in Chishang, using the Zhuofu Industrial Road (花75) to Yuli. This road offers a close view of the paddy fields with minimal traffic. From Yuli, you can follow County Highway 193 to Ruisui, as suggested in the following rouet:
Official Route
Alternate Route 1 Yuli-Fuli Bike Path
Alternate Route 2 花75 197
D8: Ruisui Township, Hualien to Yilan
We will continue our scenic journey along the rift valley, from Ruisui to Xincheng, and then opt to take a train to Suaoxin Station (not Suao Station) or (further north stations in Yilan) to bypass the challenging Suhua Highway.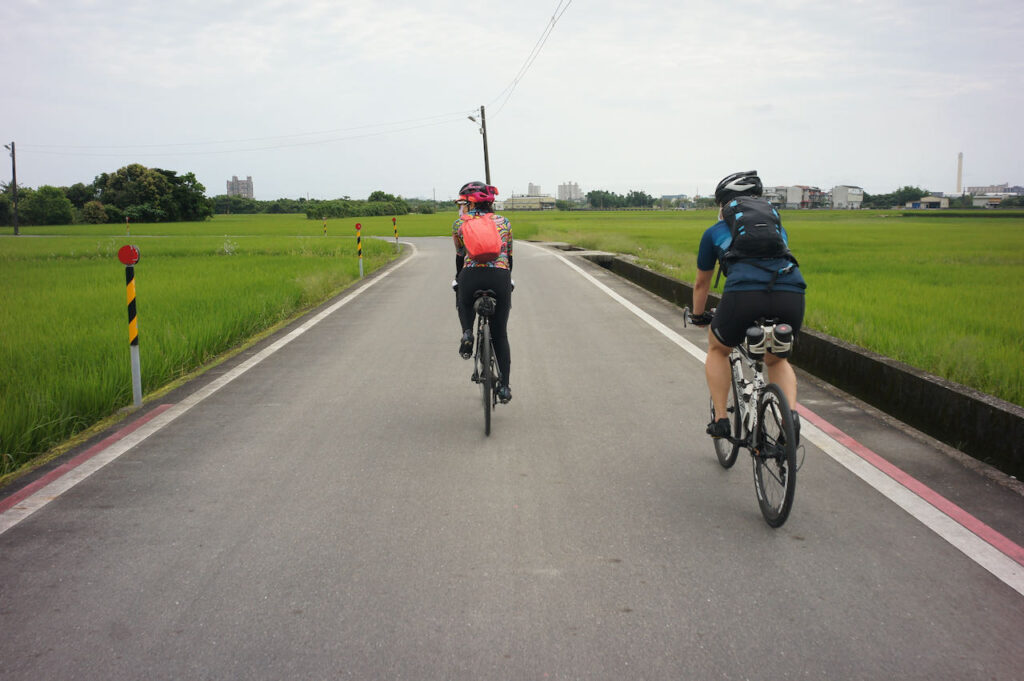 Below are the daily train options, allowing you to bring your bikes on board by purchasing a bike ticket which costs half the adult fare at any station with ticketing staff available. Here is more information regarding taking a bike onto a train.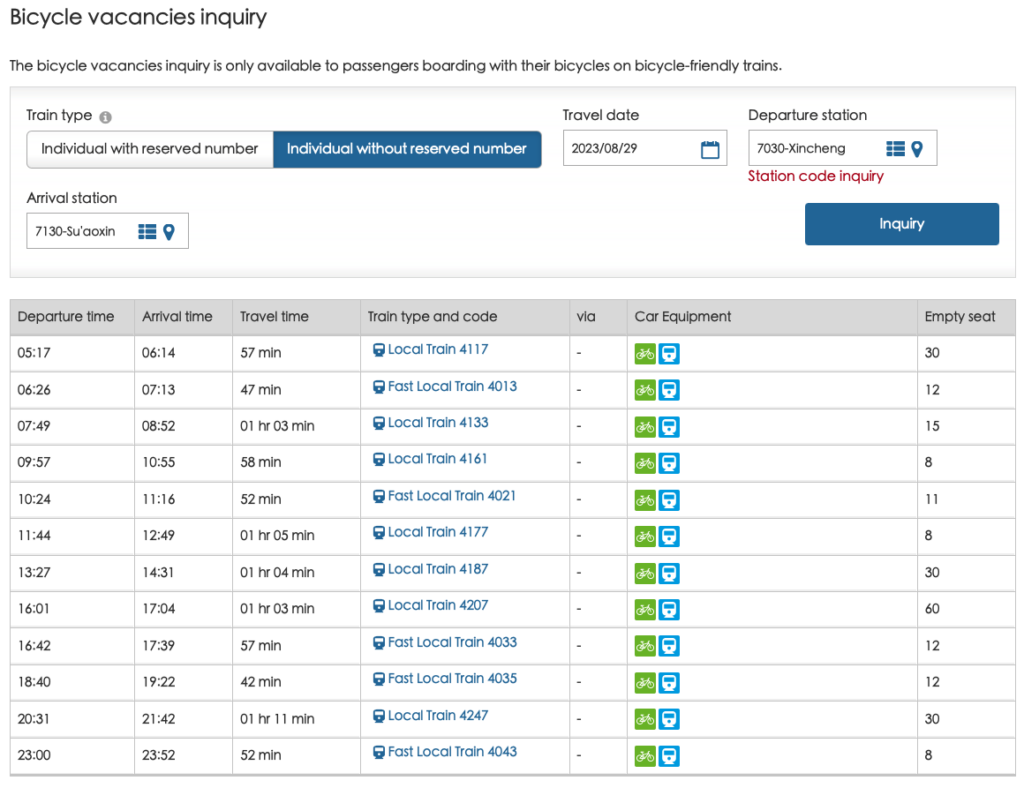 When heading north from Ruisui, the most straightforward route is via Provincial HIghway 9. While County Highway 193 remains a good choice, it becomes hillier beyond Ruisui. Covering a distance of 63 km, the total ascent reaches 700 meters on County Highway 193, whereas on Provincial Highway 9, covering 65 km, the total ascent is a more manageable 314 meters. Upon arriving at Hualien Station, you won't need to cycle to Xincheng Station to catch the train, as there are direct trains to various stations in Yilan.
If you prefer not to take the train, you'll face the challenging Suhua Highway, for which I've written a post about it to assist you in deciding whether to take on this formidable route. In the case of cycling on Suhua Highway, you may need to cover more distance the preceding days and commence your ride from Hualien City or further north.
Official Route
Part 1: Total distance 96.77 km | Total ascent 348 m | Total descent 455 m
Part 2: Total distance 14.29 km | Total accent: 19 m | Total descent 41 m
D9: Yilan to Taipei
This is the last day of the Classic 9 day around the Island. We would cycle through Yilan and get back to Taipei.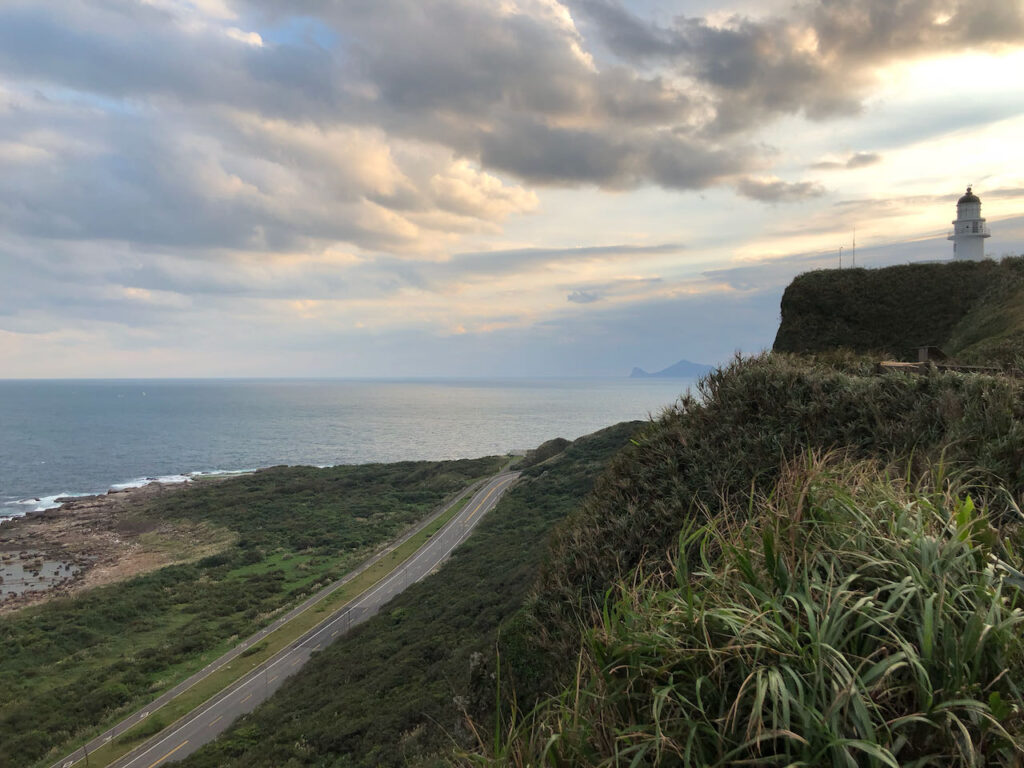 The official route suggests you head northwards on Provincial Highway 2 to the north east point of Sandiaojiao where you would find lots of beautiful attractions like Sandiaojio Lighthouse, Maoao Fishing Harbour connected by a bikeway loop separated from the main road. One of the highlights is the 2-kilometre Old Caoling Tunnel converted from an old train tunnel.
However, before reaching the entrance of the bikeway, you will need to share Provincial Highway 2 with lots of heavy trucks for 20 km after Toucheng. There should be fewer heavy trucks during weekends or holidays. At the entrance of the bikeway, heading north, the Old Caoling Tunnel provides a shortcut to Fulong Station, offering a cool and surreal cycling experience. Heading east, the separated bikeway running along Provincial Highway 2 provides beautiful views of the coast and other attractions.
At Fulong Station, the heavy trucks will continue their journey on Provincial Highway 2 until they reach Ruifang. We will be parted with them and witch to Provincial Highway 2C (2丙)and 5 to get back to Taipei. While Provincial HIghway 2C (2丙), a wide and flat road, offers an enjoyable route with serene views of the green hills, Provincial Highway 5, connecting Keelung to Taipei, has more urban traffic, especially during rush hours. Looking at the elevation profile of Garmin route, you may notice a sharp peak of 525 meters on Provincial Highway 2C. Please note that you don't need to climb that hill; there's a tunnel. Komoot provides a more accurate elevation profile.
If you'd like to avoid the traffic on Provincial Highway 5, you can switch to County Highway 106 at Shifen. However, this County Highway is also popular among motorcyclists, so it might be noisy during weekends. After passing this 7-Eleven, you can then Climb County Highway 109 to get back to Nangang, Taipei.
Another route to return to Xindian District of New Taipei involves climbing two peaks of over 500 meters, with a total ascent of 107 meters, via Provincial Highway 9 through Pinglin District. However I wouldn't recommend taking this route during weekends or holidays, as it's usually crowded with high-speed motorcycles. The roaring engines make it nosy, and some of them may try to pass each turn at maximum speed, increasing the risk of accidents.
Upon reading Taipei, you can use these two posts to plan your route within the urban area of Taipei: Navigate the Riverside Bikeways in Taipei and New Taipei and How to Get Around Taipei Urban Area by Bike
Official Route
Alternate Route 1 County Highway 106
Alternate Route 2 Provincial Highway 9