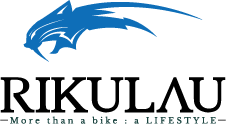 Rikulau /ˈrɪkʊlɑʊ/: noun, Formosa Clouded Leopard in Rukai, the language of the Rukai tribe, one of Taiwan's aboriginal peoples.
Described in a RideOn article as "one of Taiwan's most progressive – and anomalous – bike companies", Rikulau Co. Ltd. is a Taiwanese bike manufacturer which you may not know of but one you should. Teaming up with top-notched frame builders, component makers and local academic institutions, Rikulau is said to produce the best customized bicycles in Taiwan and has been winning popularity and recognition in the global cycling world since its foundation in 2006.
"It rides like a dream…"
"The ride was… smooth as butter."
Just to quote a couple online reviews. The frame is said to be the soul of a bicycle, which to a large extent determines its performance. Making use of boutique materials like titanium and stainless steel, all Rikulau frames are hand-welded by the best frame builders in Taiwan. From shaping to cutting, from heat treatment to polishing, every Rikulau frame is the end-product of the pursuit for perfection. Complemented by other hand-picked, quality components, it often just takes a short test ride for the customers to fall in love with the feel of mounting a Rikulau. As a proud partner of the company, Bike Express Taiwan is most eager to share with you such a delightful experience and provide you the opportunity to have a try at these exquisite bikes.
700 years ago, in the hope of finding a haven for their children and grandchildren, a group of Rukai (魯凱族) followed the footprints of a Formosa Clouded Leopard, leaving behind the east coast and heading towards the deepest forests on the mountain ranges in Southern Taiwan. It was at the foothills of Dawu Mountain (大武山), where the footprints of the big cat finally disappeared, that the Rukai found their ideal homeland. Rikulau, what the Rukai call the legendary animal that guided the way for their ancestors, had since been regarded sacred by the Rukai people. In March 2006, when a diverse group consisted of engineers, business professionals, academics and artists, who share a common love for cycling, decided to pool together their expertise to create a unique brand of bicycles that represents the perfect fusion of arts and craftsmanship, Rikulau is the brand name they settled for. It is hoped that their bikes will be traveling the roads and mountains with agility, speed and style, just like the Formosa Clouded Leopard. It is also hoped that, like the Rikulau that led the way for the Rukai 700 years ago, their new brand of bikes, their Rikulau, will also initiate a change towards a cycling-centered lifestyle that goes hand-in-hand with the rising trend of environmental awareness.
Website: https://www.rikulau.com